Data integrity solutions
Make fast, confident decisions based on trusted data with maximum accuracy, consistency, and context.
Data with Accuracy, Consistency, and Context
Being able to trust your data for decision-making is a business imperative. But to gain that trust, data needs to have integrity – in other words, maximum accuracy, consistency, and context.
For most organizations, delivering on the promise of trusted data seems almost impossible. Why? Data lives in silos, is stale, unstandardized, full of duplicates, not well understood, incomplete, or lacking the contextual insights required to make it fit for purpose.
Overcoming these challenges is a journey – and to reach the destination of data integrity, you need solutions that deliver value at every step.
In comes the Precisely Data Integrity Suite. Built on proven technology relied on by more than 12,000 customers worldwide, the Suite enables your business to build trust in its data through market-leading data integration, data observability, data governance, data quality, geo addressing, spatial analytics, and data enrichment capabilities.
These core capabilities support you at every step to data integrity so you can make fast, confident decisions that help you:
add, grow, and retain customers
move fast and reduce costs
manage risk and compliance
Let's explore how each capability plays into your data integrity success story.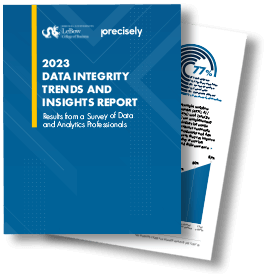 2023 Data Integrity Trends & Insights
Results from a Survey of Data and
Analytics Professionals
We have more data available to us than ever, and the volume will continue to rise. Every organization lives with modern and legacy data, creating one of your biggest challenges to achieving data integrity: integrating siloed data.
The problem lies in the costly amounts of time and expertise it takes to integrate complex data formats and create data pipelines that enable data integrity. The solution lies in understanding various data sources, even the most complex mainframe and IBM i data, and connecting them to next-gen cloud data platforms.
The Precisely Data Integrity Suite's Data Integration service can help. Whether you're working with data from business applications or log data, its capabilities enable you to build resilient, high-performance data pipelines. With your choice of integration methods, from batch to ETL to real-time change data capture, you break down data silos and deliver fresh data to decision-making systems, IT operations, analytics platforms, and more.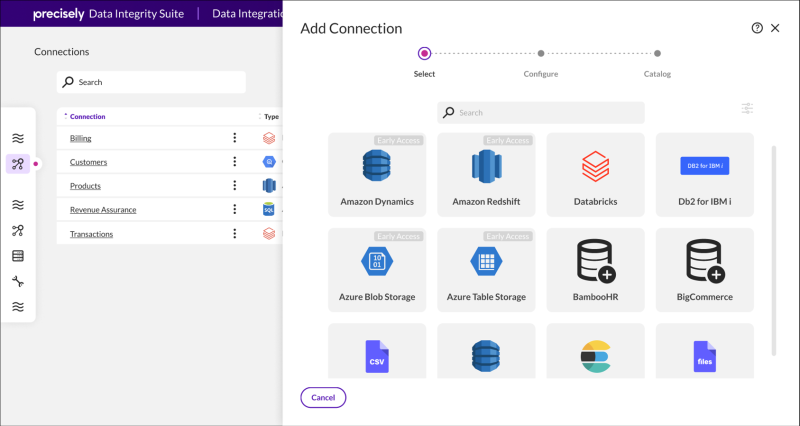 Unexpected anomalies in your data can wreak havoc on your business, particularly when there's no way to proactively identify and alert you of issues before they happen.
If that sounds familiar, you and your team are probably working backward to repair data issues, which can get very expensive very fast. Data observability can help.
With the ability to play a critical role in your organization's data operations (DataOps), data observability enables you to understand the health of your organization's data through continuous AI-enabled monitoring so you can:
detect anomalies throughout your data supply chain
prevent data downtime
ensure data reliability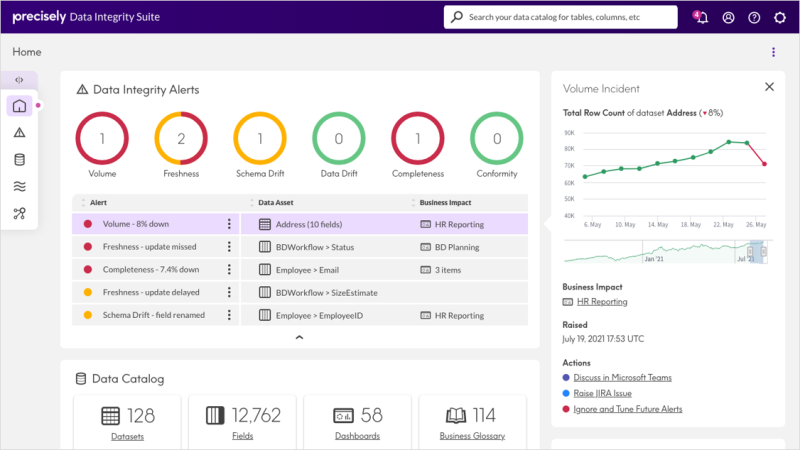 How does the Data Integrity Suite help you tackle the unexpected, save time, and reduce costs? With data observability capabilities that:
Proactively eliminate risks associated with erroneous analytics by detecting anomalies and automatically alerting the appropriate users
Reduce the time to solve operational issues. Users quickly determine the root cause of an issue with the vital information they need.
Minimize the costs associated with adverse data events. By identifying and eliminating issues before they disrupt the business, costly downstream problems are avoided.
Your organization has access to more data than ever. You've been collecting, saving, and analyzing this data for everything from more accurate analytics and business reporting to protecting your company from fraud.
However, many companies don't know what data they have, where it's stored, or how it can or should be used.
If your organization struggles to understand its data, that uncertainty can prevent you from fully realizing its value. And now, with ever-expanding data privacy regulations like GDPR and CCPA, your organization can face compliance risk and fines when you don't have insight into where data lives, its lineage, and how it's used.
Recent digital transformation and the evolution of business and IT relationships have elevated the need for comprehensive data governance solutions. These solutions need to empower teams across your organization to achieve the confidence they need in your data's meaning, quality, value, and trustworthiness.
The Data Integrity Suite's robust data governance framework and foundational data catalog ensure that you can easily find, understand, trust, and leverage critical data across your organization and produce more accurate, informed decisions and reporting.
And, you can answer essential questions about your data usage, impact, and lineage – powered by enterprise metadata management capabilities across the Data Integrity Suite that enable you to automate governance and stewardship tasks. Additionally, automated data quality and data observability functionality provides real-time insight into the health and quality of your critical data.
As the volume of data increases and the number of systems in a network grow, data quality problems become an even bigger challenge to data integrity.
In a best-case scenario, inaccurate, non-standardized, and incomplete data diminishes the potential value of business analytics. In the worst case, it renders the results invalid. And when it comes to machine learning (ML), these models are only as strong as the data they're trained on. So if you're feeding your ML with poor-quality data, you're providing inadequate education.
A robust data quality strategy needs to check several boxes. To name a few, your strategy must be able to:
standardize and validate data
identify gaps or discrepancies, and trigger workflows and processes to correct those errors at scale
reveal hidden relationships and trends in your data, like ownership, fraud risk potential, and look-alikes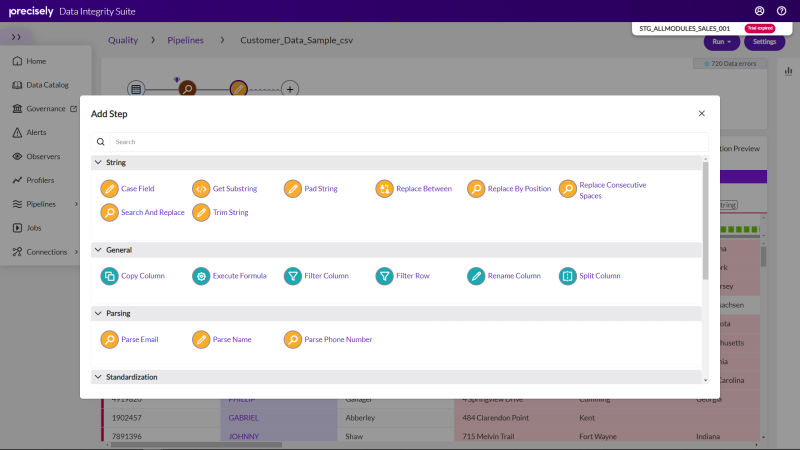 The Precisely Data Integrity Suite's extensive data quality capabilities cleanse, standardize, verify, and validate data, applying robust intelligence to data matching and entity resolution. With the Suite's Data Quality service, you also geocode and enrich critical data assets to ensure accuracy and completeness for downstream operations and business analytics.
With the Data Integrity Suite's data quality features, you can trust that your data is accurate, consistent, and fit for purpose – providing the ability to execute in a cloud-native environment.
Many business cases call for high-quality address data. Think about these common scenarios:
To ensure that parcels and correspondence are delivered to customers promptly, companies depend on accurate address data
Locating the nearest service center or fulfillment location requires a clear understanding of the customer's location
For more pinpoint accuracy for their targeting, marketers often incorporate geography into their targeting algorithms – defining neighborhoods, cities, or regions toward which to aim specific offers
But for the many use cases that require accurate address data, achieving and maintaining that level of quality has many challenges. To name just a few of those challenges:
Street addresses aren't always permanent, and new streets and developments are built constantly
Street names may change, houses or buildings might be renumbered, or naming variants might emerge that create ambiguity around a street name or municipality
Address information flows from websites, third-party marketing lists, or other sources in non-standardized formats, and this can lead to inconsistencies in understanding and interpreting address information at scale
These standardization challenges are amplified by incomplete addresses, contain typos or errors, or are deliberately obfuscated – making them seem undecipherable at first glance.
With the Precisely Data Integrity Suite's Geo Addressing service, you can easily verify, standardize, and cleanse addresses in business data from your eCommerce, CRM, billing, ERP, workforce management systems, and more.
Geo Addressing helps you organize, manage, and analyze data for confident business decisions. It's all fueled by our deep domain expertise and patented global geocoding, addressing, and enrichment solutions.
Virtually every data point in the world can be associated with a location in some form. That means nearly every business use case can benefit from spatial analysis to reduce risk, better understand customer behavior, and increase efficiencies.
Spatial analysis adds a frame of reference to your organization's data – enabling you to better understand patterns and relationships, movement, and the environment surrounding data related to customers, vendors, store locations, and other entities. And as a result, your business can gain actionable insights to drive better business decisions.
The Precisely Data Integrity Suite's spatial analysis capabilities provide hyper-accurate location insight with unmatched performance and scale, allowing you to gain greater data integrity through the essential element of context, based on location.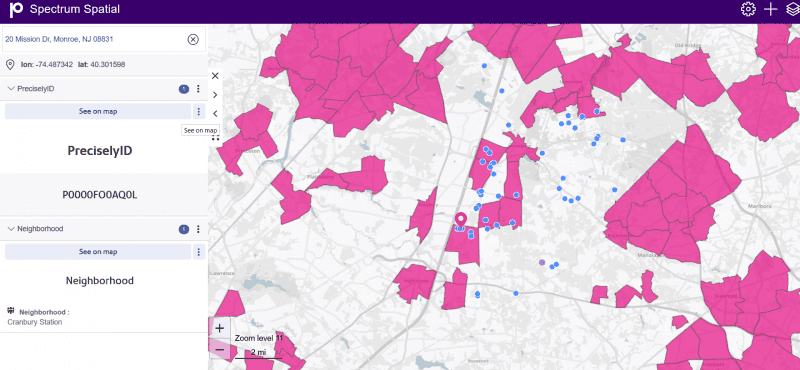 You know that data is your organization's most valuable asset. But did you know you can significantly increase its value by adding trusted third-party data?
This process, called data enrichment, improves completeness and adds context to your data. Enriched data lets you dive deeper into lucrative insights and make better-informed decisions.
The Precisely Data Integrity Suite offers over 400 up-to-date, curated datasets that provide critical context spanning business, location, and consumer. With over 9,000 attributes, you can use data for streets, addresses, boundaries, points of interest, demographics, risks, and more.
Select whatever matters most to your business, then seamlessly enrich your internal data to make it more valuable and complete – which means more context for your decision-making, downstream analytics, and machine learning projects.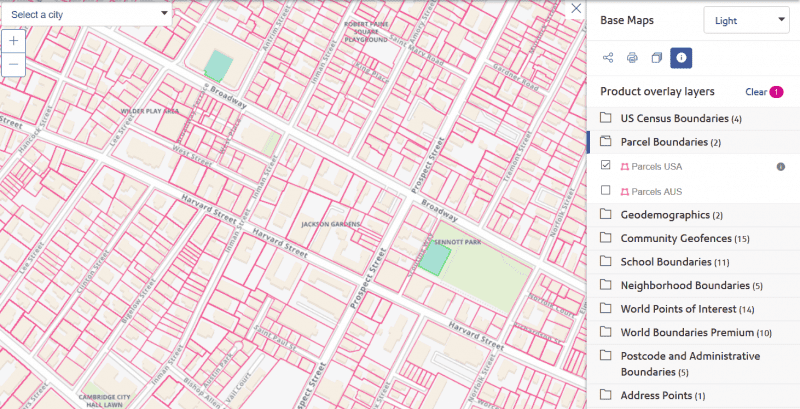 Data is the single most important corporate asset for gaining a competitive advantage. However, data-driven initiatives can only be effective if the data they rely on has the trust of those using it. Maximizing the integrity of the data that drives your organization's strategies requires you to:
integrate data to eliminate silos
deliver quality data that's trusted and fit for purpose across systems
leverage AI-driven observability to monitor and proactively identify data issues before they impact the business
understand data policies and processes with insight into your data's meaning, lineage, and impact
leverage location intelligence and data enrichment to unlock valuable hidden context and reveal critical relationships that transform raw data into actionable insights
You need a clear data strategy for success, which means investing in data integrity.
Read the IDC Spotlight, Data Integrity in Context.
The Precisely Data Integrity Suite combines the fundamentals of data integrity with its interoperable services to deliver unmatched value. Built on proven technology that 12,000 global organizations rely on for their data-driven initiatives, the Precisely Data Integrity Suite delivers trusted data that's accurate, consistent, contextual, and available to your business – wherever and whenever it's needed.