MapXtreme
Build geospatial applications that empower your business with this complete software development kit (SDK)
Enhance business analytics
Location is a part of everything we do. With location-based business data on the rise, the demand for applications containing location intelligence capabilities is high. The challenge for developers is obtaining development tools to help them incorporate meaningful and flexible location analytics into existing workflows.
Integrate spatial analytics into day-to-day business operations with custom geospatial applications using MapXtreme's powerful Software Development Kit (SDK).
Make more informed business decisions
Improve customer services
Augment facility and asset management
Increase organizational responsiveness
The one-stop spatial SDK
As a .net developer, being able to access a range of functionality from one SDK increases productivity. With MapXtreme, key spatial tools are included, enabling you to automate location-based processes, perform geometric and raster analysis, and create visualizations.
Experience consistency across both desktop and server web development, sharing and re-using code between deployment types. MapXtreme software supports Open Geospatial Consortium (OGC) standards. Facilitate rapid development of web applications for all web deployable .NET languages and benefit from features including:
WMTS client support
WFS 2.0 server/client support
Vector layer opacity
Performance improvement for file servers
Support for more than 250 fields in a table
Reduce time, increase power
Reduce your development process with development templates, sample programs, toolbars, and dialog boxes. MapXtreme's drag-and-drop functionality and intuitive tools make it easy to add data and spatial capabilities efficiently.
When you require high performance with extremely large raster and grid datasets, MapXtreme Advanced provides it. This SDK takes advantage of the Multi Resolution Raster (MRR) data storage format, to deliver high quality raster visualization and analysis with extraordinary speed and precision. For example, you can map and analyse huge datasets with extraordinary processing speed across states, countries and even continents.
Raster and grid data analysis functionality includes:
Reprojection
Interpolation
Inflection points
Hill-shade support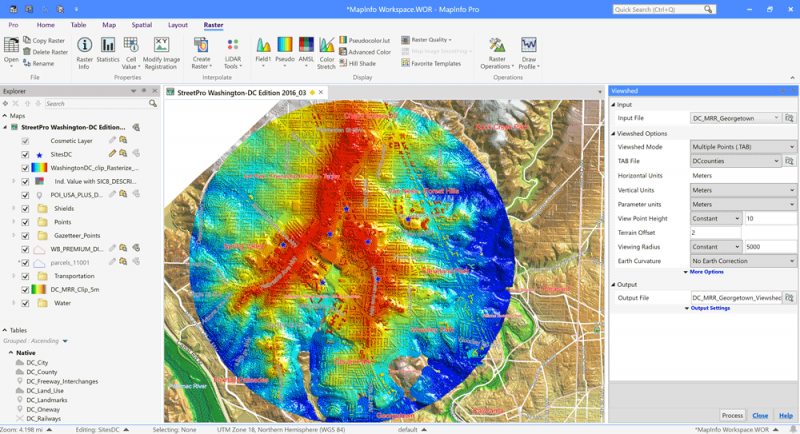 Request a demo of
MapXtreme