Snowflake
Drive bigger insights and better decisions with business user access to your most valuable enterprise data in Snowflake.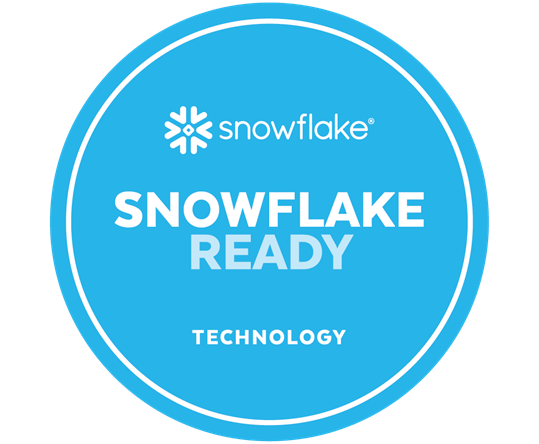 Your organization is using Snowflake for analytics and insights for better, quicker business decisions. But, if your company relies on on-premises mainframe or IBM i systems to process critical business transactions, those insights can be based on old data. Working with outdated information can cause your business to make incorrect decisions and lose opportunities – or even customers.
Connect helps ensure you're working with the most current data in Snowflake with real-time change data capture. Connect captures changes to data from a variety of sources, including mainframe and IBM i, and replicates them to Snowflake in real-time. Leveraging Precisely's deep expertise working with mainframe and IBM i data, Connect not only shares changes to made to data in Snowflake as they happen, but also makes that complex data immediately readable in Snowflake so you can put it to work for your analytics right away.
Watch this webinar to learn more about Connect's real-time CDC capabilities with Snowflake.
Even with the growth of technologies such as Snowflake, mainframe and IBM i systems still play a key role within many businesses. Most enterprises continue to use these legacy systems for their most crucial business functions. For example, mainframes often hold critical information – from credit card transactions to internal reports. However, EBCDIC encoding, REDEFINEs, complex structures, packed decimals, and other complexities make raw mainframe data costly and time-consuming to integrate into other platforms.
Precisely is the industry expert with over 50 years of expertise in accessing and integrating complex legacy data and making it usable in the cloud. Precisely Connect uses high-performance data integration software to move legacy data to Snowflake to fuel analytics projects. Connect directly accesses, understands, and transforms complex VSAM files, COBOL Copybooks, IMS data, Db2 data, as well as mainframe fixed and sequential files.
Connect can ingest raw legacy data and transform it for use in Snowflake, all while linking to the original metadata and providing end-to-end data lineage. With Connect, you can design data integration workflows visually once and deploy them anywhere – on-premises or in the cloud – without the need for redesign, repeated work, or recompiling.
Make all your critical data available in Snowflake to accelerate analytics, fill data lakes and modernize your data warehouse while reducing costs. For example, Connect enables you to build links between hierarchical mainframe data sets and relational Snowflake tables. High performance loads are performed to Snowflake tables on Amazon AWS, Microsoft Azure and Google Cloud Platform.
To learn more about Connect and Snowflake, download the product sheet.
Impact your business, not your systems. Connect's ETL and change data capture capabilities are highly efficient and have a small footprint, yet they help to support the management, security and governance of modern data architectures. Load large volumes of critical enterprise data into Snowflake with Connect without any loss of performance.
Connect offers your business the flexibility to integrate data, when and where you need it. Its flexible architecture is suited for deployment in public, private, multi-cloud and hybrid cloud environments. Connect also supports multiple topologies for data replication, ensuring you can share data changes to Snowflake that best fit your business.
Snowflake users can search for and access Precisely datasets directly within Snowflake.  Precisely data is available in the Snowflake Data Marketplace, where Snowflake users can browse third party data and learn how to enrich their own data with contextual information related to locations, businesses, and consumers. Currently available are some of Precisely's most sought-after datasets related to addressing, points of interest, and ZIP Codes. These datasets can be accessed directly through Snowflake and used to enrich GIS or business analyses across industries.
Enriching data in Snowflake adds additional contextual information such as demographics, boundaries, and points of interest to understand what is happening in specific locations. This provides insights such as who lives nearby, which neighborhood they are in, and what stores are within a five-minute walk. Data enrichment provides the context necessary to create data driven location strategies. By accessing enrichment data directly through Snowflake, users spend less time curating data and more time doing what matters – analyzing the results.