Precisely Demographics
Demographic and consumer context data for better understanding people and behavior
Connect people to places
Precisely Demographics is a robust collection of demographic, geodemographic, and consumer context data designed to help you understand people and the places where they live, work, and do business.
These datasets offer you information for over 140 countries and territories worldwide, and empower you to conduct your analysis at the scale you need.
Precisely Demographics allows you to visualize population counts and characteristics at a nationwide, statewide, census-block, or lifestyle group level, and anticipate and plan for future trends with demographic estimates and projections.
Consumer data brings you even deeper, allowing you to truly understand individuals by analyzing consumer purchases, property ownership, finances, behavioral affinities, and more. Link fragmented and incomplete identities for stronger digital marketing, increased customer satisfaction, and more accurate model creation.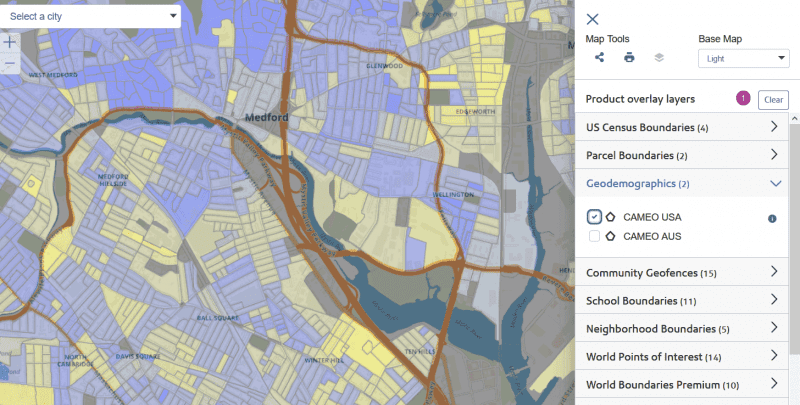 Precisely Data Experience lets you visual demographic data for free – Try it now!
Breadth, depth, and versatility
Gain unique insight into over 6.7 billion people worldwide.
Precisely Demographics provides the level of data you need for global or local population analytics. Datasets are consistent across geographies for streamlined workflows, and updated frequently to ensure freshness.
Datasets are delivered with geographic information such as census and administrative boundaries to help you associate people and behaviors with location, by visualizing and examining populations within the context of their position.
Each is ready to use in the business or location intelligence system of your choice. Offered in a variety of file formats,  Demographics works seamlessly with other spatial or tabular data.
You can also enrich your demographic analysis with the PreciselyID, a unique identifier for address points. The PreciselyID associates address points with demographic characteristics for a quick and simple lookup of population information.
Inform strategic decisions
Precisely Demographic data enables you to identify where people are, who they are, and how they will interact with your business. A wide range of demographic, consumer and customer preference variables offer detailed insights for use in multiple industries.
This allows you to plan retail outlets, store layout, and product mix based on the types of people living in a store catchment, or assist social media and mobile location-based marketing by understanding who lives in in a specific area.
It also enables you to resolve fragmented identities by verifying and validating social and consumer information, cross-sell across different lines of business by expanding your view of the individuals in a given household, and develop behavioral models using a combination of individual and household-level data from a given region.
---
Datasets include but not limited to:
Request a demo of
Precisely Demographics