Data360 Govern
Data360 Govern is now part of the Precisely Data Integrity Suite.
The features and benefits of Data360 Govern have moved to the Suite's Data Governance service, powering better decisions grounded in trusted data faster than ever before.
Enables trust in your data
Your organization knows the value of data and the need to get it into the hands of business users for maximum impact, but without enterprise data governance, that data might be hard to find, understand, and trust.
Data360 Govern is an enterprise data governance, catalog, and metadata management solution that gives you confidence in the quality, value, and trustworthiness of your data. It automates governance and stewardship tasks to help you answer essential questions about your data's source, use, meaning, ownership, and quality.
With Data360 Govern, you can make faster decisions on data usage and management, build collaboration across your entire organization, and allow users to get the answers they need – when they need them.
Benefits
Enterprise Governance
Enables strategic, operational, and tactical teams to find, understand, and use trusted data
Measurable value
Documents value by linking business goals directly to data that impacts business outcomes
Fast time-to-value
Jump starts implementation and adoption with customizable metamodel, dashboards, and workflows
Task automation
Harvests metadata, imports data quality scores, and automates workflows to keep information fresh and relevant
Measures data value and quality
Transparency into your organization's data landscape gives you the power to track the critical data aligned with your most important business outcomes. Data360 Govern is the only end-to-end governance solution that empowers the consumers of data across the enterprise to connect data to meaningful business objectives.
Data360 Govern's business goal tracking provides real-time views into how data supports business processes, compliance events, reports, and metrics. Dashboards and reports personalize insights about your curated or transactional data with views that connect data to outcomes.
Data360 Govern works with Data360 DQ+, Spectrum Quality, and Trillium Quality – or any data quality solution of your choice – to build data scoring rules that measure the accuracy and completeness of your data in real-time. Profile, improve, and monitor the quality of both metadata and transactional data leveraged for reporting or predicting business results.
Hear how Experian leveraged the flexibility and business-first focus of Data360 Govern to allow data users from business and technical teams to collaborate for better customer outcomes
Improves data literacy
Data360 Govern automates the curation of a business glossary for data, visualizing how data flows through your organization, and allowing your people to speak data fluently for better, data-driven decisions.
Data360 Govern's Automated Data Catalog quickly crawls, profiles, scores, and manages complex metadata to build a single, searchable inventory of data assets. Its Smart Business Glossary automatically tags your data to expand searches, while collaborating across business areas on common data definitions, rules, and policies.
Easily configure Data360 Govern's Flexible Metamodel to mirror your business model and increase adoption of your governance program through ease of use. Our 3D Data Lineage visually combines 3 different concepts, data lineage, impact analysis, and process diagrams, to truly understand your data in context. And to make it simple and intuitive for users to quickly find data assets, Machine-Learning Search & Discover eliminates time wasted struggling to access the quality data you need.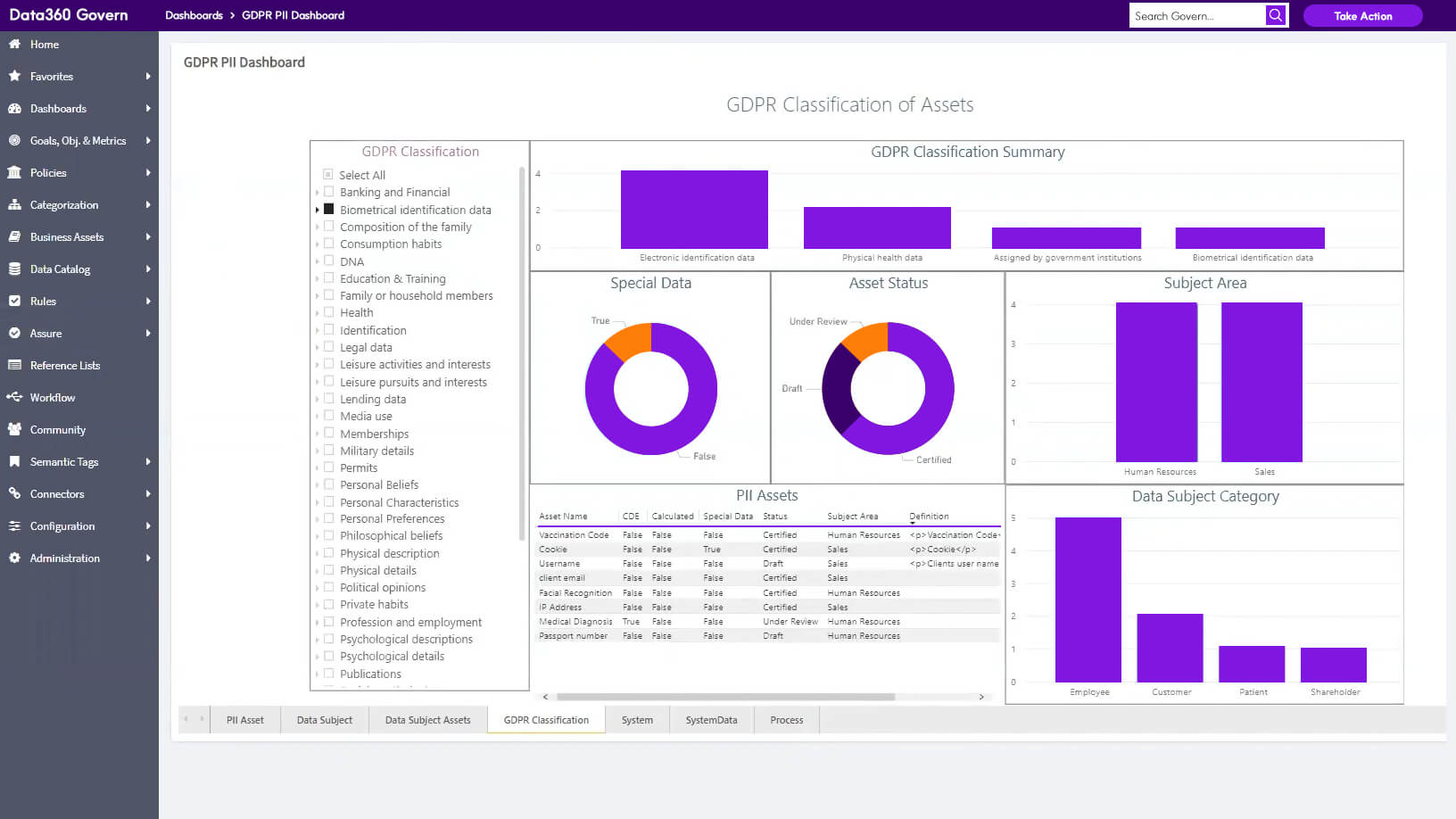 Data360 Govern GDPR Dashboard
"We now have a lot more visibility into data issues because, in the past, fixes may not have been communicated back, so the same mistake was repeated. Now, the governance organization can drive to the root cause of how mistakes happen and make sure they don't happen again, which translates to fewer data issues."
Claire Doyon, MDM Technical Director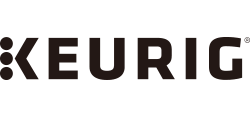 Key Data360 Govern capabilities
Data360 Govern offers a rich set of capabilities to fulfill all your data governance needs:
Data Policy Documentation
Record policies and standards and document their relationship to data
Data Catalog
Harvest metadata and allow business and technical metadata to be searchable
Business Glossary
Understand your data with definitions and context and crowdsource updates
Data Stewardship
Provide ownership and accountability of data assets via roles and responsibilities
Metrics & Scoring
Aggregate data quality and present data governance scores by asset
Workflow
Customize your operating model for reporting issues, questions, or approvals
Advanced Profiling
Understand key attributes for all data types
Data Detection & Tagging
Utilize AI techniques to automatically tag data for categorization or to relate data together
"We chose Precisely because we wanted a unique firm that had a laser focus on data governance. Their concepts and previous experience along with their customized approach allowed us to build the right fit for our organization. It felt personalized and never like a one-size-fits-all approach."
Christopher Grubaugh, Enterprise Data Leader
Ashland Inc.
Request a demo of
Data360 Govern