Financial services data solutions
Enhance your data analytics with Precisely financial services to better understand your customers, identify growth opportunities, create frictionless omnichannel customer experience, ensure compliance, mitigate risks, and optimize your branch performance
Maximize new opportunities and maintain compliance
The financial services industry is changing. To compete, banks, credit unions, mortgage companies, and credit card companies must provide customers a great experience through convenient branch locations, robust digital channels, and compelling products and services.
This challenging environment makes it critical for financial institutions to make use of first- and third-party data as well as spatial analytics to sharpen their understanding of the market dynamics and customer behaviors impacting their business.
Financial institutions need to be agile to address new market needs and opportunities, combat financial crimes and anti-money laundering (AML), and respond quickly to new regulations.
Enable better service offerings, marketing, and risk mitigation by attaining a single view of each customer. Gain location context to better understand relationships and make better decisions.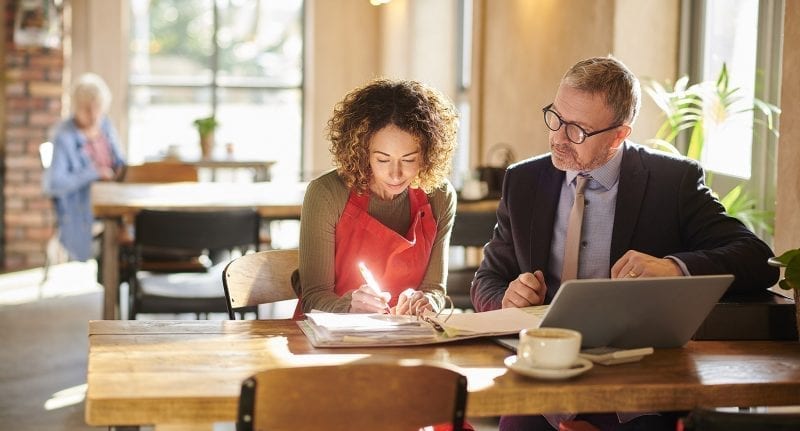 Knowing your customer requires enhancing your customer lifecycle, quickly connecting customer data across your organization, and understanding the context in which they are engaging.
Establishing context by connecting a full 360-degree view will help identify relationships, uncover hidden or non-obvious opportunities, and engage your customers in meaningful ways. Context is required to expand on your market share, provide the best service, and personalize omnichannel engagement.
Establishing this context requires an efficient way to connect data across silos, improve data quality, and quickly enrich data to support your objectives. It enables you to optimize every interaction, accelerate insight, illuminate analysis, and automate every aspect of your business while supporting your compliance, data privacy, and FCC initiatives.
Spectrum Context offers a single customer view solution that's quick to market and delivers a rapid return on investment –  enabling you to see each customer in the context of their accounts, behaviors, geography, and demographics, and engage them in more timely and effective ways.
This single-platform solution combines the immense value of data quality capabilities with graph-database technologies. It means you no longer need multiple tools to clean and load your data into a centralized model. As relationships are established, and changes happen in the real-world scenarios, our approach of leveraging the graph enables agility and flexibility to accommodate these changes.
Experience the agility and flexibility of our graph-based solution by examining your data across multiple dimensions to establish  true context. Traditional database technologies have their rightful place, yet struggle when agility is required. The graph database handles complex inquiries at lightning speed. Graphs help you to project a customer's needs and risk based on the context of the stage of life, their current financial status, transactional behavior, geographic location, household relationships, and more.
When you establish context, you can engage each customer more efficiently and effectively across every touchpoint. 
See how Precisely's Verify products were able to help a New  England bank transform the client experience by creating a Single View of the Customer.
As regulatory requirements are constantly changing, screening against more lists and generating more alerts will only produce larger numbers of false positives. Most screening platforms don't include data quality or entity resolution capabilities. At the same time, budget and staffing limitations demand greater efficiencies.
So it's time to reconsider the screening process end-to-end and leverage a solution that increases the quality of alerts, not just the quantity. Through enhanced data quality, list management, and entity resolution applied across your key processes of screening, transaction monitoring, and Know Your Customer (KYC) compliance, you can screen with confidence and streamline investigation.
Our five distinct Spectrum Screener modules introduce efficiencies before, during, and after matching. You can easily deploy all of them end to end or integrate one or more with your existing infrastructure to:
Optimize data and lists;
Run concurrent global and local matching;
Improve match quality;
Aggregate and prioritize cases;
Increase regulatory transparency;
More effectively manage risk.
Identify, standardize and integrate data from different sources and types right within your screening solution combined with cleaned, consolidated negative-news and watch lists to dramatically reduce duplications. This generates more exact matching, greater compliance, and fewer redundant alerts, boosting productivity.
Spectrum Screener is transparent and customer-configurable so you can:
Easily calibrate confidence levels to better manage risk;
Understand exactly how matches are made (including when and how fuzzy matching is applied);
Gain quick, clear access to full data-lineage and audit trails.
Streamline investigation with built-in event triage and case aggregation to reduce duplicate efforts by your investigative team. Spectrum Screener applies machine learning on investigative outcomes to continually increase efficacy, reducing the volume of false positives that reach your case management system and take investigators' time.
Our screening modules integrate seamlessly with your current case management system, workflows, reporting, and analytics to rapidly deliver value with minimal disruption.
Physical locations incur a significant capital expenditure. So, it is important to know how many locations are needed in a market, select the right locations, and maximize their performance. Determining which locations to close, invest in, or renovate is critical to maintaining and growing your customer base.
Managing locations and reducing branch expenses while maintaining or growing market share can be a challenge. Consolidations, renovations, and openings are some of the critical branch transformation tactics that need to be analyzed and quantified to make better decisions.
Branch closures put customer relationships at risk. You need to reduce overlap within the network and decide which branches to close while minimizing the risk of losing customers. A detailed financial case that provides an estimate of the revenue impact of a closure along with the expense savings is needed to make these critical network decisions.
When scanning the market for new opportunities, it is important to understand market demand, intensity of competition, and current branch coverage to identify new locations that have the best opportunity for success. To justify the new location, a detailed product-level forecast is needed, not only for the new branch, but also to review how much of the business forecasted for this new branch is likely to be the result of cannibalization from existing locations.
Renovating current branch locations is another key tactic to improve your current location footprint. But which attributes are likely to have the greatest impact on branch performance? Our solutions allow you to test numerous branch configurations to see if a change in branch attributes will have a significant impact on performance.
The Spectrum Spatial Insights product suite and our high-quality data and analytics solutions can help provide these answers and allow you to build an optimal branch network to maximize the return on your investment and exceed your customers' expectations.
For more information watch our webcast: "Re-Calibrate Your Branch Transformation Strategy With New Insights".
Setting rational market opportunity-based sales expectations can help each branch reach its potential. Fair sales targets significantly improve the effectiveness of your sales team and your incentive compensation dollars, ultimately increasing sales. Better allocation of sales goals increases your likelihood of achievement and overall performance — stemming from a sales staff more motivated by realistic goals.
Each branch in your network faces unique challenges presented by market demographics, competitive environments, and facility characteristics. Understanding how these challenges impact current branch performance helps provide insights into how to increase potential and capture true market opportunity.
PERFORM.360 provides a benchmark of current performance as well as insights into which branches have untapped potential opportunity. Our opportunity-based sales goals also provide a likelihood of attainment metric that tells if the goals are too aggressive given historical performance and market characteristics.
Mortgage lenders seek to reduce the risk of mortgage delinquency. This means improving closing cycles and enhancing property valuation models are paramount to growing top-line revenue.
Precisely accelerates property insights in a cloud native environment, enhancing a lender's ability to improve analytical models, tighten property valuations, and further mitigate risk.
When working across a large area with many properties, the variables that inform home value can be overwhelming and businesses have been challenged in finding national datasets that are easily organized and combined for analytics.
Precisely's geocoding and geo-enrichment tools enable businesses to integrate, organize, manage, and analyze data from a variety of sources to enrich properties, creating "property intelligence." By adding information to a property record, and conflating data with a unique, persistent identifier, lenders can quickly join huge volumes of data such as:
Type of property (single family and multifamily dwellings)
Demographics and geo-demographics
Climate risk factors such as distance to coast, wildfire/flood areas, and historical weather records
Property characteristics
Surrounding points of interest
Mortgage companies can leverage machine learning to identify the most important of these attributes affecting property values in their portfolio.
Using Spectrum Global Geocoding, a unique and persistent identifier, the PreciselyID, is appended to each geocoded address in the United States and Canada. The PreciselyID can be used to perform a quick and simple lookup of over 9,000 attributes, returning a wealth of information related to an address.
Businesses and organizations that see the advantages in enriching properties to better understand property value use location intelligence solutions in a variety of platforms and environments. You can access services through an online Software as a Service (SaaS) product, embed capabilities in your business processes through a cloud native Software Developer Kit (SDK) or API, leverage a hosted solution, or even install on-premises. We have the tools and resources you need to understand the important factors influencing mortgage decisions.
Accurate data helps you understand customer segments, improve how you manage risk, and make smarter decisions. With Precisely, you can gain the insight you need to choose the most profitable branch locations, predict demand, and target marketing programs to make the biggest impact.
Precisely provides the industry's most extensive data catalog, with datasets specifically developed for financial services. Transform business data into actionable information using powerful predictive analytics, gaining greater precision with demographic and location-based intelligence.
Precisely's extensive demographic data portfolio enables you to better understand and reach your customers by enriching your data with valuable perspectives for targeting and segmentation. Demographic data ranging from the nationwide to individual level gives you flexibility in the granularity of your customer analytics, while estimates and projections allow you to plan for future markets. Geodemographic and segmentation data provide insight into the lifestyles of your customers and target markets for stronger messaging, offers, and strategies.
Enriching a location also reveals critical insights for financial services. Geographic insight provides perspective for understanding markets, competition, opportunities, and risks. By geo-enriching your branch locations, customer activity, and competitive landscape, you can develop winning data-driven business strategies. Precisely's location-based data includes hundreds of datasets related to boundaries, points of interest, streets, and addresses so you can enrich your existing data for deeper context. You can understand how a competitor's location impacts your branch performance, or how two of your own branches may be cannibalizing business from each other. You can also use street data to see how accessible your locations are to customers and prospects. Precisely's financial services datasets empower you to get a full picture of your business, customers, and competition.
Find, evaluate, and sample data for free with the Precisely Data Experience.
Understand market potential for your products
Demographic data is one component of understanding the potential of any market. However, it can be cumbersome to relate hundreds of demographics variables to purchasing behavior for a given product. Data that combines the strength of demographics with millions of actual customer banking records provides a deeper understanding of the true market opportunity for each product.
Then take your analyses to the next level with a detailed understanding of the total spend for over 20 consumer and small business products, provided at the census block group level. Product totals are provided for the current year and a five-year projection. Our sophisticated modeling process allows the data to be segmented based on unique banking behaviors, such as access to physical locations, bank at home, and bank at work.
This data is foundational in developing an understanding of the total financial services product potential for any market-based analysis.
Find, evaluate, and sample data for free with the Precisely Data Experience.
Streamline the customer experience
In addition to learning how to best target products to specific customers, credit card companies need to make the application process as accessible and easy as possible. Potential cardholders want to access an online application, apply, and move forward quickly.
To make the application process easier, credit card companies are embedding a simple Typeahead API which returns an autocompleted list of addresses based on the input of a partial address. This provides an easy-to-use application process by integrating a cost-effective SaaS service. In the end, it is a win-win for both the credit card company and the applicant.
With Precisely, financial institutions are improving their service offerings and marketing while mitigating risk by attaining a single view of each customer and gaining location context.