Security Information and Event Management (SIEM) solutions
Integrate mainframe and IBM i data into Security Information and Event Management (SIEM) solutions for the enterprise-wide visibility you need for security and compliance
Fortify your cyber defenses with true enterprise-wide visibility
Businesses everywhere are experiencing an increase in compliance regulations and ever-changing IT security threats. To protect your business, you need real-time, 360o intelligence into compliance deviations and security breaches.
Enterprise SIEM (Security Information & Event Management) solutions – such as Splunk, IBM QRadar, SolarWinds, and LogRhythm – collect, manage, and analyze security information and report on these events. However, they don't natively support your mainframe and IBM i systems, leaving a security blind spot that puts your organization at risk.
You need a comprehensive, single view of your entire IT infrastructure for early detection and threat response across all your systems. Unfortunately, integrating these legacy platforms into an enterprise SIEM platform is very difficult. Legacy platforms have a range of data sources and proprietary data formats and require specialized skills to analyze and integrate the data.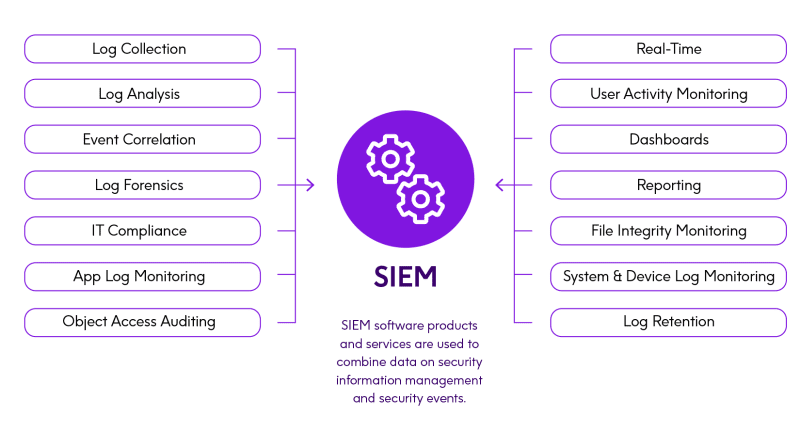 Precisely solutions provide automated, seamless forwarding of IBM i and mainframe machine data to the most popular enterprise SIEMs to support your security and compliance initiatives.
Security issues are top of mind for many CSOs (chief security officers) and CISOs (chief information security officers). But security is a collaborative effort that touches every corner of the business and requires comprehensive, enterprise-wide visibility to detect threats early and quickly respond to them.
Using a SIEM to monitor system and database changes is critical to preventing, or limiting the damage from, malicious actors, whether they come from inside, or outside, your organization.
With Precisely solutions, you can seamlessly integrate mainframe SMF records and IBM i log data into your enterprise SIEM. Monitor user authentications, account and login activity, FTP sessions and file activity, and more, for a consolidated, real-time analysis of security threats and incidents – no matter where they happen across your IT infrastructure.
Learn how Precisely SIEM solutions support enterprise security with:
No matter your industry, your organization likely faces regulations with stringent cybersecurity requirements, such as SOX, GDPR, HIPAA, PCI DSS, state privacy regulations, and more.
Your IBM i and mainframe systems process massive volumes of sensitive information that your customers, partners and employees trust you to keep safe. Continuous security monitoring is critical to reduce the risk of data breaches and maintain compliance.
But managing security with siloed tools is prone to errors and wastes critical time. When faced with an audit, correlating data, metrics and reports from disconnected platforms is burdensome and ripe for failure.
Precisely can help make it easier to meet compliance mandates. Our solutions forward IBM i and mainframe data to your enterprise SIEM so you can demonstrate compliance across the enterprise and pass critical regulatory audits.
Learn how Precisely SIEM solutions support regulatory compliance with:
Get a full view of enterprise security
SIEM software products and services combine security information management and security events generated by servers and applications to provide real-time analysis of security alerts and threats happening within an organization's IT infrastructure.
Event and log collection, search, visualization and other security-specific activities traditionally done at a "silo" level, must now be expanded to include and correlate all relevant security information and security events from the entire enterprise.
With solutions from Precisely, you can create an integrated, 360o view in your SIEM that brings together insights from mainframe, IBM i, cloud and other distributed platforms – allowing you to identify and address compliance and security issues across the enterprise using a single pane of glass.
Adventist Health
The computing load placed on an aging IBM AS/400 model 730 caused response times to swell, so a powerful new IBM System i model 570 was acquired to take its place.  A conventional migration from the AS/400 to the new System i model 570 was going to result in an unacceptable amount of downtime— potentially more than 20 hours.
"There were other alternatives but Precisely's product was the best. We cut our downtime to a fraction of what it would have otherwise been, and eliminated some staff scheduling problems."
Florencio Alcocer
Senior System Engineer