Ironstream
Integrate mainframe and IBM i systems into leading IT analytics and operations platforms for an enterprise-wide view to support your digital business
Drive your digital business with comprehensive, real-time visibility
In today's digital, always-on world, IT is arguably the most important department across your organization. A single security breach or service outage can bring your business to a standstill. But knowing what's happening across an increasingly complex landscape of infrastructure and apps, and resolving issues before they impact the business, is a daunting task.
The good news is that there are several platforms to help you monitor IT security and operations across the enterprise in real-time, and take action fast.  The challenge, however, is that mainframe or IBM i systems aren't natively supported by these modern tools.  So, if you rely on these critical servers to run your business and you're managing them in isolation, you have a dangerous blind spot.
Ironstream breaks down those silos so you can have a true 360-degree view of your IT infrastructure. Ironstream delivers valuable and insightful log data, events and intelligence from both IBM mainframe and IBM i environments and makes them work seamlessly with Splunk, ServiceNow, Micro Focus, Elastic and more.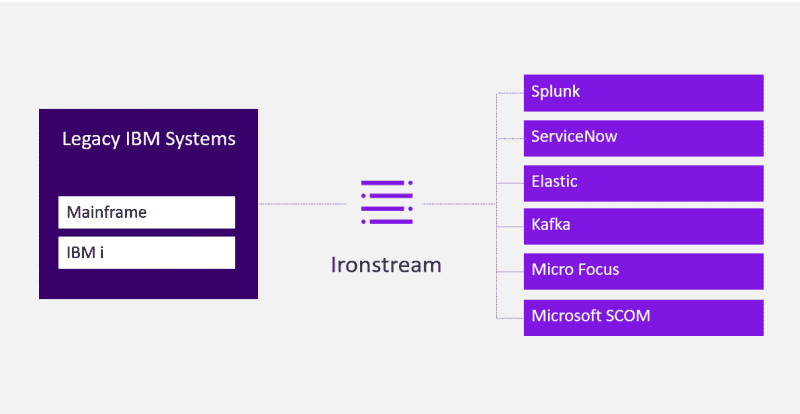 Ironstream for Splunk®
You rely on Splunk's IT analytics dashboards to manage IT operations, security, regulatory compliance, and more. But Splunk doesn't integrate with mainframe and IBM i systems, leaving a glaring blind spot.
Ironstream makes it simple to securely collect, transform, and forward log data from these traditional IBM systems to Splunk. Merge this information with machine data from across your infrastructure for unprecedented insights. Mainframe and IBM i expertise is not required.
Ironstream seamlessly integrates all critical IBM mainframe and IBM i data sources into Splunk to support your strategic enterprise-wide initiatives, including:
Learn more about Ironstream for Splunk®
Ironstream for ServiceNow®
ServiceNow supports your always-on digital business by helping IT keep service levels high. Its unified platform replaces disconnected tools to empower IT teams to work smarter and more effectively to meet the needs of the business.
Some organizations spend months trying to include their mainframe and IBM i systems in ServiceNow, only to be frustrated by errors, inefficiency and skill gaps.
Ironstream easily integrates IBM mainframe and IBM i systems into ServiceNow so you can realize the full potential of the platform.
Ironstream supports ITOM Visibility to auto-populate an accurate and service-aware CMDB, providing a single source of truth. Ironstream also integrates with Event Management so you can reduce event noise and resolve service issues fast.
Ironstream for Elastic
The Elastic Stack (also known as the ELK Stack) is a popular open source platform for log monitoring and observability.  Organizations of all sizes use the Elastic Stack to stream operational data from across the enterprise into a single location and analyze it from any perspective.
Ironstream makes it simple to collect, transform and securely stream data from IBM mainframe and IBM i platforms into Elastic without the need for specialized mainframe or IBM i expertise.
Ironstream for Kafka
The Apache™ Kafka event streaming platform powers real-time analytics with massive amounts of data from across your enterprise. It's speed, scalability and reliability make it a popular choice for real-time IT security and operations analytics.  And its ability to stream data to virtually any analytics platform delivers flexibility to use the tools that best meet your needs.
With Ironstream for Kafka, you can quickly and easily integrate your IBM mainframe and IBM i systems into Kafka data streams with confidence. Ironstream's out-of-the-box integration with Kafka lets you collect, transform, and securely send log data from these IBM systems into virtually any analytics platform you choose.
For even more flexibility, a single stream of mainframe or IBM i data can be used by multiple teams – for different use cases or projects – in real-time, or in the future.
Ironstream for Micro Focus®
Micro Focus helps improve IT productivity and enhance service speed and quality through an accurate, up-to-date, single system of record for IT infrastructure. As with other platforms, however, Micro Focus doesn't natively integrate with IBM mainframe and IBM i environments.
Use Ironstream to integrate machine data from these traditional IBM systems into the Micro Focus Universal Configuration Management Database (UCMDB) for a complete view of your entire IT environment.
Ironstream also works seamlessly with Micro Focus Operations Manager (OMi) to forward event and system management data for the IBM systems. And you get the consolidated, enterprise-wide view of all your IT operations you need to deliver high-performing service to the business.
Ironstream for Microsoft® SCOM
Organizations using Microsoft System Center Operations Manager (SCOM) to monitor and manage their IT systems from a single management console may be missing critical information.
System and event data from IBM mainframe and IBM i systems is not easily integrated, leaving a gap in Microsoft SCOM's visualizations.
Ironstream fills this gap by integrating event and system performance data for these traditional IBM systems into SCOM.
With 360-degree visibility into all corners of your infrastructure, you can more effectively manage IT operations. Monitor the status and health of mainframe and IBM i environments with the rest of your systems so you can take corrective action based on central policies and make better, faster decisions.
Request a demo of
Ironstream