Ironstream
Integrate mainframe and IBM i systems into leading IT analytics and operations platforms for an enterprise-wide view to support your digital business
Drive your digital business with comprehensive, real-time visibility
In today's digital, always-on world, IT is arguably the most important department across your organization. A single security breach or service outage can bring your business to a standstill. But knowing what's happening across an increasingly complex landscape of infrastructure and apps, and resolving issues before they impact the business, is a daunting task.
The good news is that there are several platforms to help you monitor IT security and operations across the enterprise in real-time, and take action fast.
Benefits
Complete visibility
Get a comprehensive, real-time view of your IT landscape for better, faster decision-making
Improved agility
Proactively identify, and quickly resolve, security threats and performance problems
Service availability
Avoid downtime, meet demanding SLAs, and deliver great customer and employee experiences
Cost savings
Eliminate manual processes and inefficient tools, and optimize your infrastructure spend
Break down silos
The challenge, however, is that mainframe or IBM i systems aren't natively supported by these modern tools. So, if you rely on these critical servers to run your business and you're managing them in isolation, you have a dangerous blind spot.
Ironstream breaks down those silos so you can have a true 360-degree view of your IT infrastructure. Ironstream delivers valuable and insightful log data, events and intelligence from both IBM mainframe and IBM i environments and makes them work seamlessly with Splunk, ServiceNow, Micro Focus, Elastic and more.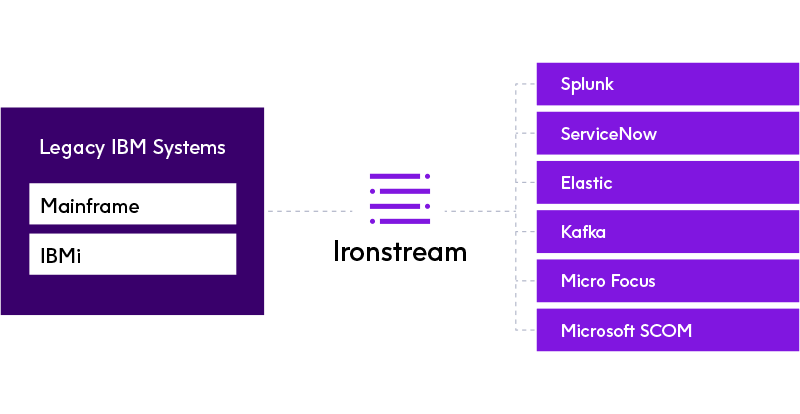 Request a demo of
Ironstream