Data governance solutions
Establish a strong data governance framework for your unique use cases to proactively find, understand, and manage data for proven business outcomes based on trusted data
Find, understand and trust your data
Your organization has access to more data than ever. You've been collecting, saving, and analyzing this data to use for everything from more accurate analytics and business reporting, to protecting your company from fraud.
However, many companies don't know what data they have, where they have it, or what's been done with it. If your organization struggles to understand its data , that uncertainty can prevent you from fully realizing its value. And now, with ever-expanding data privacy regulations like GDPR, your organization can be exposed to a lot of risk when you don't have insight into where data lives and how it's used.
Recent, rapid digital transformation and evolution of the relationship between business and IT have elevated the need for comprehensive data governance solutions that connect data quality, data integration, data catalogs, and metadata management.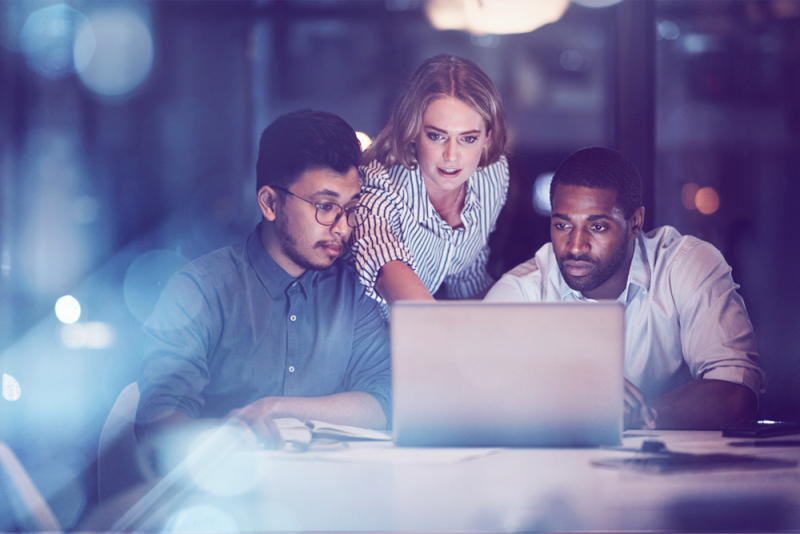 A business-friendly approach to data governance is imperative to engage all users and accommodate diverse business use cases spanning analytics, operational improvements, and compliance requirements. To increase adoption and collaboration, business and technical data users across your organization need to have a common, agreed-upon, and documented understanding of which data is most important, what it's called, and where it's used.
Modern data governance solutions jumpstart this alignment with an intuitive and easily understood framework – or metamodel – that mirrors your business model to increase familiarity and facilitate adoption. It's also important to be able to search with everyday language with semantic tagging to easily find similar and related assets.
Best-in-class data governance solutions provide dynamic diagrams that help users quickly visualize the lifecycle of your data and critical relationships with other systems and processes. Business-friendly data lineage, impact analysis, and process maps help deliver even greater context around your data assets.
Automation is the final key to increasing data literacy and delivering solutions that are truly business-friendly. Your data governance solution should be able to quickly crawl, profile, and score complex metadata. Accelerators to automate metadata ingestion should also be natively available to keep your data catalog fresh and current. Look for easily configurable workflows to document data requests and enable collaboration to build a truly data-driven culture within your company.
Learn about the top 4 priorities for building a data governance program that consistently delivers business value to your team.
Proving the value of your data governance program should be approached both as an ongoing strategic practice and embedded in your chosen data governance solution. Without metrics of how your governance initiative is impacting your business goals, your program is at risk of losing sponsorship and funding.
To accelerate new governance programs, you'll want to fortify existing data governance programs through proven ROI. To reinforce confidence in the value of governance initiatives, you must identify, connect, and measure data assets linked with:
Business Goals, objectives, KPI's and metrics
Critical business processes and operational performance
Transformational, compliance or analytical initiatives
Look for a data governance solution that enables you to create personalized dashboards that bring visibility into the governance and quality measurements of critical data assets that matter to each user. With dashboards, users can track and document the impact of governance on their business goals and outcomes.
A value-based approach highlights that data governance is not just another 'have to do', but a critical strategic program with measurable outcomes.
Check out this case study that explores how Keurig Green Mountain implemented an enterprise data governance solution to realize their strategic vision and build a scalable framework for long-term success.
Data quality and data governance share a 'symbiotic relationship' . The common goal of many data governance programs is to increase visibility around the quality of data for better business outcomes.
Data governance needs appropriate data quality tools not only to clean raw data, but also to illustrate data errors and issues, help compile the best standards, and monitor data quality against policies for critical data elements over time. Increasingly, machine learning capabilities can optimize data quality best practices by identifying trends and patterns.
Your data governance solution should be compatible with industry-leading data quality solutions to bring visibility to data quality scores on key assets… and promote engagement with the right teams to pro-actively troubleshoot or optimize standards and best practices with a documented workflow.
Precisely Data Integrity Data Governance service

: A more holistic framework

Many data governance programs fail. Why? Two reasons: Business teams find them too complex or time-consuming, and/or they lack real, documented business value. Precisely delivers a more holistic framework that fills both of those gaps and more.

The Data Governance service was designed for business first, so that business and technical teams can collaborate through a single solution to increase data literacy throughout your organization. With our flexible metamodel, automated connectors, and semantic tagging, consumers can easily locate and understand the assets critical to their goals.

Dynamic visualizations like our unique 3D data lineage – that visually connect data lineage, impact analysis and processes – and personalized dashboards, enable users to view metrics and more easily understand the journey of the data that is most critical to their needs.

The Precisely Data Integrity Data Governance service links metrics to your critical data assets associated with your most important goals, processes, and initiatives to document true business value. Critical to our value-based approach, Precisely brings years of deep Strategic Services expertise in data governance and data quality to partner with you and help you define, implement, and measure your data initiatives. Precisely is committed to delivering not just solutions, but measurable outcomes.

Precisely offers industry-leading data quality solutions that can be leveraged with the Data Governance service.

Precisely (Infogix) was acknowledged in The Forrester Wave™: Data Governance Solutions, Q3 2021 as a 'top choice for clients looking for a well-rounded data governance solution with solid data quality capabilities and data strategy consulting services'. Partnering with Precisely on your data governance or data catalog initiative is more than just buying a tool – it's investing in a proven model to help you achieve your business goals.
Ashland Inc.
Many of today's large modern enterprises rely on successful mergers, acquisitions and divestitures as a significant part of their growth strategy, and Ashland Inc. is no exception. Their people, processes and systems are constantly moving and changing, which has made it increasingly challenging to remain innovative and agile in their quest for digital transformation.
"We had a lot of well documented business rules, but they were in a format that was consumable by the master data team, only. They were full of acronyms and 'techy' terms and lacked context around the business reason to have the rule"
Gred Hill, Global Master Data Manager
Ashland Inc.