Assure MIMIX
Guarantee 24/7 IBM i application availability and protect against data loss with Assure MIMIX
Assure MIMIX
Assure MIMIX is the leader in IBM i high availability (HA) and disaster recovery (DR). Thousands of companies worldwide, from small businesses to global enterprises, depend on Assure MIMIX to prevent data loss and eliminate planned and unplanned downtime.
Assure MIMIX provides full-featured, scalable real-time replication with extensive options for automating administration, comprehensive monitoring and alerting, customizable switch automation, and an easy graphical interface.
Assure MIMIX works across any combination of IBM i server, storage, and OS versions. So, whether you need HA and DR protection for just one IBM i server, or your business depends upon a multi-site mix of on-premise, remotely hosted, and Cloud Service-based systems, Assure MIMIX delivers no-compromise data protection and business continuity that meets your needs today and the flexibility to support tomorrow's business challenges.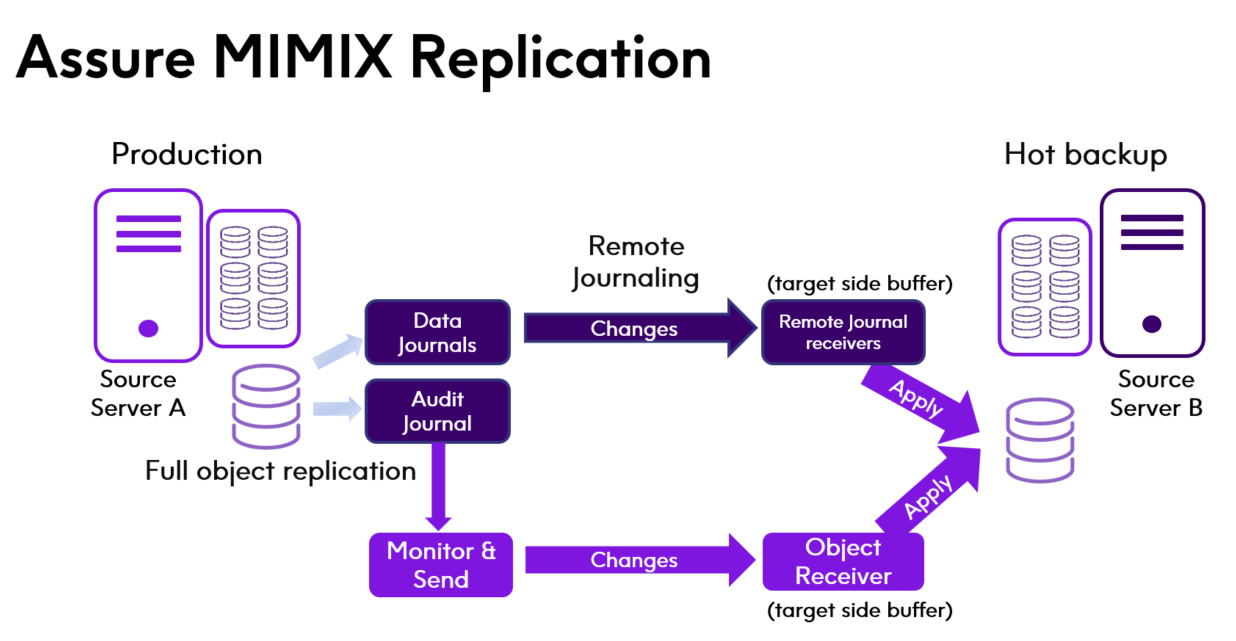 The complete protection every business needs
Just because a business is smaller does not mean it can get by with less effective or incomplete protection against downtime and data loss. So, every implementation of Assure MIMIX includes the powerful, full-featured IBM i HA and DR protection that every business needs, with practical, right-sized licensing options that make sense for your business and your mix of on-premise, hosted or cloud-based IBM i systems.
The key to HA and DR: Real-time Replication
Reliable, robust Disaster Recovery is essential for any business. True DR can only be achieved if the backup or replica copy of your data is maintained off-site, in a separate location that won't be affected by any event that destroys the production data. So continuous, absolutely accurate replication of system and application data is essential for any business, of any size.
Assure MIMIX leverages IBM's Remote Journaling technology to ensure fast, efficient and unerringly accurate replication, between any combination of IBM i server or storage hardware, even when they are running different versions of iOS. It also takes the hard work and complexity out of setting up and managing replication using exclusive, flexible and highly automated Journal Centric Data Group technology.
Journal Centric replication intelligently monitors and responds as journaling for system objects and data is started or stopped, and even configures and starts replication for newly created journals. This is especially helpful in environments where journals are frequently created automatically by applications, or in larger, enterprise-scale operations where hundreds or even thousands of IBM i journals must be managed.
Assure MIMIX always includes quick, easy installation and guided configuration; fast and efficient multi-threaded replication; convenient browser-based and 5250 management; mobile device-friendly graphical monitoring views; and many other must-have features and capabilities for complete, reliable no-compromise DR replication for every business.
"The Assure MIMIX HA solution has definitely helped reduce downtime and has improved our response to branches and customers. Assure MIMIX has helped us maximize customer satisfaction by ensuring the continuous availability of systems responsible for their transactions."
High Availability for uptime and operational efficiency
In today's 24×7, always-on, internet-dependent world, the rules are the same for every business, large or small: If your IBM i systems aren't continuously available, your business is at risk. Customers don't like to wait, and with access to your competitor's goods and services just a few clicks away, they can just hit the "back" button and do business elsewhere. After that, they may not come back.
Meanwhile, strict regulations and service level agreements with key partners and internal customers mean that any downtime, planned or unplanned, can have serious consequences.
Assure MIMIX provides all the features and functionality you need to guarantee maximum uptime and enable efficient, highly automated IBM i systems administration.
Built-in, automated procedures make it easy to switch your operations quickly and confidently to your backup system(s) in response to any production site outages or to eliminate planned downtime for maintenance or upgrades. Avoid all the hassle and risk that comes with time-pressured and error-prone procedures, knowing your business is running normally on your backup systems while you get your job done right. Then switch operations back just as smoothly and easily. Assure MIMIX also includes extremely helpful virtual-switching functionality that allows you to regularly practice and test switching at any time, without no impact on production operations.
Assure MIMIX continuously audits replication and automatically heals any out of sync data on your backup systems, for worry free switch readiness. Convenient, browser-based system and application-level views and actions make it easy to coordinate higher level operations and administration. Assure MIMIX even helps you automatically optimize server efficiency and performance to ensure a healthy HA/DR environment.
Powerful, scalable replication options for complex, multi-site operations
Assure MIMIX is architected to fully scale up and out, supporting even the most complex HA/DR topologies and operational requirements. In addition to providing unparalleled visibility and control over even the largest, most globally distributed IBM i environments, Assure MIMIX also helps you maximize data access and useability by enabling the integration of any number of workload balancing and data distribution servers.
And Assure MIMIX is the ultimate solution for extending and enhancing your IBM PowerHA® SystemMirror for i environments, providing protection for data and applications residing in SYSBAS that PowerHA can't replicate. You can achieve even the most complex HA/DR topologies and unlimited real-time access to business data, maximizing HA/DR protection globally by replicating data in both IASPs and SYSBAS to additional local or remote recovery servers, while feeding real-time data to non-HA servers. It even monitors for conditions that could slow or stop an IBM PowerHA switch, such as duplicate library names between SYSBAS on the target server and the IASP on the source server.
And if your business relies on IBM Db2 Mirror, you know that it only supports replication between co-located, on-site database nodes, exposing your business to serious unplanned downtime in the event of power or telecoms outages or, worse yet, potential data loss if the site is damaged or destroyed in a disaster.
Assure MIMIX provides complete protection for all your critical Db2 data by replicating it to off-site or cloud-hosted recovery servers, for worry-free planned or unplanned failover. And you can get more value out of your Db2 data with expanded data distribution topologies.
"I've been working with Assure MIMIX HA for 20 years. It's the best solution out there. I've tried some of the others, but they don't have all of the features and functions of Assure MIMIX HA."
Request a demo of
Assure MIMIX