Data-driven solutions for retail
Develop consumer context, optimize channel selection, and create meaningful marketing interactions with accurate data and analytics for retail
Data-driven retail
Retailers are challenged with creating more personalized, customer-centric experiences to better reach customers and compete more effectively. To respond to these challenges, they are turning to data and analytics to make better business decisions and guide customer-marketing initiatives.
Data-driven retail requires blending external data sources, such as demographics and points of interest, with internally held customer data, like transaction histories and loyalty status. When combined, this data helps to establish a trusted single-view of a customer.
Once the right blend of data has been determined, location analytics tools then provide retailers with the resources required to analyze the data and develop a successful retail strategy. Spatial analytics can be used to identify new sites, evaluate the competitive landscape, and drive additional revenue and margin.
Retailers who leverage location and consumer data with spatial analytics outperform the competition, attract and retain customers, and optimize operations with the actionable insights gleaned.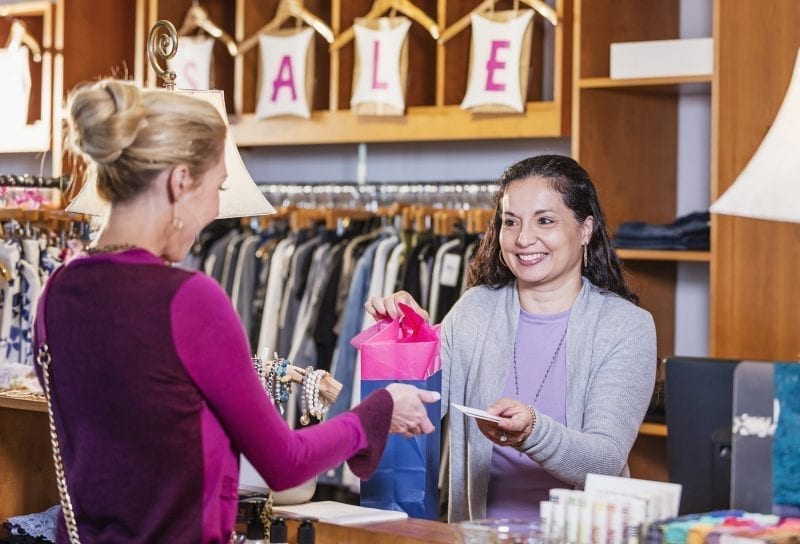 Site selection is a major ingredient of any retailer's strategy. The location of a store or restaurant can make or break its success. Analyzing locations with geospatial data and tools gives quantitative and qualitative support for your site selection strategy.
A store's location can determine how much foot traffic it receives, or the amount of parking available to customers who visit. Precisely's demographic and points of interest datasets provide this detailed attribution for people and places, while our location intelligence solutions give you the tools to analyze how they can impact store performance.
Precisely's street network data and proximity analysis tools also reveal a location's accessibility. Traffic metrics, peak drivetimes, and dynamic mobile trace data can inform when to expect high volumes of visitors. Creating a radius to analyze proximity to major roads or public transportation reveals how convenient the location is for customers, and the potential employment pool.
Site selection analytics are crucial far beyond deciding where to open a new location. While determining where to open is a necessary first step, continuing to analyze the location of a store or restaurant can provide insight into profitability, cannibalization, and customer activity, and help guide marketing campaigns. Precisely's datasets are updated frequently to ensure your business is up-to-date with the latest trends impacting the area. Our retail analytics solutions provide software and data to create actionable insights and boost profitability.
Read how Domino's Pizza leveraged Precisely's location intelligence tools and data for site selection.
A customer profile is not complete without location. From the type of neighborhood someone lives in, to the average age of a census block, location provides enriching context for creating market segments.
Customer records appended with location attribution can produce greater insights into targeting, acquisition, and retention and improve profitability. For example, seeing that a customer's purchase history has slowed may initially suggest they are losing interest in the brand. Analysis with Precisely's street datasets and location intelligence software may show that the highway connecting your store and the customer's home recently closed, making it less convenient for them to shop at your location. Now, you can respond with a personalized offer for free delivery, or a coupon for another location more accessible to them.
Hyper-personalization is made possible through accurate, in-depth customer profiles. Demographic information, from the macro to micro level, is key to generating strong profiles and customized retail experiences. Precisely's demographic data is available at multiple scales to give you flexibility in the scope of your analysis. Whether analyzing an entire county or an individual, Precisely Demographics provides the detailed attribution needed to meet customer expectations.
Precisely's geocoding and geospatial analytics tools enable you to see how these populations relate to a location and ultimately impact retail performance. Store catchment areas created with location intelligence tools identify nearby geographies, and demographic data reveals who lives there, so you can target them effectively. This insight into people, their lifestyles and geographic proximity to your store informs marketing campaigns crafted to meet rising consumer expectations.
Learn how a digital graphics innovator uses Precisely's location data to gain a picture-perfect customer view.
Geofences around commercial locations enable push and text notifications to be sent to prospective customers' mobile devices. Retailers can use their own locations, as well as those of complementary businesses or competitors, to trigger ads on devices entering and exiting the defined boundaries. Opening near a complementary business or competitor may boost the amount of traffic a site receives and increase market share.
Precisely Points of Interest supplies both pre-defined geofences around popular commercial locations as well as accurate points on which to base the creation of new boundaries. Our location intelligence tools enable you to define customized geofences around accurately geocoded points for effective mobile marketing campaigns.
Beacons sent from commercial locations to mobile devices in a surrounding radius can be similarly leveraged. Messages sent to nearby devices can attract customers by providing estimated drivetimes to the store and special mobile offers. Precisely provides the detailed attribution needed for informed beaconing pre-built into our datasets, and our software allows you to further analyze a location and customize for specific needs.
Data-driven geofencing and beaconing increase the effectiveness of marketing impressions, helping retailers reach their target audience in a meaningful way. Strategically placed notifications also improve in-store conversion rates and drive foot traffic. These geospatial marketing tools empower retailers to meet customer expectations for personalized messages and offers, while increasing profitability.
Location analytics powers geofencing and beaconing. Retailers can craft messaging and offers to consumer preferences, reaching customers the right way at the right time. But as with any customer interaction, accuracy matters. Geofences and beacons created using Precisely's best-in-class geocoding and specially curated datasets ensure you reach your intended audience.
Read how Precisely enables more effective content, offers, and messaging.
Success in retail means rising above the competition. Rising consumer expectations make that increasingly harder to do. Location intelligence gives you the advantage when developing your competitive strategy – Precisely's retail solutions give you that location intelligence.
Evaluating the competitive environment to identify opportunities requires accurate market analysis. Geospatial data and tools enable retailers to locate both competitors and unexplored markets, and analyze how target demographics relate. Precisely's proximity analysis tools, demographics, and points of interest data enable you to measure how close a competitor is to your store or your target market. This can help retailers understand and measure the overall impact a competitor has on performance and quickly take advantage of open opportunities.
Data- and location-driven insights also inform site selection strategies and marketing campaign plans. Retailers may choose to open a new location near a competitor to attract their customers or deploy competitive coupons by creating geofences around competitor stores. Precisely provides pre-set geofences for deploying competitive offers, as well as the geospatial tools and points of interest data needed to develop your own.
Test strategies taking key market and competitive drivers into consideration with Spectrum Spatial Insights.
Groupe L'Occitane
To optimize those master data processes and create stronger customer relationships, Groupe L'Occitane needed solutions that would help their team work more efficiently and boost personalization for their loyal customers.
"Its ease of use means we can create and update scripts without involving IT, reducing the strain on IT resources"
Grégory Russo, SAP Solution Manager
Groupe L'Occitane