Real-time CDC and ETL solutions
Break down data silos, become data-driven, and gain competitive advantage with real-time change data capture (CDC) and ETL solutions
Value from all data with real-time CDC and ETL
Data runs your organization: predictive analytics, operational improvements, machine learning, artificial intelligence. There's endless opportunity to use the data your business generates to improve outcomes. However, for most organizations, the opportunities stay aspirational, a spoken theory, but never realized in practice. Despite the amount of data available across the enterprise, it's often inaccessible to those who need it to get these projects done.
Your job is to breakdown data silos and improve access to all enterprise data. To do this, you need data integration solutions that make data accessible across your technology stack. Precisely helps you seamlessly integrate data from your existing investments into next-gen cloud and data platforms to improve data access. Using Precisely Connect's ETL and real-time change data capture (CDC) capabilities, organizations have realized the value of all their enterprise data, from mainframe and IBM i to cloud, enabling them to turn theory into a competitive advantage.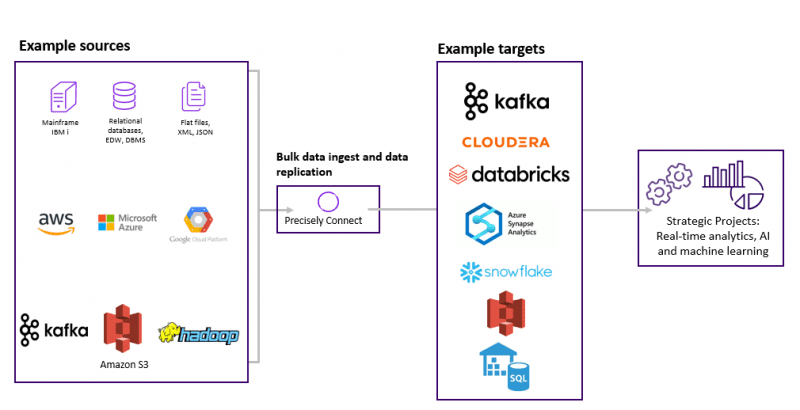 Your IT environment is a mixture of long-established systems and modern technologies. To maximize all your investments and resources, you need to break down the data silos that exist across systems. However, that's easier said than done. Legacy systems such as mainframe and IBM i require specialized knowledge. Additionally, any new cloud data warehousing platform will not be able to readily ingest or understand legacy data.
Precisely helps you break down these complicated data silos within your existing and growing IT investments with solutions that leverage its powerful Connect data integration product. Connect specializes in integrating the most complex data from platforms like the mainframe and IBM i to downstream, cloud-based solutions. Guarantee the access your business needs to all enterprise data with Connect's support for a wide range of sources and targets for both ETL and real-time CDC.
There is a cost to using data in your organization. That cost rises as data volumes grow. High data volumes can break your current data integration frameworks – costing you time and money. Data integration solutions should help you handle growing volumes of data while moving data among growing silos.
Connect supports your growing volumes of data, users, and unpredictable usage demands. Connect's self-tuning engine dynamically selects the most efficient algorithms based on data structures and system attributes at run-time. Consequently, organizations using Connect have noted over 10x faster ETL performance and saved hundreds of development hours when integrating data across their organization. For change data capture, Connect offers unrivaled scalability and efficiency that has helped customers share changes to data across the organization without affecting networks or business users' daily work.
Depending on your business, if you aren't communicating data changes right away, the data used to make decisions becomes old in days, hours, or as little as minutes. Working with old data could cause your business to lose opportunities – or even customers. You need a way to capture real-time changes at the source effectively, helping business users and downstream applications get the up-to-date data they need.
Connect streams changes to data instantly for use in downstream applications, data lakes and warehouses. Connect supports a wide range of legacy systems, cloud platforms, streaming services, and databases such as Db2, Oracle, SQL Server, MySQL, PostgreSQL, Teradata, Informix, and Sybase. With support for multiple topologies, including broadcast and active-active, streaming or batch delivery, Connect delivers your data to on-premises or cloud-based targets. Connect's resilient data delivery guarantees that you never experience interruptions in your data flow.
Learn more about Connect's real-time change data capture with this product sheet.

Your mainframe serves as a reliable platform for transaction data. As a result, your organization has made considerable investments in your mainframe. At the same time, your business wants to move data into the cloud for the latest in analytics, data science, and machine learning. These projects are only as good as the data fed into it, and that means including all data sources to ensure success. However, complexities can occur when trying to integrate data between cloud investments and the mainframe.
Precisely is the industry expert in accessing and integrating mainframe data, making it usable across environments. With over 50 years of mainframe expertise, Precisely Connect can move mainframe data to off-platform downstream applications, fueling your all your data projects. Connect offers both ETL and data replication capabilities that directly access, understand, and transform complex VSAM files, COBOL Copybooks, IMS data, Db2 data, and mainframe fixed and sequential files.
Learn more how Connect supports mainframe access and integration.
Symphony Health
Symphony Health, a subsidiary of PRA Health Sciences, is a leading provider of high-value data, analytics, and technology solutions for biopharmaceutical manufacturers, healthcare providers, and payers. Constrained by a legacy solution, data silos, and increasing data volumes, Symphony Health experienced delays in critical data needed for discovery and analysis.
"Before, part of the data wasn't available for a day, and other parts not for a week. Now it's all available for analysis within minutes of the data arriving."
Robert Hathaway, Senior Manager Big Data
Making the Case for Legacy Data in Modern Data Analytics Platforms
Modern data analytics platforms that fuel enterprise-wide data hubs are critical for decision making and information sharing. The problem? Integrating legacy data stores into these hubs is plain hard, and there is no magic bullet. However, the best data hubs include all enterprise data.
Watch this webinar to learn more about the best practices for integrating legacy data sources, such as mainframe and IBM i, into modern data analytics platforms such as Cloudera, Databricks, and Snowflake. Additionally, learn how Precisely customers are using Connect's ETL and real-time CDC capabilities to incorporate legacy data sources into strategic use cases.
Seamless integration
To successfully use data for strategic initiatives and gain a competitive edge, you must overcome the limitations of data silos on your business. Few organizations have the luxury or budget to remove the systems that present the biggest hurdles to opening data access. Instead of building a silo-free IT infrastructure from scratch, look for data integration solutions that can handle all the underlying complexities of your existing technology stack and work with future investments.
Precisely's data integration solutions seamlessly integrate with your existing IT environments. Connect applies a one-solution approach to ETL and data replication that helps break down data silos in your organization. Connect leverages the expertise Precisely has built over decades as a leader in mainframe sort and IBM i data availability and security to lead the industry in accessing and integrating complex data from these traditional environments.