IBM i high availability and disaster recovery solutions
Transform your enterprise operations with business resilience solutions that protect your data and minimize downtime
Protect data and reduce risk
Due to globalization, online sales and service, more vigorous competition, and increasingly stringent regulations, the importance of ensuring the availability and recoverability of data and applications has risen considerably for CIOs. When it comes to high availability (HA) and disaster recovery (DR) solutions for IBM i, it is important to be aware of the technology options and challenges. Companies need 24×7 application availability and protection from lost data. With a broad spectrum of technologies available to address these challenges, you want to be sure you're choosing the best solution for your company.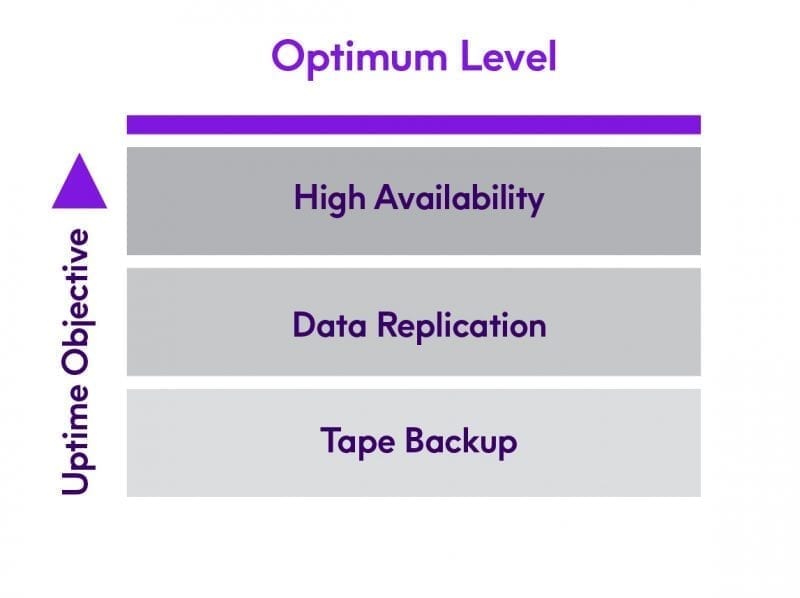 Every company faces critical hours when system downtime is unwelcome—whether it's planned or unplanned. One company's important hours might only be from 9-to-5, while for another it's 24×7. Increasingly, shops that were able to accommodate some periods of downtime for backups and system maintenance are finding that this window is quickly shrinking, or has disappeared altogether, because of increased demand for access to applications and data around the clock. Because of this need to keep systems available continuously, companies are realizing that a system failure or a site disaster would create enormous disruption and expense, especially if it went on for longer than a few hours. For many companies, exposure to this amount of potential downtime has become unacceptable.
Precisely is the leader in IBM i high availability and disaster recovery. Thousands of companies worldwide, from small businesses to global enterprises, depend on Assure MIMIX, Assure QuickEDD, or Assure iTERA to keep their data safe from disaster and their operations running continuously
It doesn't matter if you are a billion-dollar firm or a twenty-person regional service provider, your business depends on nonstop access to data. Common events like regional outages, extreme weather, or even just simple human error remind us how reliant we are on data and how vulnerable our data can be.
While tape backup on Power Systems servers running IBM® i provides a small measure of protection, periodic backup to tape leaves your business vulnerable to data and time loss in quantities they cannot afford. The key to getting back on track quickly is a comprehensive disaster recovery plan, including fast access to an up-to-the-minute copy of your data.
Precisely DR solutions, like Assure MIMIX DR, provide comprehensive, affordable disaster recovery for critical data and applications on entry-level IBM i servers. They work to protect your business from lost data and extended downtime by maintaining a real-time replica of your production server on a recovery server located on-site, off-site or in the cloud.
Explore how Assure MIMIX DR can protect your business from the high cost of lost data and downtime.
Hardware replication and software replication are both options for HA solutions on IBM i. Hardware replication is provided by the IBM i PowerHA® solution, a licensed program product (LPP) from IBM. Software replication is offered by third-party applications such as Assure MIMIX HA or Assure QuickEDD from Precisely.
While each approach to HA offers solutions to availability challenges, there are some notable vulnerabilities in a hardware replication-only approach. IBM PowerHA only replicates data that resides in an IASP. This means that important data in SYSBAS is not protected. Additionally, Power HA is limited to one-to-one replication topology and requires multiple steps when performing an unplanned switch, that which can make recovery times unpredictable.
Precisely's software replication-based HA products, like Assure MIMIX for Power HA and Assure QuickEDD for Power HA are complementary solutions for users of IBM PowerHA System Mirror® for i. These products close the gaps in IBM PowerHA HA/DR protection. They extend protection by enabling replication of data to additional local or remote servers for disaster recovery, protect the critical information in SYSBAS and assure fast, worry-free failover. In addition, they enable the backup server to be used for query and data distribution purposes which isn't possible with IBM Power HA.
Learn more about our complementary solutions for IBM Power HA, Assure MIMIX.
The essential administrative tasks required to ensure business continuity require specialized skillsets. But IT professionals must juggle multiple projects that serve all areas of the business, potentially distracting them from focusing on IBM i system and data availability when other projects demand time and resources. Staff turnover can also create gaps in both IBM i knowledge and HA/DR experience which expose your business to lapses in continuity.
Managed HA/DR services allow you to rest easy while experts handle the day-to-day management of your high availability or disaster recovery solution and ensure your business systems and data remain continuously available. Levels of managed services can range from regular audits that assess the health of your HA/DR environment to end-to-end management of product configuration, software updates, and role-swap tests.
Precisely offers four levels of managed HA/DR services for our IBM i HA/DR products. At the Bronze level, Precisely experts audit the health of your HA/DR environment and provide a monthly report on their findings. At the Silver level, experts perform health checks every business day, correct basic errors, and deliver weekly reports. The Gold level includes all Silver services, along with service pack installation, version upgrades, configuration adjustments, and an annual audit of your HA environment. Finally, at the Platinum level, you receive all Gold services plus an annual role-swap readiness review, role-swap test, and you can add System i Optimize for daily optimization of your IBM i.
Case study: Eastridge Workforce Solutions
Eastridge Workforce Solutions delivers workforce management services and technologies to more than 1,300 clients across North America. Its time and attendance system alone processes transactions from thousands of people 24 hours a day, 365 days a year. The consequences of any downtime would be dire for both Eastridge and its clients.
Eastridge takes advantage of the most experienced Precisely HA experts, without putting any burden on the company's IT staff by employing Precisely Managed Services to monitor, manage and maintain Eastridge's HA/DR solution. Managed Services monitors the Assure MIMIX replication processes around the clock to guarantee that they are always running properly and efficiently. If an issue arises, Precisely experts work to quickly resolve it.
Read the full case study to find out more.
Case study: APL
APL is a global business that operates 24×7 every day of the year. Consequently, the company tolerates no more than four hours of production system downtime per month. APL runs its core business applications on Power Systems servers, which are very reliable, but reliability alone isn't enough. Even the most reliable of systems requires periodic maintenance. In some cases, a single maintenance task can last longer than the acceptable monthly downtime.
APL needed an environment that allowed it to protect its critical data and applications and maintain exceptionally high availability, without putting an undue strain on business applications.  Although its core applications were running on IBM i-based Power Systems, one of the most reliable platforms in the world, APL needed to do more to meet its demanding availability requirements. Even the most reliable systems need to be shut down for regular maintenance, such as backing up data, reorganizing databases or upgrading the operating system. These necessary planned maintenance outages can be substantial. For example, an operating system upgrade can shut a system down for 30 hours or more.
Read how APL gained peace of mind achieving minimal downtime with Assure MIMIX HA.
DR and HA technology is an affordable option for even small- and medium-sized companies. Over time, the cost of DR/HA software has dropped significantly, and subscription options have become available. Second servers suitable for use as a backup can be had for a small fraction of what it might have cost in years past, particularly with cloud-hosted partitions easily available. Equally, bandwidth is now also very affordable. And the time and staff needed to implement, monitor, and manage DR and HA solutions has dropped through ongoing efforts to create set-and-forget HA/DR solutions.
When the real-world costs of unplanned downtime are considered, an availability solution is a cost-effective strategy for protecting businesses from serious injury. In particular, small to mid-sized businesses can benefit significantly from availability solutions because they are generally more vulnerable to severe damage from unexpected outages and have fewer resources to stage a recovery. An availability solution shouldn't be hard work or beyond your budget. There are affordable, easy-to-manage solutions that provide significant benefits to small and midsized businesses by minimizing the risks and consequences posed by unexpected IT outages.
Download the white paper to learn about the financial impact of downtime.