High Availability, Disaster Recovery and Data Distribution for IBM i
Focus your time and efforts on building your business, not worrying about downtime and data loss
Protecting your business starts with preventing data loss and corruption. Keeping your IBM i systems and applications up and online keeps your business moving. HA/DR solutions are absolutely the best way to meet those critical requirements.
But don't think for a minute that investing in an HA/DR solution is like buying an insurance policy that provides value only when your business avoids painful downtime or data loss. HA/DR solutions can deliver real value each and every day if you can leverage their core replication and data integrity capabilities to deliver absolutely current, accurate and trustworthy data to your analytics systems, decision makers, and business partners, wherever and whenever they need it.
Precisely's Assure HA/DR solutions let you do all that, providing the ultimate in protection against data loss and corruption, ensuring resilient business continuity, and enabling truly reliable analytics and empowered decision making.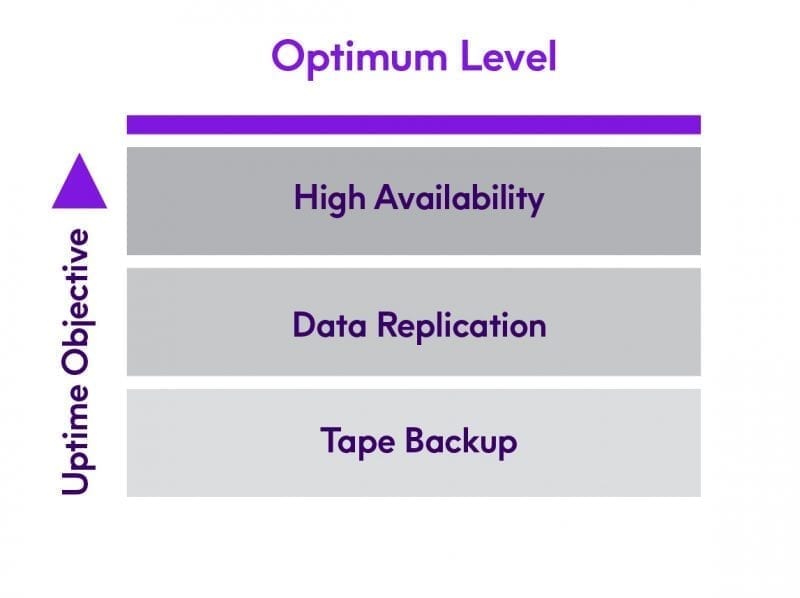 Developed and refined over more than 30 years, Assure HA/DR solutions for IBM i build upon the legendary strength of core IBM i replication capabilities, delivering flexible, reliable data protection and availability capabilities for businesses of every size.
The key technology underlying effective DR solutions is real-time replication, with bit-level accuracy. But replication alone is not enough: True protection against data loss from a disaster can only be achieved if the backup or replica copy of your data is maintained off-site, in a separate location that won't be affected by any event that destroys the production data. This reality is the same, whether your business runs on one or two entry-level IBM i servers or spans multiple data centers with enterprise-scale IBM i systems.
Precisely Assure HA/DR solutions offer complete, full-featured DR protection scaled to fit every business size and data protection requirement. Assure solutions fully leverage IBM's powerful and secure Remote Journaling, adding key must-have features and capabilities including continuous replication monitoring and self-healing for all objects and data, easily customized, automated configuration and management and much more.
In today's 24×7, always-on, internet-dependent world, the rules are the same for every business, large or small: If your IBM i systems and data are not continuously available, your business is at risk. Customers don't like to wait, and with access to your competitor's goods and services just a few clicks away, they can just hit the "back" button and do business elsewhere.
Meanwhile, strict government and industry regulations and service level agreements with key partners and internal customers mean that any downtime, planned or unplanned, can have serious consequences.
Precisely's Assure HA/DR solutions all have the power and flexibility to ensure smooth, reliable switching to avoid planned downtime for server or network maintenance, upgrades, database reorganization and more. And failover in response to unplanned problems is always fast and reliable, whether you maintain close control of each step or automate for instant, customized, and unattended protection.
The larger a business becomes, the more critical it is that data is accurate, consistent, and trustworthy, across the entire enterprise. Data needs to flow through multiple channels and between geographically dispersed data centers, instantly moving to where it is needed for business analytics and secure transactions.
Deploying and managing such complex, distributed computing operations is challenging. Protecting them against data loss and downtime can be even more so. Balancing workloads across servers in multiple locations certainly optimizes compute capacity and reduces CapEx. But it also creates multiple potential HA/DR vulnerabilities that need to be addressed.
For example, when operations depend on two servers replicating in an active-active setup, you have to be ready to respond if one of those servers goes down in a regional disaster, and also have procedures in place to keep the business running in the event that such a disaster occurs while the other server in the pair is offline for planned maintenance.
Assure HA/DR replication solutions offer the kind of no-limits scalability that make even the most complex enterprise topologies for real-time data distribution possible, as well as the powerful features for automating configuration, monitoring, and daily management that make it possible for mere humans to support it all.
Most of all, Assure HA/DR solutions have all the features and flexibility to configure and automate the kind of multiple-redundancy, worst-case scenario protection such globally distributed operations require.
Learn more about Assure HA/DR for Globally Distributed Operations
For any business that relies upon IBM Power HA® SystemMirror for IBM i or IBM Db2® Mirror for i, Assure HA/DR solutions help maximize data access and useability through integration with IBM's hardware-based replication solutions for workload balancing and data distribution.
With Assure HA/DR solutions, you can extend and enhance the replication protection provided by IBM PowerHA SystemMirror for i. Assure HA/DR solutions can replicate all the critical data and applications residing in SYSBAS that PowerHA can't replicate. By replicating SYSBAS data concurrently with Power HA's IASP data mirroring, you ensure that your recovery servers always have completely current copies of all the data they need needed to run your business in the event of a failover. The result is more complete protection and shorter recovery times.
And if your business relies on IBM Db2 Mirror for i, you know that it only supports replication between co-located, on-site database nodes, exposing your business to serious unplanned downtime in the event of power or telecoms outages or, worse yet, potential data loss if the site is damaged or destroyed in a disaster.
Assure HA/DR solutions enable true and complete DR protection for all your critical Db2 data by replicating it to off-site or cloud-hosted recovery servers, for worry-free planned or unplanned failover. They also help you get more value out of your Db2 data by replicating data in real-time to additional remote or local non-HA servers for use in analytics and reporting, without impacting your production systems.
Learn more about adding Assure HA/DR to IBM PowerHA and Db2 Mirror
Migrations are inevitable. Eventually, you will have to upgrade or replace outdated technologies or swap in a higher performance server to manage a greater volume of business. Other times, you may determine that it would be economical to consolidate servers or adopt virtualization technology. And those are just a few of the many reasons for server migrations.
Traditionally, migrations have meant extensive downtime, long hours of overtime on weekends and holidays, and significant business risk if any step of the process gets delayed or fails outright. In fact, in a recent Precisely survey, as many as 42% of professionals reported having experienced a migration failure. Consequently, migrations often had to be redone, increasing the cost and downtime involved.
Assure HA/DR solutions streamline and simplify migrations, eliminating the high-pressure, high-risk, all-or-nothing experience and replacing it with confident, controlled, and professional execution that does not impact ongoing operations.
Efficient real-time replication lets you build and load your new systems transparently in the background, without taking production offline. Then it keeps your new systems in synch with current production while appropriate care and time are applied to testing and tweaking, to make sure everything is perfect. And you can run the new environment in parallel and completely in synch with current operations for as long as required to ensure absolute readiness before going live.
Precisely offers economical "Bridge Licensing" to support your migration project and can provide professional services and experts to supplement your team during planning and execution. We can even handle the entire project for you, ensuring the lowest possible impacts to your operations.
Case study: Eastridge Workforce Solutions
Eastridge Workforce Solutions delivers workforce management services and technologies to more than 1,300 clients across North America. Its time and attendance system alone processes transactions from thousands of people 24 hours a day, 365 days a year. The consequences of any downtime would be dire for both Eastridge and its clients.
Eastridge takes advantage of the most experienced Precisely HA experts, without putting any burden on the company's IT staff by employing Precisely Managed Services to monitor, manage and maintain Eastridge's HA/DR solution. Managed Services monitors the Assure MIMIX replication processes around the clock to guarantee that they are always running properly and efficiently. If an issue arises, Precisely experts work to quickly resolve it.
Read the full case study to find out more.
Case study: APL
APL is a global business that operates 24×7 every day of the year. Consequently, the company tolerates no more than four hours of production system downtime per month. APL runs its core business applications on Power Systems servers, which are very reliable, but reliability alone isn't enough. Even the most reliable of systems requires periodic maintenance. In some cases, a single maintenance task can last longer than the acceptable monthly downtime.
APL needed an environment that allowed it to protect its critical data and applications and maintain exceptionally high availability, without putting an undue strain on business applications.  Although its core applications were running on IBM i-based Power Systems, one of the most reliable platforms in the world, APL needed to do more to meet its demanding availability requirements. Even the most reliable systems need to be shut down for regular maintenance, such as backing up data, reorganizing databases or upgrading the operating system. These necessary planned maintenance outages can be substantial. For example, an operating system upgrade can shut a system down for 30 hours or more.
Read how APL gained peace of mind achieving minimal downtime with Assure MIMIX HA.
HA/DR services: Experience and Expertise, Ready to Go
Your organization depends on your IT team to deploy, optimize, and manage the applications and systems the business runs on. However, keeping those processes running non-stop without exception requires an additional set of skills. It demands proficiency at building, using, monitoring, and maintaining robust high availability and disaster recovery (HA/DR) environments.
If you need to assess or modernize your HA/DR deployment standards and processes or you need to build up your team's HA/DR knowledge and skills, Precisely Global Services offers HA/DR services and education delivered by experienced professionals. On average, each of our HA/DR service consultants has over 20 years of high availability and disaster recovery experience across the full spectrum of size, scope and complexity of organizations and information environments.
So, you can trust Precisely to provide world-class, actionable guidance and support services, from HA/DR assessments to in-depth Assure solution training, short-term project management or supplemental staffing, and even fully outsourced HA/DR management.
Understanding and Choosing HA/DR Solutions
Every business today depends upon highly complex, internet-dependent IT and telecommunications systems. Making sure that data is protected against corruption or loss, and that systems are continuously available, is becoming equally complex. Given all the potential points of vulnerability present within and between your servers, storage, networks, and internet connections, how can you be sure you're choosing the best High availability and Disaster Recovery solutions for your company?
The most basic DR protection involves making frequent backups of all your data, to tape or other read-only media. While this may have been enough 20 or 30 years ago, in today's internet-dependent business world, backups alone are totally inadequate as a DR strategy. In contrast, the ultimate solution is to maintain multiple highly redundant, geographically dispersed and highly secured systems and data stores which are continuously replicated, audited, and synchronized to ensure continuous, fault-tolerant availability
In reality, neither of these extremes is appropriate or even feasible for most organizations. But between the two sits a wide variety of technologies offering various levels of data protection, systems availability, recovery speeds and completeness. Yet just listing those solutions in rank order from low-end disaster recovery to high-end high availability would be misleading. This is because HA and DR are not completely discrete or mutually exclusive requirements. Both may be required to provide complete protection.
For example, a tape backup-based DR solution cannot be used as a means to keep systems available during brief outages, such as those required by normal maintenance. At the same time, an HA solution is of no help in recovering from a wide-area disaster such as an earthquake, if the primary production and off-site HA backup systems are both impacted, which is quite possible if they are hosted in the same city. Even if they are in different, geographically distant cities, if those cities are served by the same regional electric utility, a hurricane or major winter storm can bring down the entire regional grid, and with it, your business.
The bottom line is that in order to implement the best HA and DR solutions for meeting your company's requirements and budgets, it is important to understand each technology option's capabilities and limits in general, and to then evaluate the specific solutions being offered and the company that are behind them.