Complete visibility into the state and activity of your on-premises and cloud resources, and how they relate to one another, is critical for effective asset, event and service management. But using manual processes and siloed solutions for documenting infrastructure and services are error-prone, inefficient and quickly become outdated.
ServiceNow ITOM Visibility automates the discovery and service mapping process – including tracking ongoing changes – creating a complete and reliable record in your CMDB. But, without mainframe and IBM i systems included, this view isn't complete.
Ironstream's integration with ServiceNow Discovery enables you to automatically discover, visualize and understand your IBM mainframe and IBM i configuration items (CIs). With Ironstream you can build an inventory of physical and logical entities, and populate this information into the ServiceNow CMDB.
Once all your infrastructure data is included in the CMDB, you can leverage ServiceNow's Service Mapping capabilities to instantly see the service impact of infrastructure issues and changes to reduce your mean time to resolution (MTTR).
Integrating IBM mainframe and IBM i systems into the ServiceNow platform expands your view of the enterprise, so you can deliver consistent, reliable and efficient service to your business customers.
Read the eBook: Extending ServiceNow to Discover the IBM i and IBM Mainframe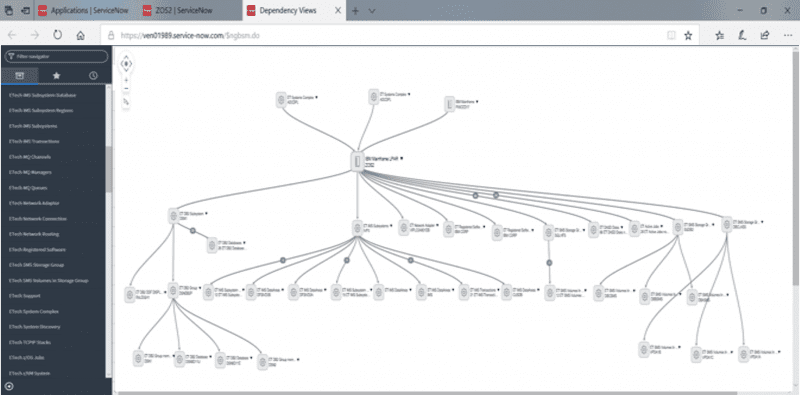 Today's "always on" world mandates that digital business services are available 24/7/365. Therefore, IT must have real-time visibility into service outages, their business impact, as well as which infrastructure components are involved. Siloed systems, disconnected monitoring tools and floods of event noise make this a very daunting task.
ServiceNow Event Management uses machine learning-driven AIOps to dramatically reduce the time and effort of correlating events by automatically adapting to ever-changing IT environments. Events are normalized and de-duplicated into a single alert to dramatically reduce event noise.
With Precisely Ironstream, you can directly integrate IBM mainframe and IBM i machine data into this process to avoid outages and reduce the mean time to resolution (MTTR) when incidents occur. Ironstream monitors critical management messages on these systems and their applications and forwards the information to the ServiceNow Event Management server. You can also use Ironstream to automatically resolve problems on the mainframe or IBM i, aligned to your internal IT policies and protocols.
If you've already populated your CMDB with mainframe and IBM i information using Ironstream and ServiceNow Discovery, alerts will be tied to your CIs, providing you with even more insight into prior issues, change history and more.
Download our eBook to learn more: Leverage the Power of ServiceNow for Mainframe and IBM i: AIOps-Driven Event Management