Cloud data warehousing solutions
Connect your most valuable data assets to your cloud data warehouse for faster insights and better data-driven decisions
Data integration for the cloud
Many organizations are turning to cloud data warehouses to deliver data to the business quickly and at a lower cost than traditional data warehouses. Cloud data warehouses also offer higher levels of data availability, greater scalability, and instant elasticity. But, when you move to a cloud data warehouse, challenges can arise with integrating data from legacy sources, the speed of migrations, and cloud vendor lock-in concerns. Data integration solutions that integrate data from across your organization in real-time regardless of location, platform, operating system, and data type are critical for success.
Precisely has solutions to help you tackle the everyday challenges of integrating data for cloud data warehouses, using its flexible Connect data integration software. Connect offers a design once, deploy anywhere approach to building data pipelines – across on-premises and hybrid cloud environments. Connect provides a one-solution approach to integrating, preparing, loading, cleaning, transforming, and streaming data across cloud frameworks.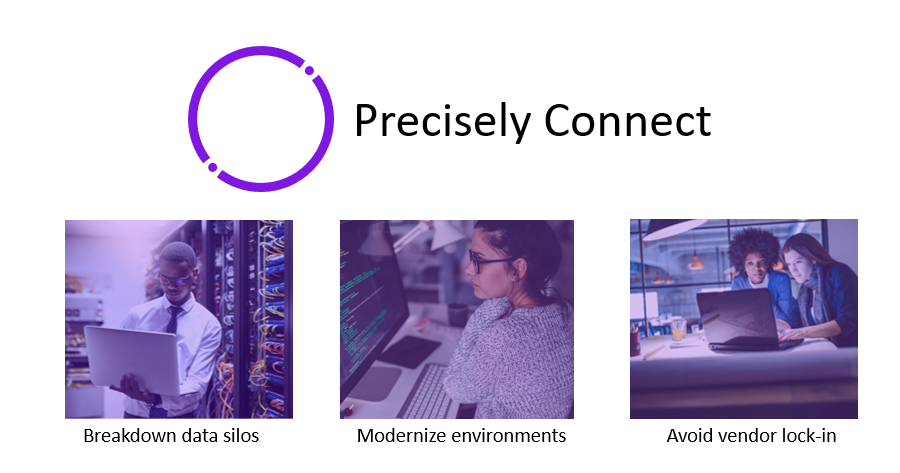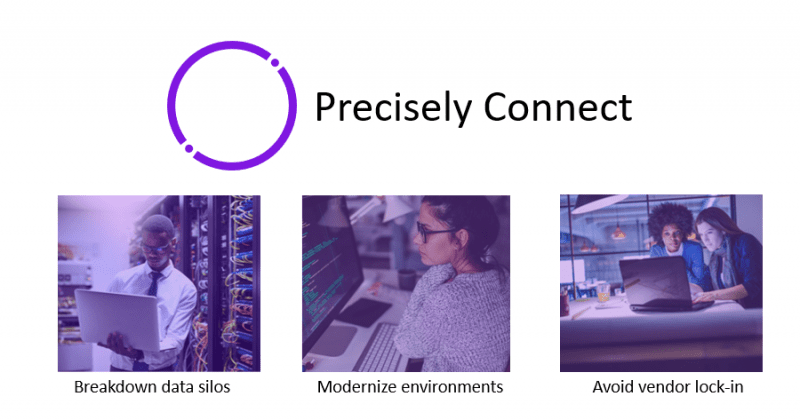 If the use cases for your cloud initiatives include analytics, business intelligence or data insights, it's critical to integrate all enterprise data for a comprehensive view of your business. Legacy systems, such as mainframe and IBM i, hold valuable data that you need in the cloud to feed these business applications. However, most cloud platform and warehouse providers cannot readily understand the data from legacy systems.
Precisely's Connect software enables you to easily integrate complex legacy data – including Db2, VSAM and IMS – and make it readable within cloud data platforms such as Cloudera, Databricks, and Snowflake. Teams use Connect to drive innovation without getting bogged down by maintenance, manual coding or tuning. Connect is based on a design once, deploy anywhere approach, which requires no redesign, recompiling or re-work as applications move across on-premises systems, and private and public clouds using AWS, Microsoft® Azure or Google Cloud Platform.
Learn more about how to use legacy data in your modern cloud deployments with this eBook.
Cloud migrations help your business gain a cost-efficient, high-performance, scalable computing environment. However, cloud migrations can be complicated, with many moving parts, stakeholders, and strategies. Common challenges include interoperability of systems, data portability, and business disruption.
Precisely can help you overcome cloud migration challenges. Precisely has supported customers migrating their on-premises enterprise warehouses to cloud deployments with maximum resiliency. Precisely's Connect software enables transitions between systems to be as seamless as possible with guaranteed data delivery.
Connect gives your business the flexibility to deploy data integration when and where you need it. Its flexible architecture is suited for deployment on public, private, multi-cloud, and hybrid cloud environments.
Learn more about Connect's design once, deploy anywhere approach by reading this white paper.
Your organization is adopting hybrid or multi-cloud strategies to manage rising data volumes, gain flexibility, reduce costs, and increase capabilities. Meanwhile, you also need to support and integrate your mainframe or IBM i systems into a variety of cloud environments. However, the adoption of hybrid and multi-cloud without an independent integration layer can lock your organization into cloud vendors and create brittle point-to-point integrations. This type of lock-in can make it difficult to access data outside of one vendor or system – perpetuating a culture of data silos.
Connect helps you tackle cloud vendor lock-in with an independent integration layer that connects any data source and target. Additionally, Connect takes a design once and deploy anywhere approach to building integration jobs – with support for hybrid cloud, multi-cloud, single-server, and distributed platforms. Connect's approach to cloud data integration ensures you're able to modernize your systems without worrying about vendor lock-in.
Download this white paper to take a design, once deploy anywhere approach to your cloud integration strategy.
How to Avoid Cloud Vendor Lock-in with Four Best Practices
Many organizations have adopted hybrid and multi-cloud strategies to manage the recent explosion of data, gain flexibility, reduce costs, and increase capacities. But with legacy systems still managing many companies' mission-critical workload, cloud migration is often a multi-year plan with moving targets. Having a strategy without an independent integration layer can lock organizations to cloud vendors and create brittle point-to-point integrations.
Download this white paper to explore the four best practices your organization can adopt to avoid cloud vendor lock-in and gain control over your IT infrastructure.
Sky New Zealand
Sky New Zealand is in transformation mode — digital transformation, that is. The company is modernizing its approach to information technology, consolidating toolsets across the enterprise and moving functions like data analytics to the cloud. The company selected Snowflake for its new data warehouse but faced a challenge: how to get data ready for analysis and into the Snowflake in the cloud.
"We soon determined that Connect was doing exactly what it said on the box. It was working as designed."
Quintin McKenzie, Head of Corporate Core
Sky New Zealand
Achieve Full Integration with Connect
Adopting cloud data warehouses can help your organization overcome common challenges in the on-premises environment: delays in data delivery, underutilized warehouses, poor performance that compromises business. To get the most out of your cloud data warehouse, you need a practical, enterprise-wide approach to data integration. Data integration solutions should help, not hinder, your migration to the cloud. Look for solutions that allow you to easily design integration workflows that connect legacy systems to cloud platforms, handle unpredictable data volume spikes, and make traditional data actionable once migrated to the cloud.
With its seamless approach to enterprise-wide data integration, Connect addresses all your cloud data integration challenges. And you can visually design workflows for on-premises or cloud deployments. With Connect, you'll never have to rewrite jobs or invest in new specialized skills to keep up with changing data integration needs.