Precisely on Amazon Web Services (AWS)
Precisely brings data integrity to the AWS cloud. Replicate data from on-prem systems to AWS in real time and ensure your AWS data is accurate, consistent, contextualized and trusted for powerful analytics and innovative new use cases.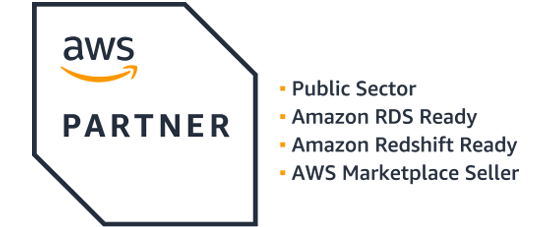 Power up AWS with trusted data
Data, analytics, and AI projects on AWS accelerate innovation – but only when they are fueled with data you can trust. Precisely helps you build trust in your AWS data so you can derive the insights your business users need.
With real-time update streaming, Precisely Connect makes all your IBM Z (mainframe) and IBM i (AS/400) data available to AWS services, ensuring that you base your analysis on only the most current data coming from these systems. Connect is an all-in-one, high-performance solution that replicates data from these critical systems to AWS, enabling customers to migrate data securely and efficiently, as well as access this transactional data on AWS for more powerful analytics.
While digital transformation and IT infrastructure modernization with AWS look different for every company, one common denominator crosses all industries: the need for trusted data. Whether your organization's focus is improving the customer experience, automating operations, mitigating risk, or accelerating growth and profitability, every initiative relies on data that is trusted to be accurate, consistent, and contextualized. The Precisely Data Integrity Suite runs natively in many AWS cloud-native platforms and empowers fast, confident decisions that fuel your data-driven initiatives.
Because mainframe workloads are typically large, synchronization of on-premises data with the cloud requires constant updates with the latest changes. Extracting, moving, and copying data from legacy sources to AWS data and AI services can be difficult – presenting resource, personnel, and investment challenges.
Precisely and AWS are collaborating to integrate Precisely Connect into the AWS Mainframe Modernization service, enabling customers to replicate mainframe data onto the AWS cloud platform in real time. Migration of complex data formats can also be done without downtime or the need for an expert. Precisely Data Replication for AWS Mainframe Modernization allows customers to build resilient, high-performance data pipelines that connect data from their mainframe to AWS services like S3, EMR, AWS MSK, Redshift, Snowflake on AWS, and more.
By accelerating access to mainframe data on AWS, businesses can get mainframe migration projects done on time and on budget, all while extending the value of mission-critical, and high investment, mainframe systems. The integration solution works within a business's existing architecture, enabling teams to future-proof solutions and be flexible when introducing new applications and use cases. Users can leverage hard-to-access, disparate data files including complex VSAM files, COBOL Copybooks, IMS data, mainframe fixed and sequential files, and Db2 data.
Trusting your data in AWS is essential to realizing business value from your digital transformation and IT infrastructure modernization initiatives. But your data must have the integrity to be worthy of that trust. Data integrity means you have accurate, consistent, and contextual data. However, achieving data integrity is challenging for most organizations, as data is siloed, stale, unstandardized, incomplete, full of duplicates, and incapable of delivering trusted insights or fueling business value.Successfully navigating your data integrity journey results in more confident business decisions that increase revenue, lower costs, and reduce risk.
The Precisely Data Integrity Suite is a modular, interoperable solution that contains everything you need to deliver accurate, consistent, contextual data on AWS whenever it's needed.
Learn more about building trust in data with the Precisely Data Integrity Suite.
Continuously improving data integrity in AWS requires:
Integrating complex data formats from on-premises systems to eliminate data silos
Delivering quality data that is trusted and fit for purpose across operational and analytical systems
Leveraging AI-driven data observability to monitor and proactively identify data issues before they impact the business
Understanding data policies and processes with insight into your data's meaning, lineage, and impact
Leveraging location intelligence and data enrichment to unlock valuable and hidden context, and to reveal critical relationships that transform raw data into actionable insights
Get even more from your data with Precisely enrichment capabilities. These include over 9,000 attributes covering risk, property attributes, consumer behavior, points of interest, and more.
Precisely's data enrichment products enable you to combine our curated datasets with your customer data including text, semi-structured, and unstructured data from service tickets, user reviews, and social media posts to more traditional sources like ERP transactional data.
Data enrichment solutions from Precisely can help you organize, enrich, report, and predict outcomes with trusted data. You can gain deeper insights into customer preferences and behaviors to make more informed decisions, optimize business processes, fuel product innovation, and personalize marketing messages for greater success.
Precisely on AWS
With over 12,000 global customers, Precisely is an acknowledged industry expert in the fields of legacy data integration, data quality, data governance, location intelligence, and data enrichment.
Precisely on AWS delivers the flexibility and agility you need to align real-time data delivery with business demands. Working together, Precisely and AWS support a variety of data driven-use cases that help companies extract the most value from their data.
Precisely & AWS Resources