Precisely Addresses
Verified and validated address and property data for map display and analytics
Accurate address and property information
Consistent and correct location information is vital for conducting analysis with confidence – and avoiding costly mistakes.
Precisely Addresses datasets are built with highly accurate geocoding to ensure each location is represented correctly.
World Addresses datasets are pre-geocoded nationwide lists  with the most accurate latitude and longitude coordinates for each location.
Property Attributes datasets contain details related to property owner, zoning, land use, and condition of a specific address.
Unique identifiers help you maintain your address and property databases, enrich address locations with contextual information, and perform spatial analytics.
You can also link address and property data to complementary datasets like parcel boundaries, demographics, and administrative boundaries for deeper insights and more detailed analysis.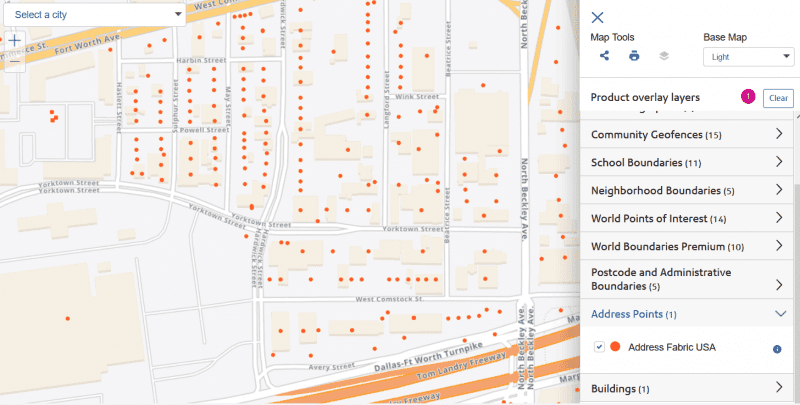 Precisely Data Experience lets you visualize our address datasets – Try it now!
Versatile and detailed
Precisely Addresses datasets are available in a variety of formats so you can have flexibility in deployment and usage.
Addresses are verified, validated, and standardized through an extensive address hygiene process, while change logs and a unique identifier enable data management and enrichment.
Address genealogy allows you to understand relationships between buildings such as alias addresses, apartments, suites, and units. Post Office Box address locations provide a complete listing of mailing addresses for marketing analytics and campaigns.
Each property record is appended with over 200 attributes related to its physical structure, sales history, and tax information. Generate a composite view of a property by accurately locating it and having access to its unique characteristics.
A comprehensive foundation
Address and property data can form a critical basis for complex problem solving. In fact, many industries make critical decisions based on the characteristics of an address.
Understand where to extend telecommunications assets based on building locations, line of sight, viewshed analysis, and existing subscriber base.
Accurately pinpoint where natural hazards could strike and how specific properties will weather the storm. Price insurance policies accordingly and improve policyholder experience.
Display current property listings on your website along with details about the property, including room count, roof type, and school district.
Clearly visualize and understand where your prospects and customers are to inform marketing campaigns and advertising.
---
Property Features
World Addresses
Request a demo of
Precisely Addresses