Property Attributes products allow users to gain deeper insights about a location. These products use local tax authority, Recorder of Deeds, and mortgage transaction data to provide property and building characteristic. These products cover more than 3,100 counties across the United States, and provide users with more than 190 attributes to analyze for a given property, such as:
Owner and Address Information
Physical Property and Location Data
Seller and Buyer Information*
Legal Description
Property Site Characteristics
Internal and External Building Characteristics
Property Tax and Sale Information
Mortgage Information*
*Available for select products.
Property Attributes products are built to be highly interoperable with the Precisely Parcels Boundaries dataset through a unique feature ID system. Property Graph provides users with enhanced interoperability between several property data products, including Property Attributes. Explore the value of property data enrichment.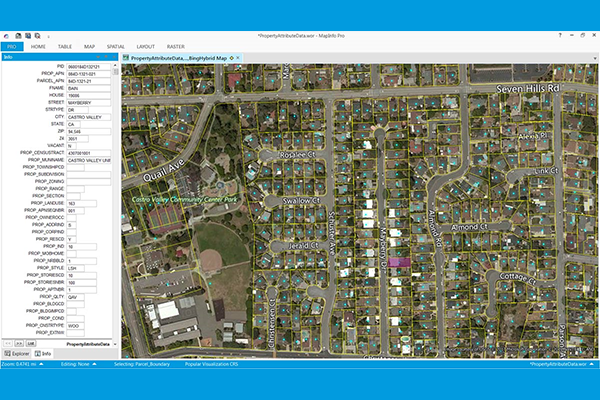 Determine risk
Determine the amount of coverage needed to protect a homeowner
Confirm details such as the number of bedrooms and construction type
Pre-fill applications with building attributes
More accurately appraise and value property
Evaluate home value and verify the quality of appraisals
Understand the attributes that affect a property's value
Easily create a list of comparable properties
Identify serviceable locations
Leverage building characteristics and land use information to determine if an address is serviceable
Identify new look-a-like clients within a serviceable networkMake decisions and assess next steps related to ownership and mineral rights
Details
Select from property assessment data, and historical sales, and mortgage data based on your specific needs.
Attributes include, but are not limited to:
Property overview
Property valuation
Address details
Property characteristics
Owner information
Assessor/deed details
Property location (latitude & longitude)
Mortgage information
Features
Delivers our most comprehensive coverage for over 3,100 counties in the U.S.
Over 190 attributes of property information including but not limited to land use, square footage, construction materials, year built and many more
Provides a unique identifier for linkage to other datasets and streamlined data management
All property records contain a precise latitude and longitude location using our best in class Precisely Spectrum Geocoding Solution
ooioioiiiooioioiioiiooioiiiooiooiiioioioiiiooioioii
Specifications
Coverage
United States
Release schedule
Monthly
Unite of sale
Country, State
Contact a product
expert today