Ordnance Survey AddressBase
Precisely's partnership with Ordnance Survey brings together address expertise in Great Britain, resulting in address data of the highest quality and accuracy. Consistent and correct geocoding and address data is vital for conducting analyses with confidence – and avoiding costly mistakes. Precisely's and Ordnance Survey's high quality address data includes unique identifiers for streamlined data management and enrichment, enabling you to efficiently and accurately gather the insights you need.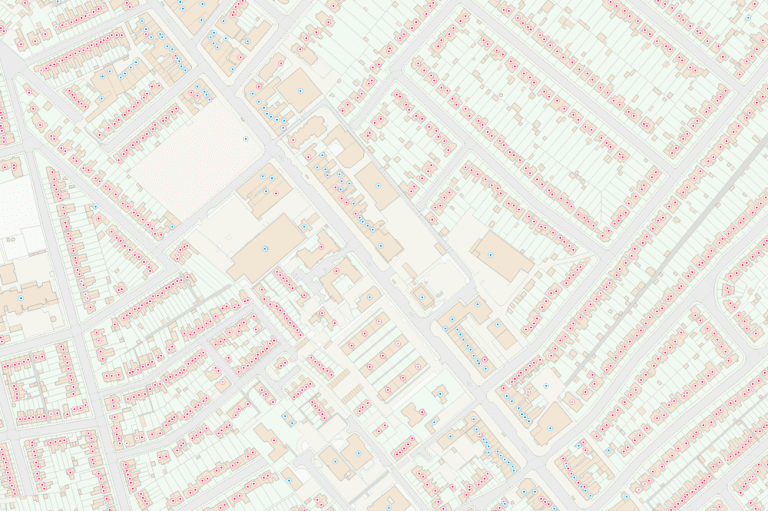 Benefits
AddressBase makes it easy to link additional information about a property to a single address and locate it on a map.
Business intelligence
Explore data more effectively by cross-referencing a wide range of information sources
Marketing
Target customers and prospects more accurately
Financial services
Gain more insight into fraud risk and improve regulatory compliance
Infrastructure planning
Know where new homes and offices are going to be built
Details
Available in four versions, depending on the level of detail and coverage required:
AddressBase delivers a coordinate and unique property reference number (UPRN) for 29 million Royal Mail addresses in Great Britain. This nationwide address file classifies each address as either residential or commercial for greater insight.
AddressBase Plus includes 29 million Royal Mail addresses as well as 7 million additional addresses from local authority data. This dataset also provides multi-occupancy addresses and topographic identifier (TOID) references.
AddressBase Premium provides the most up-to-date, accurate information for 40 million addresses, properties, and land areas in Great Britain. Current, historic, and planned addresses are included along with alternative property names and land areas where services are provided.
AddressBase Islands offers AddressBase Premium attribution for over 1 million addresses in Northern Ireland, the Channel Islands, and the Isle of Man. An AddressBase Plus version is also available for these geographic areas.
AddressBase Core is a new dataset that provides weekly updates from local authorities to ensure address data is as accurate as possible. Property classification attribution is included for each address, as well as the following key identifiers:  unique property reference number (UPRN); topographic identifier (TOID); unique delivery point reference number (UDPRN); government statistical service (GSS).
ooioioiiiooioioiioiiooioiiiooiooiiioioioiiiooioioii
Spectifications
Coverage
United Kingdom
Release schedule
Every 6 weeks, weekly
Unit of sale
Country
Contact a product
expert today