Precisely Points of Interest
Detailed business, leisure, and geographic features for location and competitive intelligence
Coverage for global business
Precisely Points of Interest (POI) datasets are multi-sourced to provide accurate location and company information for businesses, leisure, and geographic features in more than 175 countries and territories around the world.
Each dataset is cross-referenced to determine relationships and insights, and uses a hierarchical classification scheme to ensure global consistency and ease of use. POIs are classified into over 19,000 categories, including transportation, shopping, public utilities, eating and drinking places, and government entities. With access to millions of POIs, you can deepen your analysis with detailed classification that reflects business diversity.
Geofences delineate the extent of specific stores, venues, and other commercial properties.  Each is built from high quality geocodes to ensure accuracy when deploying messaging and services to specific locations.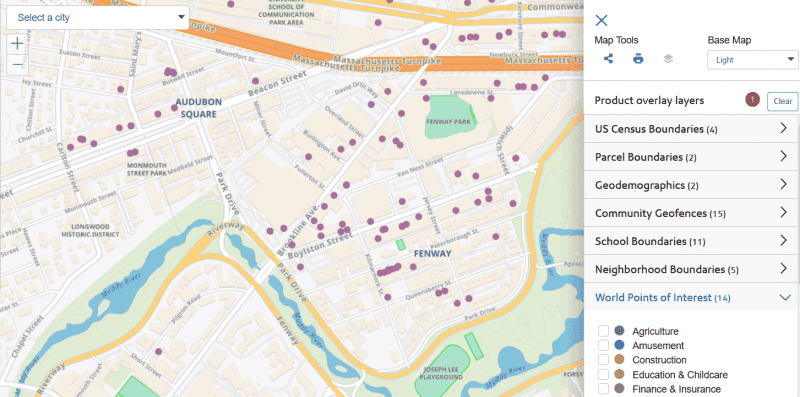 Detailed attribution
Each POI record contains 70 distinct attribute fields related to its location, business profile, and brand affiliation. Location information is provided both as a postal address and latitude/longitude coordinates for flexibility in analysis.
Precisely Points of Interest are updated monthly to ensure information is current and relevant, and include detailed business-specific attributes such as name, contact information, and web address. They also provide for deeper analytical insights with revenue, employee, and brand information.
Interoperability facilitated by the PreciselyID empowers you to analyze POIs with other datasets related to environmental hazards, demographics, and property information, giving you a complete and accurate understanding of a location by appending business information to each address.
Comprehensive analytics
Precisely Points of Interest support business operations and analytics across industries.  Combine POIs with your own data to create informative maps, view and analyze trends, understand competitive threats and advantages, and consider opportunities for growth.
This gives you valuable insight into market share for making site selection decisions, analyzing access to services, and understanding provider coverage.
You can also conduct reliable and up-to-date "find my nearest" searches, deploy targeted location-based marketing to customers with accurate geofences, assess property risk based on proximity to other businesses, and draw connections between businesses with a view into their brand structure.
---
Business Points of Interest
Geofences
World Points of Interest
Request a demo of
Precisely Points of Interest