Precisely Points of Interest
Detaillierte Geschäfts-, Freizeit- und Geo-Features für die Location und Competitive Intelligence
Abdeckung für eine globale Geschäftstätigkeit
Precisely Points of Interest (POI)-Datensets stammen aus mehreren Quellen und bieten genaue Standort- und Unternehmensinformationen für Geschäfts-, Freizeit- und Geo-Features in mehr als 175 Ländern und Gebieten weltweit.
Jedes Datenset verfügt über Querverweise zur Bestimmung von Beziehungen und Einblicken und stützt sich auf ein hierarchisches Klassifizierungsschema, um globale Konsistenz und eine einfache Nutzung zu gewährleisten. POIs sind in über 19.000 Kategorien unterteilt, darunter Verkehrsmittel, Geschäfte, Versorgungsunternehmen, Restaurants und Bars sowie Behörden. Durch den Zugriff auf Millionen von POIs können Sie Ihre Analysen anhand einer detaillierten Klassifizierung nach unterschiedlichsten Unternehmenstypen vertiefen.
Mit Geofences werden Geschäfte, Veranstaltungsorte u. a. kommerzielle Grundstücke abgegrenzt.  Jedes Geofence wird anhand hochwertiger Geocodes erstellt, um bei der Bereitstellung von Kommunikation und Dienstleistungen für bestimmte Standorte höchste Genauigkeit zu gewährleisten.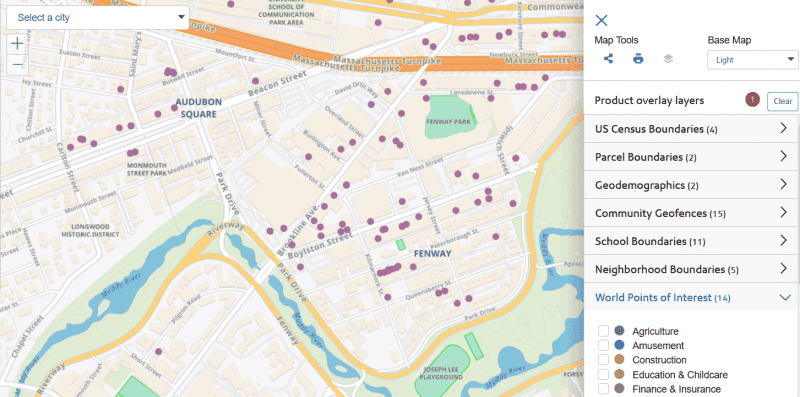 Detaillierte Zuordnung
Jeder POI-Datensatz enthält 70 eindeutige Eigenschaftsfelder bezüglich Standort, Geschäftsprofil und Markenzugehörigkeit. Für eine flexible Analyse werden die Standortinformationen als Postanschrift sowie als Breiten- und Längenkoordinaten ausgegeben.
Monatliche Aktualisierungen gewährleisten, dass Precisely Points of Interest stets aktuelle und relevante Informationen bereitstellt und detaillierte geschäftsspezifische Attribute wie Name, Kontaktdaten und Internetadresse umfasst. Außerdem ermöglichen Informationen zu Umsatz, Mitarbeiterzahl und Marke tiefere analytische Erkenntnisse.
PreciselyID vereinfacht die Interoperabilität, d. h. Sie können POIs anhand anderer Datensets zu Umweltgefährdungen, Demografie und Immobilienangaben analysieren. Da so jede Adresse mit Geschäftsinformationen angereichert ist, erhalten Sie ein umfassendes und präzises Verständnis eines jeden Standorts.
Precisely Points of Interest unterstützt Geschäftsabläufe und -analysen in allen Branchen.  Sie können POIs mit Ihren eigenen Daten kombinieren und so aufschlussreiche Karten erstellen, Trends anzeigen und analysieren, Wettbewerbsbedrohungen bzw. -vorteile erkennen und Wachstumspotenziale nutzen.
Dank der gewonnenen wertvollen Einblicke in die Marktanteile können Sie Standorte auswählen, den Zugang zu Dienstleistungen analysieren und dabei die Anbieterabdeckung evaluieren.
Darüber hinaus haben Sie die Möglichkeit, zuverlässige und aktuelle "In-der-Nähe"-Suchen sowie gezieltes, standortbezogenes Kundenmarketing mit genauen Geofences durchzuführen, Immobilienrisiken basierend auf der Nähe zu anderen Unternehmen zu bewerten und Verbindungen zwischen Unternehmen unter Einbeziehung deren Markenstruktur herzustellen.
Hier finden Sie unser komplettes Portfolio rund um POI-Datensets.
Geschäftliche Points of Interest
Geofences
Weltweite Points of Interest
Demo anfordern für
Precisely Points of Interest