Infographic
Separating Data Governance Fact from Fiction
Organizations are always looking for new strategic initiatives to transform business, drive growth and gain that competitive edge.
But how can you make decisions to further those goals without consistent, complete and accurate data?
Myth or fact?
Data governance alone can transform your business
78% of CDO's view data as a strategic asset to achieve a competitive advantage.
Source: Cutter Associates annual data management benchmarking study
When you foster a culture that prioritizes data quality and values data as an asset, you gain that competitive edge.

CDO's identify 5 ways a data-driven culture, founded in quality-powered data governance, impacts your business.
#1 Enhanced data quality, reliability and access

The problem
94% believe that business value is lost as a result of poor data quality, and nearly three out of 10 say 50% or more of business value is lost due to data quality issues. By protecting data quality and providing data governance business context, organizations can shift the burden from IT to Business and get answers to questions they couldn't before.
Source: CIO Insight

#2 Reduced costs and/or improved margins
The problem
Tribal knowledge and information silo's lead to data misuse
Over 70% of responding companies have a reactive approach using data analytics
Business friendly data governance drives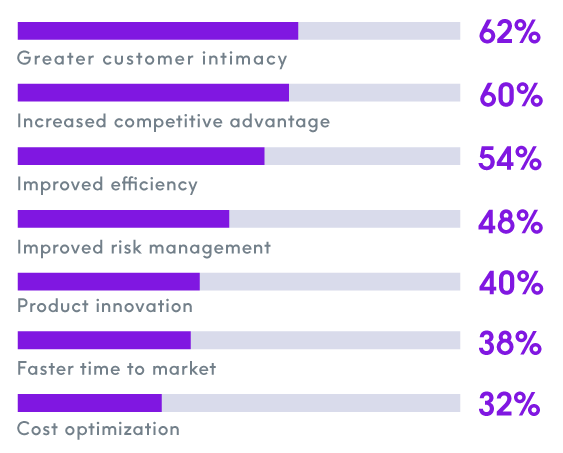 Source: Gartner CDO survey
#3 Optimized business process agility
The problem
98% of survey respondents expect  the volume of data within their organization to increase in the coming year, and nearly half say it will increase by at least 50%
Source: CIO Insight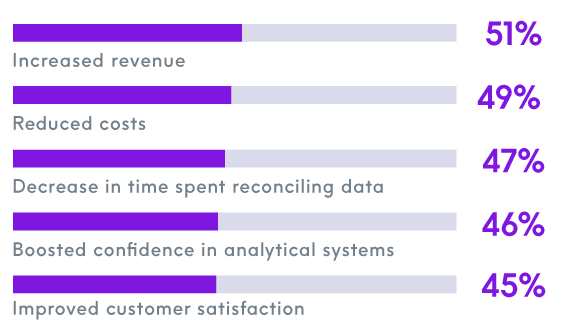 Source: CIO Insight
Data governance that integrates data quality ensures easy access to reliable data, regardless of data volume, to deliver ROI
#4 Improved compliance and risk management
The problem
Only 8% of organizations have policies that require enforcement with data governance
Source: Veritas Data Governance Survey
43% of organizations use desktop or internally developed tools to track regulatory compliance
Source: Compliance Trends Survey
By establishing data governance policies and ensuring data's accuracy, completeness and timeliness, you mitigate risk and achieve compliance.
#5 Enhanced analytical decision making
The problem
Only 12% of enterprise data is used for decision-making
80% of analyst's time is spent preparing data
Source: Datawatch
Most firms don't consistently turn data into action
73% of firms aspire to be data-driven
29% of firms are good at turning data into action


Data governance should drive better business insights, yet many governance initiatives are siloed in IT
99% of organizations have technical metadata and data lineage for IT
What's Missing?
Business-friendly data governance for the business user, answering questions in a business context:
Where does the data come from?
Is it the same thing to everyone?
Technical data governance sends business users in the wrong direction.
Why?
Data360 business-friendly platform changes the way you perform data governance
Automation
Stand up governance quickly by extracting technical metadata
Policies
Ensure policy enforcement of regulations and organizational policies.
3D data Lineage
Visually understand how your data connects across processes, lineage and impact analysis
Data quality metrics
Aggregate quality metrics to build trust and help users choose the right data
Data quality detection
End-to-end automated checks and machine learning monitor and improve data quality levels
Zero-code workflows
Easily create or edit workflows with Visio-like simplicity
Dashboards
Visualize metrics to continually advance your data governance program