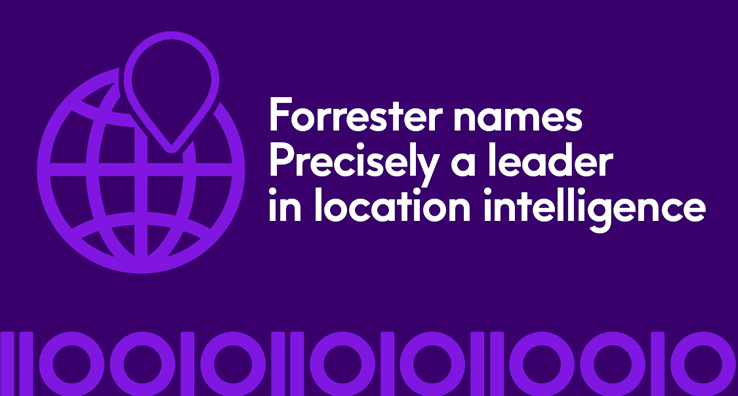 Combining Technology and Data for Maximum Location Insight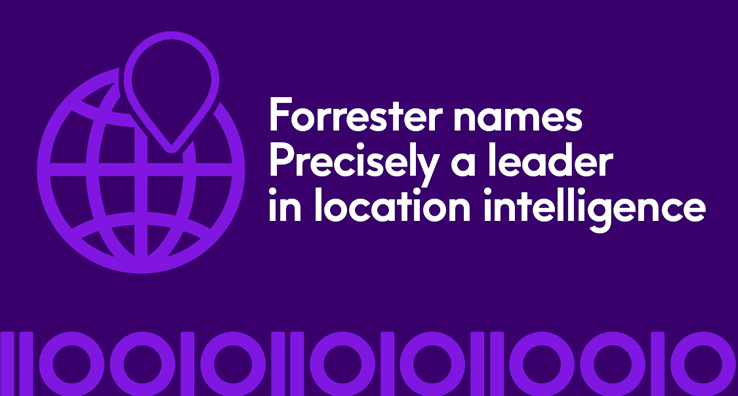 In the latest edition of The Forrester Wave™:  Location Intelligence Platforms, Q2 2020 which Forrester released on June 23, we were thrilled to see that Precisely (formerly Syncsort) was recognized as a leader.
Our top marks in strategy and product vision indicate the importance that location context has for companies looking to derive maximum value from their data and inspires Precisely employees to continue building solutions that improve our clients' business outcomes.
As the global leader in data integrity, Precisely enables businesses to trust in their data and power better business decisions by integrating it, ensuring data quality, providing location context, and enriching it with additional business, consumer, and location data. Insights revealed by location intelligence, whether through spatial analytics or data enrichment, provide critical context with confidence. Highly accurate analysis tools and data ensure the precision of the location intelligence being generated, and globally consistent file structures enable organizations to conduct analysis across markets.
For Precisely, location intelligence is about providing new or occasional users with the unique insights and context that a combination of technology and data can help them surface. We do not believe that relying on a shrinking group of specialists to support an entire organization yields the results that today's businesses require. Knowing that organizations across many vertical industries can benefit from location intelligence, our focus is on empowering individuals across business and IT departments to rapidly make use of the location-based insights within their operational and analytical processes that feed and inform their critical business applications. An organization that desires to effectively harness the power of location intelligence must keep a few things in mind.
Technology alone is not sufficient
The insights our clients routinely attempt to uncover begin with analyzing their proprietary data. But more recently, many have discovered the importance of enriching that data with location- and consumer-centric context for strategic business decisions. The seamless addition of business, location, and consumer data to existing proprietary data completes the picture for our clients and enables analytics that power their decision-making. Contextual information uncovers actionable insights from proprietary data, such as the structural details of a property as well as the school district it falls within. However, the strength of the resulting location intelligence is dependent on its accuracy.
Read the analyst report
Read the report to understand how location intelligence platform vendors stack up and why Precisely was named a Leader.
Analysis falls down without trusted data
Most of us understand that any analysis is only as good as the data that it uses. Many organizations come to us because they do not have access to data they can trust.
Precisely is uniquely positioned to help our clients easily and effectively access, integrate, and improve the quality of the data which powers their business decisions. We enable them to trust the quality of their analysis with our unmatched ability to manage and improve their proprietary data.
Our data enrichment offerings enable clients to unlock new location-based insights and context from this existing data with confidence in the accuracy of the results. For example, a retailer can append our location data to a customer record to get a clear picture of where that person spends their time and how that could affect their interaction with the brand. The retailer is not only confident in the geographic location of the individual, but also in the contextual insights revealed through this analysis that indicate how best to engage with that consumer. But what happens when that retailer wants to perform the same analysis in a lookalike market?
Consistency is key
Data enrichment and spatial analytics can reveal actionable insights to drive business strategies, but to truly understand locations, businesses, and consumers, workflows need to be applicable and relevant across markets and industries.
Analytics can be laborious, especially at the level of big data processing, and the ability to streamline workflows to different global markets or industries saves time and resources. Without consistent data structures, a data scientist would need to develop separate processes for identifying target customers in Cape Town and Mumbai. Not only does this create more work, but it also prevents a true comparison of the two markets. With globally consistent data powering location intelligence, Precisely enables organizations to append context with accuracy across the world.
Precisely enables businesses to build possibilities with trusted data through data integrity built on uniquely differentiated data integration, data quality, location intelligence, and data enrichment capabilities. As recognized by The Forrester Wave, Precisely's combination of software and data differentiates us amongst other location intelligence solutions and strengthens our ability to deliver data integrity. We hope to continue to lead the location intelligence industry through our combination of vision and execution, approaching the problems impacting our clients with a laser focus on driving superior business outcomes.
See why Precisely has been positioned as a Leader in The Forrester Wave: Location Intelligence Platforms, Q2 2020 report. Read the full 2020 report.