Data360 Analyze
Empower users to discover and share insights faster with self-service data prep and analytics
Reduce Time to Insights
The most successful businesses have common denominators: maximizing organizational efficiencies, mitigating risk, growing revenue and innovating – fast. Data360 Analyze is the fastest way to aggregate and organize large amounts of data to uncover valuable insights across business units. Easily access, prep and analyze quality data through its intuitive browser-based architecture.
A solid understanding of your organization's data landscape can shed light on disparate data sources, missing and outlying values and anomalies in data logic. Accelerate the discovery, validation, transformation and blending of data from across your organization to deliver accurate, relevant and trusted information for analysis.
Benefits
Self-Service
Empower end users to acquire, data prep, and analyze data to deliver insights faster
Powerful Reach
Protect your organization from enterprise-wide security threats and incidents
Quick Start
Ramp up quickly with pre-built source, output & function libraries
Enterprise Scalability
While designed for business, delivers enterprise scalability with features like parallel processing and reusable dataflows
Achieve Trusted & Valuable Insights
With shared data flows, you can publish trusted analytic models for end-users. And with data processing and business controls, you can integrate APIs with enterprise systems and automate data processing using data flows to deliver timely results.
Visual data inspection and lineage allow you to trace and access data at any step within the data flow analytic process to collaborate with other stakeholders and build confidence and trust in the data and insights.
Collaborate team workspaces define user access controls to enable you and other team members to build, share, and securely work together on analytic projects.
Derive More Understanding
Understand the context of your data, validate its quality, rapidly build visual models and deliver repeatable analytics across the board. Data360 Analyze is the self-service solution that puts the power of advanced analytics in the hands of everyday users.
Semantic identification and validation easily classify data attributes, validate data quality, explore data distribution and identify potential outliers. While statistical and predictive routines without coding create and embed statistical and predictive models within analytic applications. And Analyze's shared custom library builds trusted, repeatable, and extensible analytical models that can be shared with colleagues and embedded in other analytic applications on-demand.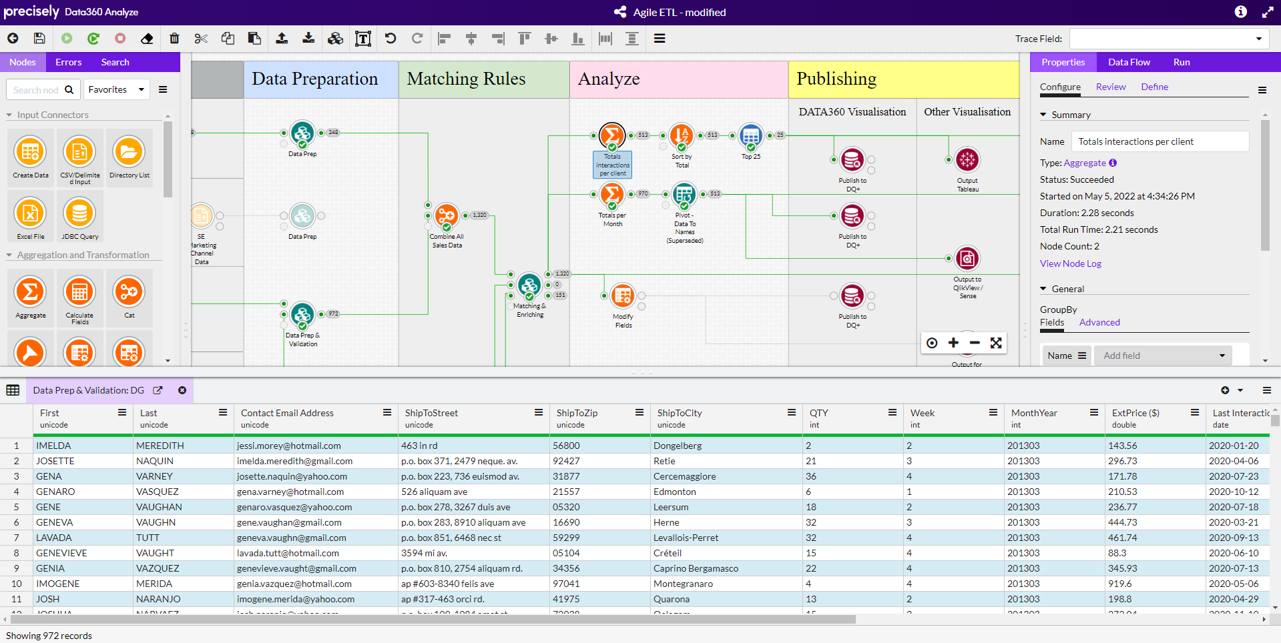 "Data360 Analyze provides a level of standardization, a level of predictability, and a level of analysis that frees us up to provide a better experience for our external and internal customers."
Executive Director of Finance, Comcast

Data Transformation
Prepare, cleanse and blend data to create consistent, high-quality data sets for analysis
Advanced Analytics Integration
Use statistical, predictive and machine learning techniques to discover insights and make predictions and recommendations
Data-Driven Authoring
Build business rules and analytic logic using direct manipulation of the data
Data Integration
Acquire data in multiple disparate formats and combine, reconcile and restructure data
Visual Application Designer
An agile and interactive graphical design environment for the rapid development of analyses
Automation
Operationalize multiple steps needed to process data based on a variety of triggers
Request a demo of
Data360 Analyze