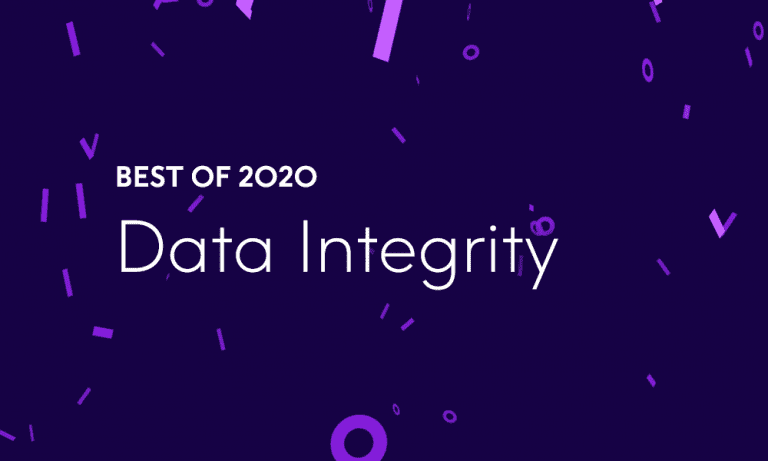 Best of 2020 – Top 7 Data Integrity Blog Posts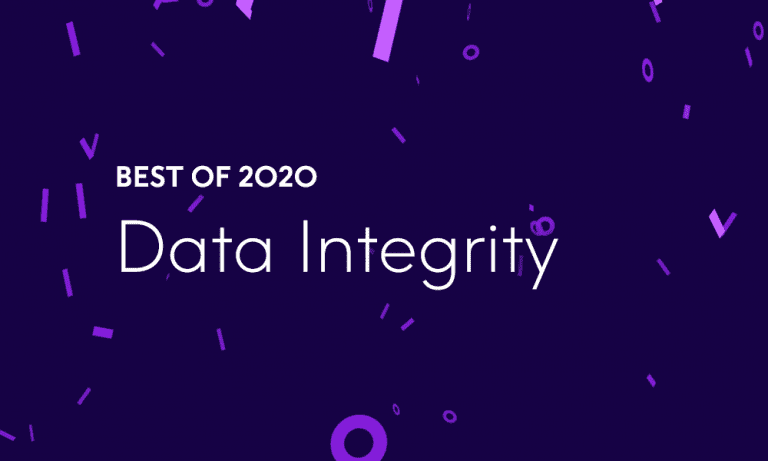 Without accuracy, consistency and context in your data, there is no integrity. There is no trust. Do you trust your data?
This year brought some exciting content in the field of Data Integrity. As 2020 comes to a close, we would like to share our most viewed Data Integrity articles from the Precisely blog. We'll count down the Top 7 Data Integrity blog posts of the year.
Across the world, the impact of COVID-19 has accelerated digital transformation initiatives for virtually every industry. In fact, IDC estimates worldwide spending on digital transformation to reach $1.3 trillion this year.¹ However, while data-driven initiatives are a key focus, the products, services, and experiences they create fail to generate the intended outcome if those solutions are built on data that lacks integrity.
In Precisely's recent surveys and conversations with data leaders, 100 percent said they struggle to trust all of their data for decision-making. So while many organizations are rethinking strategic investments, there's one area where they are only ramping up their spend, and that is data integrity. It's an urgent business imperative for every organizational leader. Read more >
Data has changed the world. It has opened up new possibilities for products, services, and experiences to which companies, organizations, and governments can create differentiation in the digital economy. Enter data integrity.
With spending on "digital transformation" initiatives set to reach $1.3 trillion this year,¹ it is imperative that organizations have a solid data integrity structure in place first in order to reap the benefits of new business models. Organizations must have a digital transformation approach that begins with the new value creation for the business, and data strategy where real-time business decisions can be powered by trusted data with maximum accuracy, consistency and context. Read more >
In virtually every industry, data is playing a more important role than ever before in driving decisions. There are vast increases in the amount of data available, including information that would never have been imaginable in the past (such as mobile trace data). At the same time, the ability to store, manage, and process all of that information has become more complex. Read more >
Josh Rogers, CEO of Precisely, introduced us to data integrity and its fundamental role in business today. Josh explained what it means in the simplest of terms, "Data integrity is about establishing maximum accuracy, consistency, and context across your data assets. With this foundation in place, you can trust your data and make confident decisions." Read more >
Read the research report
Learn how 300+ C-Level data executives in the Americas, EMEA and Asia Pacific are managing enterprise data assets to fuel reliable data-driven business transformations.
Digital transformation is opening doors to new possibilities through data-driven innovation. At the heart of this revolution lies a proliferation of connected devices, along with vastly improved capabilities for collecting, storing, manipulating, and analyzing data. For organizations that wish to unleash the potential of all their data and achieve their digital transformation objectives, data integrity is critically important. Data integrity – accurate, consistent, and contextual – provides data you can trust to make confident decisions. Read more >
Data can be your organization's most valuable asset, but only if it's data you can trust. When companies work with data that is untrustworthy for any reason, it can result in incorrect insights, skewed analysis, and reckless recommendations.
Two terms can be used to describe the condition of data: data integrity and data quality. These two terms are often used interchangeably, but there are important distinctions. Any company working to maximize the accuracy, consistency, and context of their data to make better decisions for their business needs to understand the difference. Read more >
Data has become the single most important corporate asset for driving strategic advantage. Modern analytics platforms are capable of consuming enormous volumes of data, then analyzing and making sense of that data to drive efficiency, innovation, and insight. The leading companies in virtually every industry are the ones that have successfully leveraged digital transformation.  Success in digital transformation is, in turn, built on a clear data strategy.
Data integrity is built on four key pillars: enterprise-wide integration, accuracy and quality, location intelligence, and data enrichment. Read more >
To learn how 300+ C-Level data executives in the Americas, EMEA and Asia Pacific are managing enterprise data assets to fuel reliable data-driven business transformations, read the research report from Corinium Intelligence, Data Integrity Trends: Chief Data Officer Perspectives in 2021.