EngageOne™ Communicate: SMS
Reach customers where they want, when they want, on their mobile devices
Use SMS to strengthen engagement and deliver value
Reaching and connecting with customers in ways they want is an ever-changing challenge. Growing in popularity? SMS, or Short Message Service – now cited as the 4th top channel customers can't live without when the situation is critical. (CMO Council and Precisely) Consumers want companies to be where they are, when they want, ready to share and communicate on their devices of choice. And with EngageOne™ Communicate you can easily meet them at their moment of need by using SMS.
Adding SMS into your existing channel mix is proven to lead stronger customer engagement and improve business outcomes. Today, brand decision makers attribute 12.8% of their online revenue to SMS outreach, and expect it to grow to about 17.4% over the next two years (Forrester). Use SMS to confirm, reinforce, alert, remind, thank, or encourage your customers. When used as part of your communication strategy, EngageOne™ Communicate's SMS channel is a great way to strengthen engagement, and to build trust and rapport that customers and brands jointly crave.
Design and deliver with ease
EngageOne™ Communicate's designer allows anyone to easily craft and deliver SMS messages, with no previous expertise needed.
Quickly personalize messages using data or system fields to show offers and content relevant to your recipients. The designer interface provides a real-time summary of your message's character count to help you manage your send. Built-in alerts show any premium or non-standard characters being used, like emojis, and how many extra characters to account for.
With EngageOne™ Communicate, it's easy to preview and test messages before deployment, so you can see exactly what your customer sees. And our unified analytics interface allows you to measure the success of things like deliverability and open rates.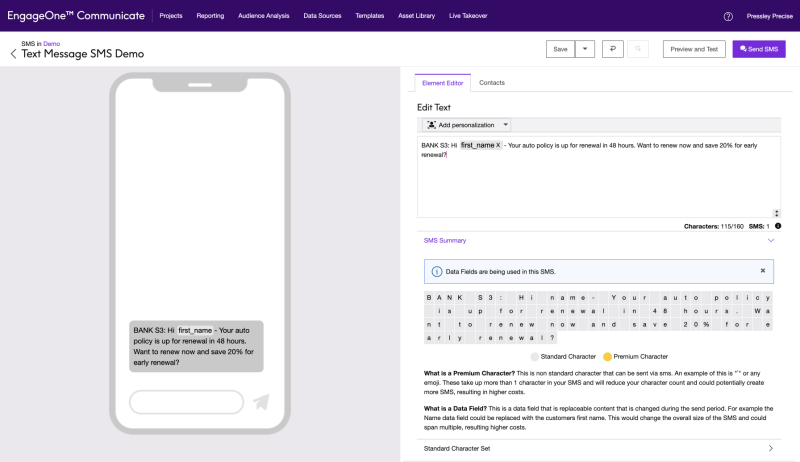 Integrated channels work together
With EngageOne™ Communicate, all your channels are managed in the same, easy to use platform. With unified data sources, you can reach customers using a cohesive brand message and strategy.
Enhance your SMS messages by including links to personalized videos just for them, allowing customers to interact with your brand on the device they want, anywhere they are. Further the 1-to-1 conversation even more with links to a helpful chatbot when critical service is needed. Or use SMS to direct customers to schedule appointments, access their accounts, take surveys, and provide the personalized information they need that creates and fosters customer loyalty.
Use EngageOne™ Communicate's mix of channels to create a cohesive and unified customer experience.
Robust data analysis
Understand in real-time how recipients are responding and engaging with your communications using EngageOne™ Communicate's simple dashboards. User level reporting around individual interactions allows you to continually monitor your key performance indicators (KPIs) and campaign success.
See at a glance which communications are performing well and which can be further optimized. Target your customers based on their actions and continually fine-tune your campaigns for maximum engagement.
Request a demo of
EngageOne™ Communicate: SMS