EngageOne Communicate: Email
Design interactive, data-rich, dynamic emails optimized for any device
Personalized communications to strengthen customer engagement
Research conducted with the CMO Council reports that email is the number one critical channels of choice for consumers. In this mobile-first world, you need a multi-screen solution.
EngageOne Communicate enables businesses to create personalized, responsive email communications quickly and easily across channels and devices, all within a single browser-based interface.
Easy to design for the business professional
EngageOne Communicate provides a wide range of templates that are fully customizable to personalize content by modifying layouts, colors and styles. No coding skills are required with the easy-to-use drag & drop design interface, allowing you to incorporate elements like customizable tables, images, videos, links and buttons, dividers, and social media icons.
Or, create and import your own templates to extend your brand even further. EngageOne Communicate seamlessly integrates with Adobe Creative Cloud, allowing creative teams to take full advantage of their existing assets. Designers and developers can leverage their expertise with Adobe Photoshop using a purpose-built plug-in. They'll have immediate, intuitive access to export assets directly to the EngageOne Communicate platform.
You can preview communications in a responsive layout to see how they will look to end-users on any device.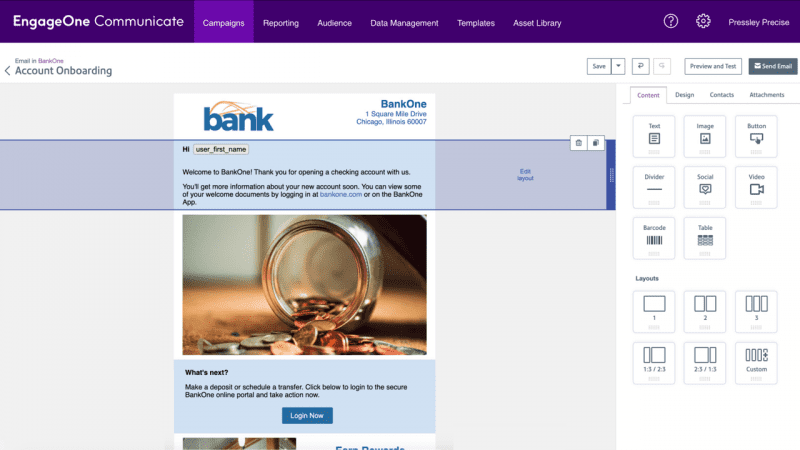 Personalize and improve every touchpoint
With instantaneous access to backend database systems, EngageOne Communicate allows users to easily bring in data from a variety of sources – even your own CRM systems. Conditional logic capabilities recognize recipients by language, location, and other variables to dynamically change and hyper personalize communications to an individual.
With advanced features like auto open, data-driven charts, and the ability to integrate Interactive Personalized Video, barcodes, and QR codes, you can transform every communication into a highly relevant, seamless experience.
Robust data analysis
Understand in real-time how recipients are responding and engaging with your communications using EngageOne Communicate's simple dashboards. User level reporting around individual interactions allows you to continually monitor your key performance indicators (KPIs) and campaign success.
See at a glance which communications are performing well and which can be further optimized. Target your customers based on their actions and continually fine-tune your campaigns for maximum engagement.
Request a demo of
EngageOne Communicate: Email