StreetPro Navigation Premium
StreetPro Navigation Premium greatly enhances StreetPro Classic, providing the ability to calculate a precise, efficient route between points on a road network, taking estimated speed at the time of travel and vehicle restrictions into account. StreetPro Classic combines a large-scale basemap and fully attributed vector dataset containing street, address, transport, land use, water and points of interest data. Users can perform a host of geographic and spatial functions that are not currently possible with other online basemap providers.
StreetPro Navigation Premium provides all StreetPro Classic and StreetPro Navigation content, and further enhances route calculation capabilities with the addition of average speed profiles for time of day and height, width, and weight restrictions.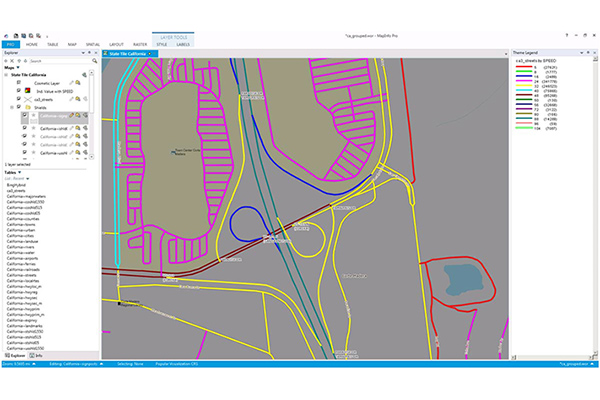 Benefits
Insurance and Financial Services - perform fraud and risk analysis by locating customers, incidents, and areas of risks while revealing geographic relationships
Telecommunications - determine which addresses are able to access networks, wireless, and broadband services
Retail - define catchments, and identify routes and drivetimes for logistics
Public transport - generate isochrones and isodistance polygons, taking permissible routes into account for routing and logistics applications
Emergency services - provide more accurate routes and run sheets for emergency response
Public planning - understand the local environment and the potential impact of decisions
Details
Airports
Built-up areas
Water features
Points of interest
Localities and gazetteers
Streets
Parks
Land use
Freeways and highways
Railways and stations
Address points, ranges, and postcodes
Entry level geocoding
Turn restrictions
Speed limits (modeled and actual)
Segment driving direction
Average speed by time of day
Height, weight, and width restrictions
ooioioiiiooioioiioiiooioiiiooiooiiioioioiiiooioioii
Specifications
Coverage
Global
Scale
1:10,000
Contact a product
expert today