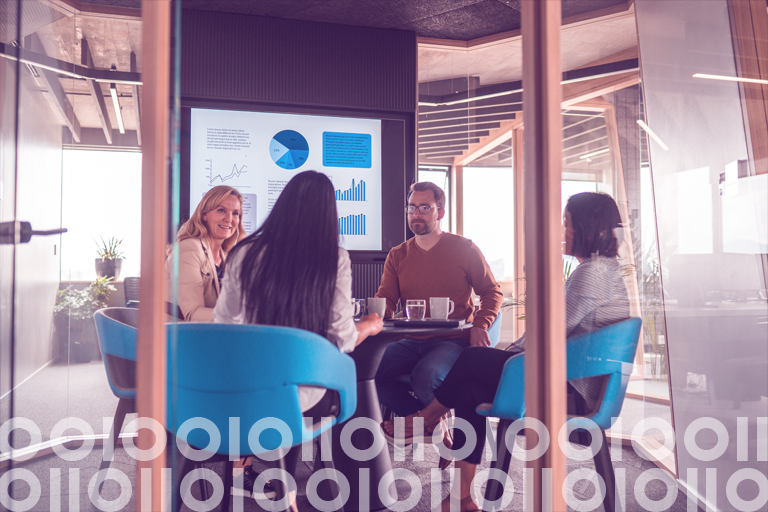 How to Cleanse and Enrich Data for Better Analytics and Decision-Making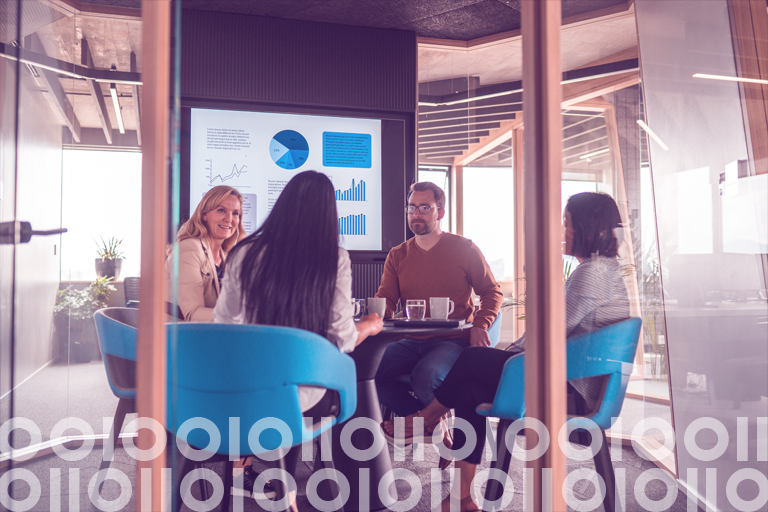 Manual data cleanup can be time-consuming and error-prone – and yet clean, ready-to-use data is essential to the success of strategic initiatives across industries and use cases.
As more organizations prioritize data-driven decision-making, the pressure mounts for data teams to provide the highest quality data possible for the business.
Reach new levels of data quality and deeper analysis – faster
So then, what are the options for data practitioners?
While one approach is to move entire datasets from their source environment into a data quality tool and back again, it's not the most efficient or ideal – particularly now, with countless businesses moving to the cloud for data and analytics initiatives.
If you've already replicated your data to the cloud, the optimal scenario would be to clean that data right inside your native cloud environment with improved workflows and rules that give you back time and efficiency while reducing risk.
The Data Quality service of the Precisely Data Integrity Suite can help – not only does it ensure data is complete, deduplicated, properly formatted, and standardized, but it also uses AI-based intelligence to make swift recommendations for areas in need of remediation.
Addresses are often culprits here. When improperly managed, address data can be one of the most challenging records to work with. That's why verifying and geocoding are essential. The Suite's Geo Addressing service makes this process seamless by assigning each address hyper-accurate latitude/longitude coordinates and a unique identifier, the PreciselyID, that streamlines the next and final step: data enrichment.
2023 Data Integrity Trends & Insights
Results from a Survey of Data and Analytics Professionals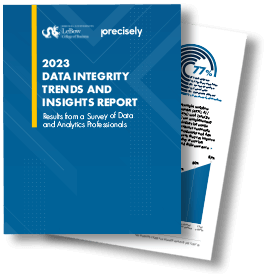 Once data is verified and geocoded, you want to perform enrichment with external datasets. With the Data Enrichment service of the Suite, you can add rich, valuable context for analysis by attaching attributes from hundreds of our curated, up-to-date datasets. And when you search for enriched values using the PreciselyID, you can find the most relevant information – and make better, smarter decisions – faster.
How does it work for real-world use cases?
Now we'll recap everything we've covered by applying it to a common scenario: your organization needs to expand a product's reach into a new market. You have a list of potential customers in your cloud environment, but the data quality isn't quite at the level you need.
Using the Data Integrity Suite, let's walk through three steps to clean that data and enrich it for greater context and insights.
Step 1: Identify and remediate data quality issues
One capability that makes the Data Quality service unique is identifying and correcting issues without moving the data from the source environment. Data practitioners can use the service to preview the dataset and see snapshots of the quality, distribution, and other key metrics.
Machine learning-based intelligence helps you save even more time by recommending how to clean up the data.
Let's say you choose to examine location – address, city, state, etc. The Suite recognizes inconsistencies (a common issue with address data) and recommends standardization or verification and geocoding of the addresses.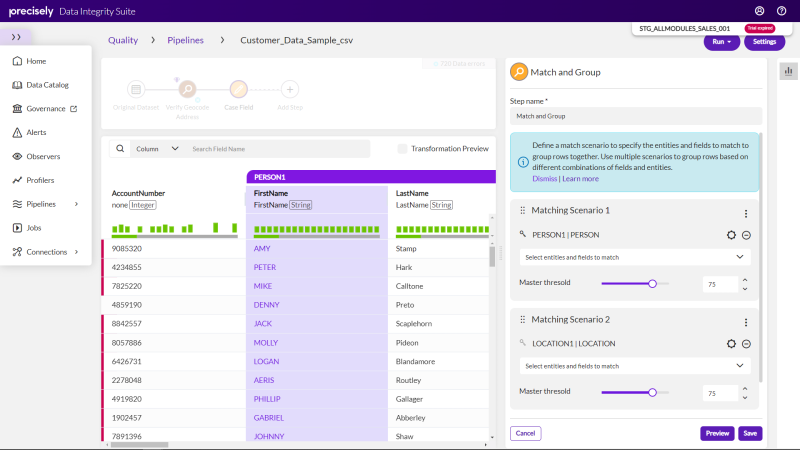 Step 2: Geocode and attach a PreciselyID
With the issues identified, you'll then verify and geocode the address information in your dataset of prospects. Geocoding assigns hyper-accurate latitude/longitude coordinates and a unique persistent identifier – the PreciselyID – to each address.
This is all achieved in the Geo Addressing service of the Suite.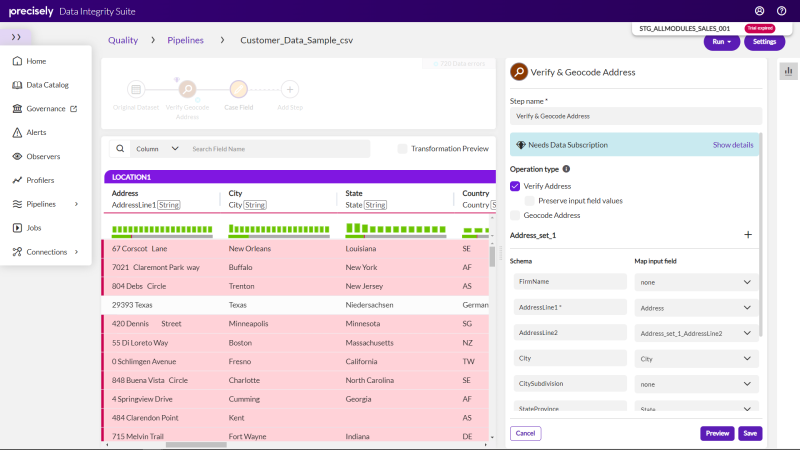 Now that your addresses are verified, geocoded, and attached to a PreciselyID, how can you maximize value from the data?
Step 3: Enrich address data in data quality pipelines
It's time to move to the Suite's Data Enrichment service. Using the PreciselyID, you can append your addresses with rich, contextualized information that enhances the value for your data analytics team and business users.
This enrichment means you can gain context outside of just your internal data. The Precisely data enrichment catalog features attributes related to risk, property details, and more.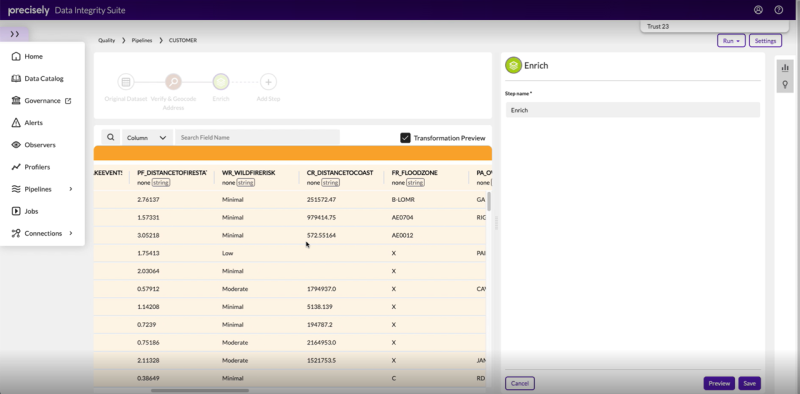 Once you're happy with the pipeline, you can run it directly into your native environment. As it's deployed, the new-and-improved dataset will also be saved to the Suite's shared data catalog to give business users and data consumers easy access for future use cases.
These three steps together amount to a healthy data pipeline that enables accuracy, completeness, and context for your data. That means stronger targeting, reporting, analytics, and decision-making as you move forward with your expansion initiative.
Precisely partnered with Drexel University's LeBow College of Business to survey more than 450 data and analytics professionals worldwide about the state of their data programs.  Now, we're sharing the ground-breaking results in the 2023 Data Integrity Trends and Insights Report.