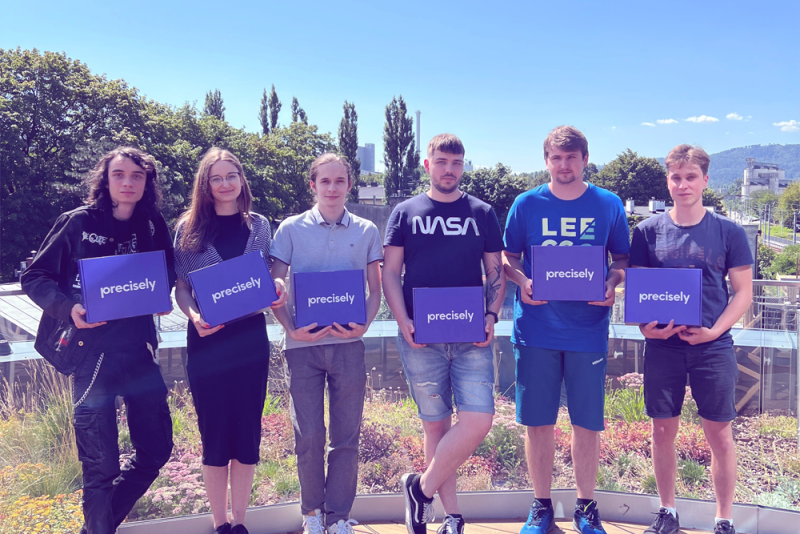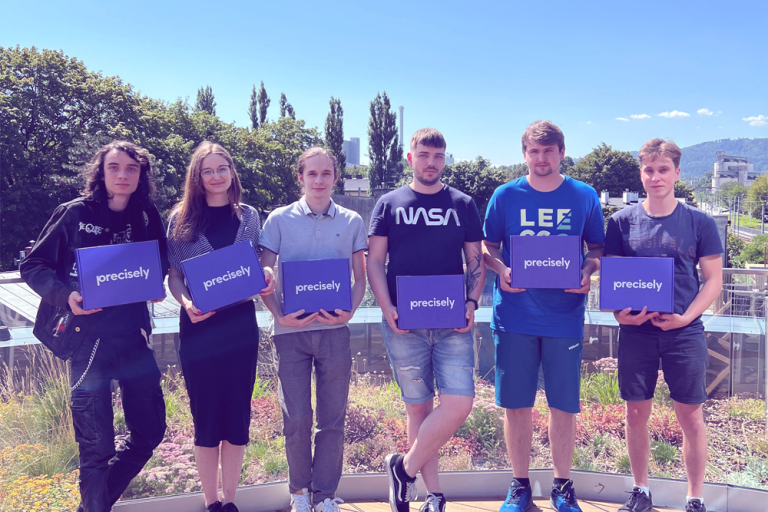 Precisely's 2022 Summer Internship Program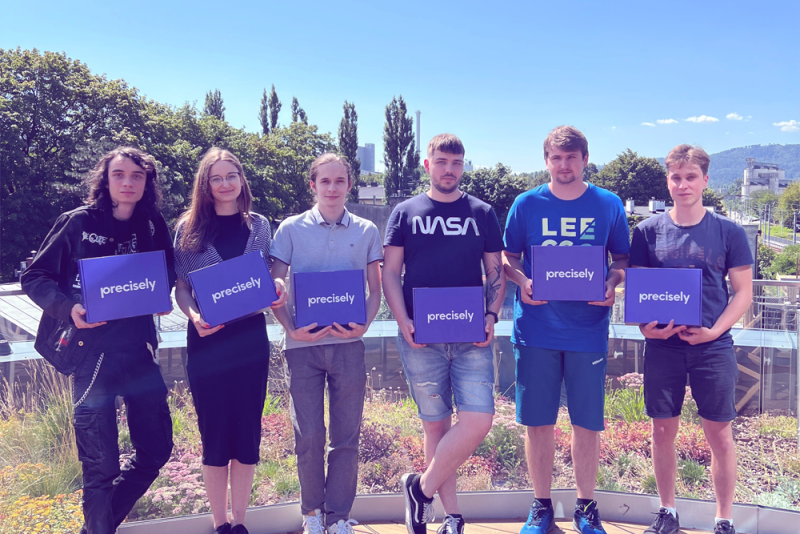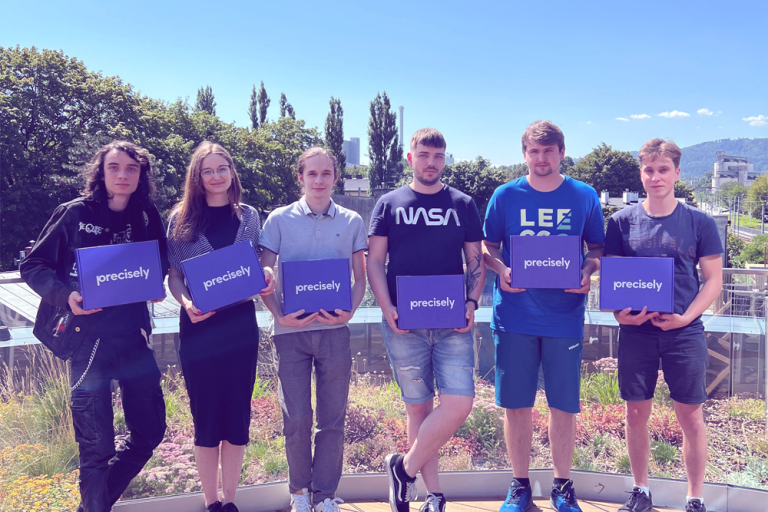 After the first official Summer Internship Program in 2021, Precisely welcomed a new group of interns for Summer 2022. The program offers college students the opportunity to learn how to work in a professional environment, apply their skills in real-world settings, develop through mentorship opportunities, and learn more about the business – and themselves. As a global company, everyone at Precisely was thrilled to welcome interns of various backgrounds from all over the world. To celebrate the 2022 Summer Internship Program coming to a close, take a look at what some of our interns had to say about their experience and some of the advice they'd offer new interns.
Samuel Smith: Sales Intern
"At Precisely I had the opportunity to experience the whole sales cycle, where I gained experience with the BDR, AE, Renewal, and Customer Success teams. All of these aspects of the sales cycle were extremely beneficial to my learning, but overall, I really enjoyed the AE journey. With the AE's, I was able to learn customer pain points, upselling, forecasting, discovery questions, and many other valuable skills that will help me be successful in the sales industry."
Marta Stachura: Globalization Intern
"The best part of my internship was definitely the people. I felt like part of the team from day One! As a Globalization intern, I explored the whole translation process from software creation through translation management to the end-product. I learned a lot of the technical aspects of the job and I had great teachers."
Dan Hofton: Sales Intern
"I'd tell future interns to make the most of this opportunity! Network as soon as you get started and be proactive in learning as much as you can."
Samuel Crocker: Sales Operations Intern
"My main takeaway from my internship is to always network and stay open to meeting new people. By making connections with employees in different departments of the organization, I learned about possible positions that I may be interested in working in in the future, and I also gained insight into what working in these positions is actually like."
Can Coskun: Product Management Intern
"Even though doing a remote internship comes with its own challenges, Andy Bell and the product team guided me whenever I needed support. In addition to video conferences, they met with me outside which made me feel like I was doing an internship in the office. It was valuable for me to feel like a real member of the team and this approach increased my interest and dedication to the job while also helping me stay focused."
Amanda Lovejoy: Sales Intern
"As a Sales Intern, I learned how the BDRs, AEs, and the Renewals and Customer Success teams operate on a day-to-day basis. In college, you are told how to use certain methods to help you in your career, but they don't tell you what it's like every day in a specific role. With this internship, I was able to see how it is done as well as how it helps the company, which is exactly what I wanted and such an important takeaway for me.
Lauren Choe: Marketing Global Campaigns Intern
"The best part of my internship was collaborating with Delaney Yau, Global Campaigns Marketing Intern, on our Account Based Marketing Research Project. The scope of our project included interviewing internal key stakeholders, compiling a list of their desired criteria surrounding an ABM solution, researching ABM vendors, and finally presenting our project with our top vendor recommendations to the Marketing Leadership Team. I think the most rewarding part of this research project is now having the ability to speak to ABM capabilities with a robust understanding as well as how it can help fill in the gaps here at Precisely."
We help market leaders make better decisions and build new possibilities. Want to join the team? Find out about working with us and our current openings.
Robert Kim: Software Engineering Intern
"The best part about my internship at Precisely was being able to take the next step in my career and have hands-on experience on backend code that serves many large clients. What made a big difference in my experience was learning how to take in new information from other engineers and apply it to my own work."
Henry Chow: M&A Strategy and Transformation Intern
"I had two main takeaways from this experience. The first is general knowledge about how a corporate job works as well as the technical and business skills I developed along the way. The second takeaway is that I learned what I liked working on and what I didn't like working on. I was lucky enough to work on multiple projects, which allowed me to understand what I enjoyed doing and what career path I want to pursue."
Delaney Yau: Marketing Global Campaigns Intern
"My advice to future interns is to ask your manager to try new things, even if it's not directly in your internship plan. I learned a lot by asking to work on other projects that I was curious about."
Ethan George: Software Engineering Intern
"The best part about working for Precisely this summer was realizing the significance of my project. I learned a lot about UI development and tools such as Storybook, while creating stylized components that are going to be used by Precisely web developers. I would recommend future interns to really capitalize on this trust that Precisely puts in their interns by working hard and learning every day."
Cayla Evans: InfoSec Risk & Compliance Intern
"I loved how close and supportive my team was. Whenever I got stuck, they were there to help me. My advice to future interns would be to ask questions! There's no such thing as a stupid question – plus, it'll help you learn."
Will Towle: Data Integration Intern
"The best part of my internship was experiencing the culture at Precisely. Every interaction I had was positive and I received thoughtful guidance from my leaders."
Francisco Serrano: Sales Intern
"The best part of my internship experience was the fantastic mentorship, guidance, and advice that I received from everyone I interacted with. Everyone is very open to helping however they can, which had a positive impact on my internship."
Interested in an internship in 2023? Follow us on our social media channels for upcoming opportunities.
LinkedIn | Twitter | Facebook | Instagram
Learn more about us on our Careers and Culture page.