Precisely Powers Decision-Making with Critical Location-Based Context in New MapInfo Pro Release
Latest version of data integrity leader's GIS solution provides next-level data access, accelerates time-to-value, and visualizes data across time and space
Precisely, the global leader in data integrity, today announced the launch of MapInfo Pro v2021 – the newest release of its popular Geographic Information System (GIS) product. MapInfo Pro v2021 enables customers to add location-based context to data and empowers confident business decisions grounded in visualizations of data patterns that would otherwise be hidden.
MapInfo Pro provides thousands of global organizations with the ability to analyze, visualize, and make informed decision with location-based data; from helping Domino's identify new areas of opportunity by accurately assessing their franchise territories, to powering British Telecom's 999 emergency response system by identifying caller location. In fact, 70 percent of organizations consider data visualization and mapping as "critical" or "very important" to accomplishing their business goals, according to Dresner Research.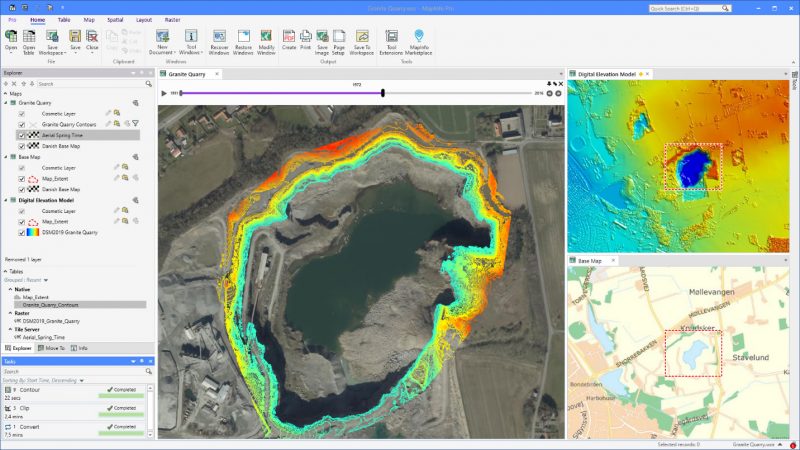 MapInfo Pro v2021 enables the creation of enhanced data visualizations for meaningful analysis faster than ever before. The release also allows analysts to track how data changes across time and space through the addition of powerful new time series capabilities. Time to value is accelerated by streamlined processes, and the company's commitment to making data more accessible is clearly demonstrated.
"Our collaboration with Precisely during development assures us we can trust MapInfo Pro v2021 to connect to the new Ordnance Survey (OS) data APIs. This will provide our MapInfo Pro users with new and efficient methods of connecting to geospatial data," said Stuart Carter, Corporate GIS Manager, Southwark Council, UK
Like Southwark Council, organizations across multiple verticals are finding value in reliable location-based data for confident decision-making about people, places, events, and the relationships that exist between them. From insurance risk management, telecommunications network planning, and retail site selection to city planning within the public sector, the today's businesses need location-based context to understand the unprecedented amounts of data on which they must support, drive, and evolve their business initiatives. Making poor location-based decisions, or not being able to make them efficiently, will leave organizations behind.
"Precisely has a longstanding history and commitment to helping our customers more effectively utilize their data for location insights that fuel their organization. The new release of MapInfo Pro enables organizations to more flexibly manage, analyze and visualize data in space and time, in one easy-to-use solution, while dramatically improving the return on investment in location decisions," said Clarence Hempfield, Senior Vice President, Product Management at Precisely.
MapInfo Pro v2021 is available today in English while international versions, available in 17 languages, are slated to go live by early 2022.
Click here for a free trial of MapInfo Pro v2021.
About Precisely
Precisely is the global leader in data integrity, providing accuracy and consistency in data for 12,000 customers in more than 100 countries, including 97 of the Fortune 100. Precisely's data integration, data quality, data governance, location intelligence, and data enrichment products power better business decisions to create better outcomes. Learn more at www.precisely.com.