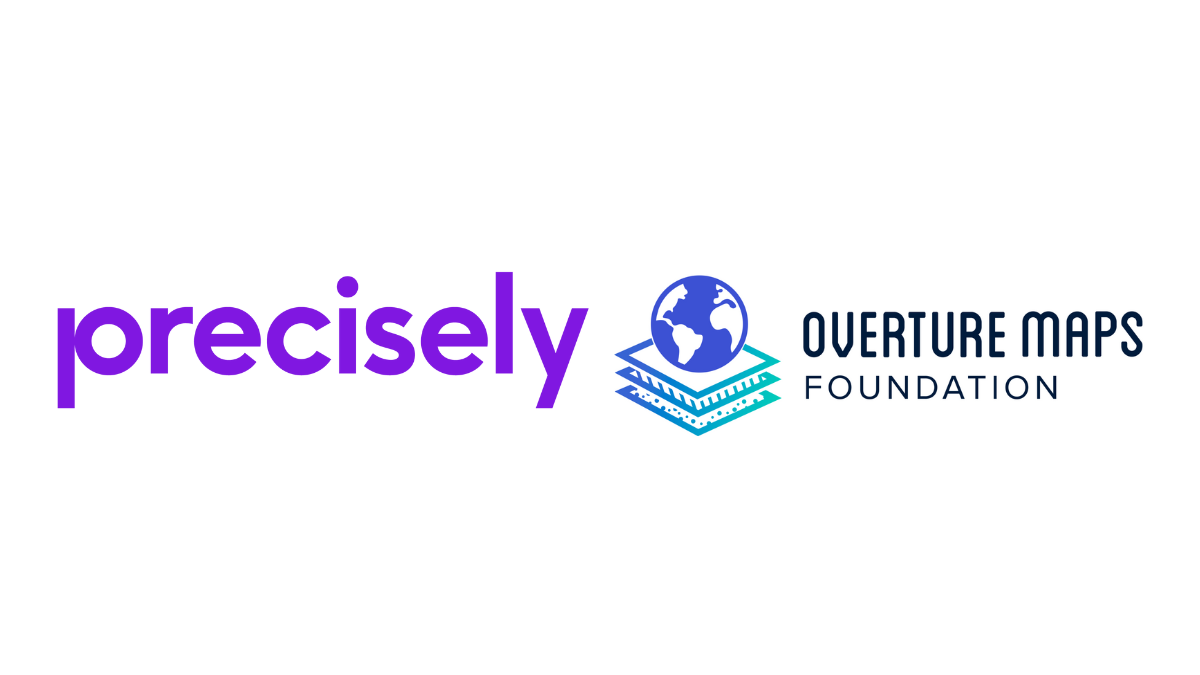 Precisely Joins the Overture Maps Foundation to Help Power its First Worldwide Open Map Dataset
Data integrity leader joins line-up of world's leading tech companies to provide location intelligence expertise and facilitate geospatial innovation
Precisely, the global leader in data integrity, today announced its membership to the Overture Maps Foundation. Founded by Amazon Web Services (AWS), Meta, Microsoft, and TomTom in 2022, the foundation recently launched its first worldwide open map dataset to the market, based upon the shared data and knowledge of its network of members.
As a contributing member, Precisely will provide vital location intelligence and data enrichment expertise to simplify interoperability between different datasets. This will allow organizations around the world to freely access geospatial data and spatial analytics, and ultimately, drive exciting new advancements in geospatial technology.
The past decade has seen an explosion in location-based technology, with it fast becoming an essential aspect of many people's everyday lives.  An increasing reliance on navigation software, ride-hailing apps, real-time transport updates, and more have been behind rapid growth in the market – with the location-based services industry expected to grow 20% in the next five years to a value of over $66 billion. But this growth represents only a fraction of what could be possible in the market, with many organizations struggling to access the geospatial data needed to make confident business decisions and power critical new product development.
"As the requirements for accuracy, recency, and attribution in maps have grown to meet user needs, the costs and complexities of collecting and maintaining global map data have grown beyond the capability of any single entity," said Marc Prioleau, Executive Director at the Overture Maps Foundation. "We are excited to welcome Precisely to the foundation and look forward to working with them to enable a level playing field wherein baseline, high-quality, mapping data and a global catalog of associated data are freely accessible to everyone."
Precisely will provide its wealth of location intelligence and data enrichment experience to the foundation's Global Entity Reference System (GERS) that simplifies data exchange by creating a persistent shared identifier for geospatial entities. With a proven history in developing its own geospatial identifier, the PreciselyID, the data integrity expert is well positioned to help inform the program.
"At Precisely, we have over 30 years of experience in building, managing, and supporting the use of location information in the business environment," said Dan Adams, Senior Vice President – Data Strategy and Operations at Precisely.  "We are excited to be a member of the Overture Maps Foundation and collaborate on the critical work being done to facilitate access to next-level mapping – powered by trusted geospatial data."
Learn more about the Overture Maps Foundation and its contributing members.
About Precisely
Precisely is the global leader in data integrity, providing 12,000 customers in more than 100 countries, including 99 of the Fortune 100, with accuracy, consistency, and context in their data. Precisely's data integration, data quality, data governance, location intelligence and data enrichment products enable better business decisions to drive better results. Learn more at www.precisely.com.