Precisely Honored with Drexel LeBow Analytics 50 Award for Innovation in Data Integrity
Award recognizes data integrity leader for building a culture of trusted data - powered by its own market-leading solutions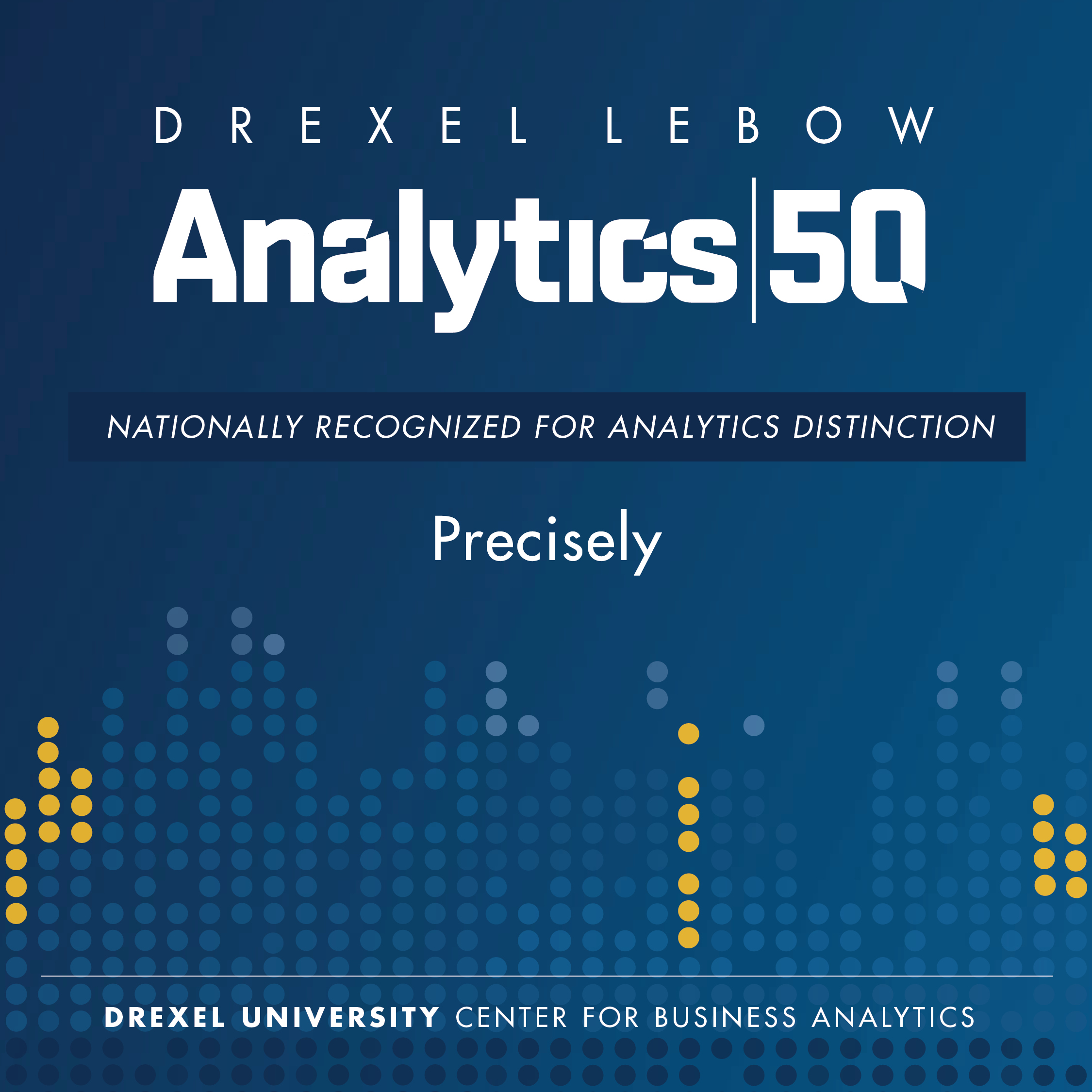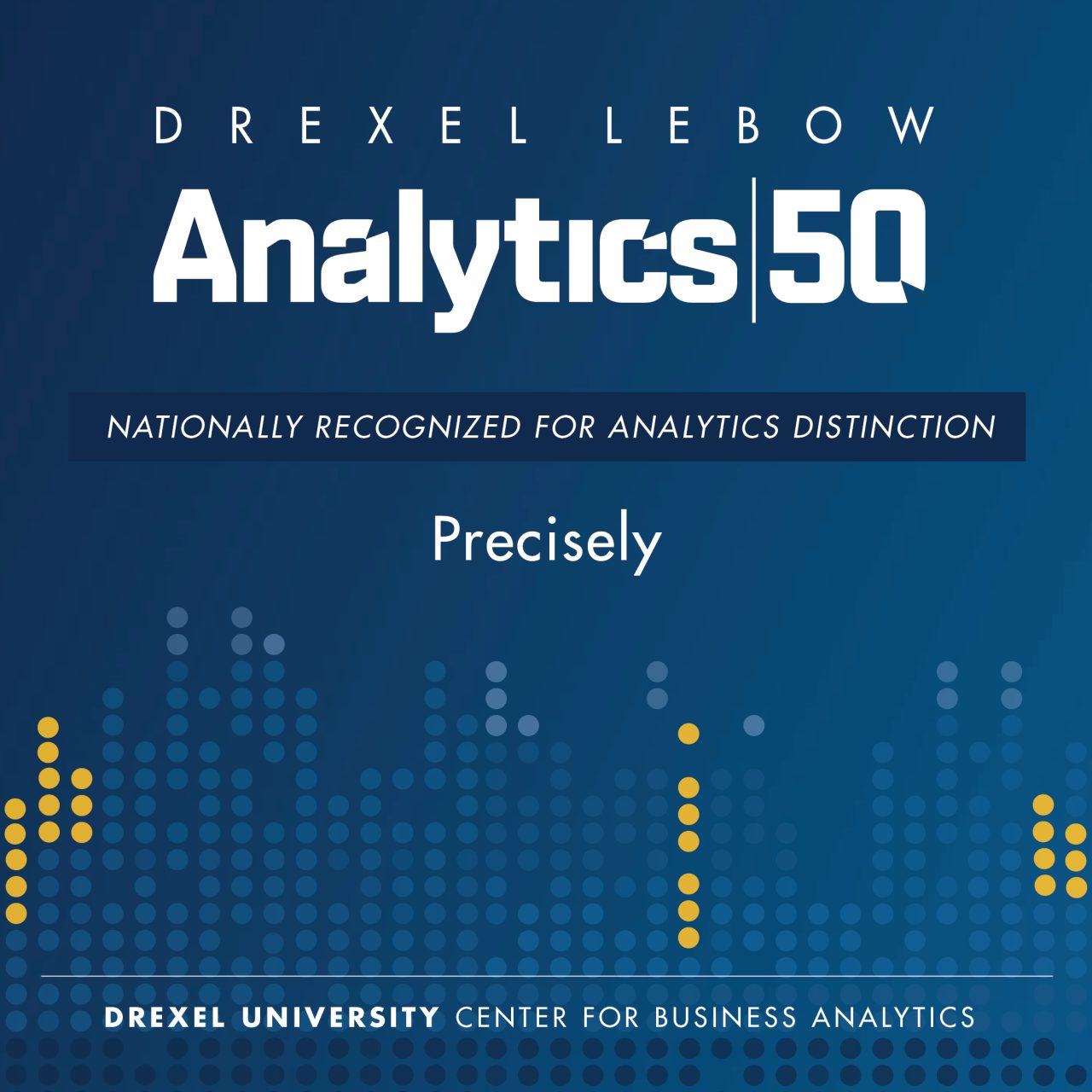 Precisely, the global leader in data integrity, today announced it has been recognized by the Center for Business Analytics at Drexel University's LeBow College of Business (LeBow) in its prestigious Analytics 50 list.
The win celebrates the company's innovative use of its own portfolio of data integrity solutions during a period of large-scale digital transformation. High volumes of growth and merger and acquisition (M&A) activity meant overcoming significant challenges to successfully integrate the newly acquired businesses and build a new organization based on trusted data.
The project team, led by Precisely's pioneering Chief Data and Information Officer, Amy O'Connor, succeeded in establishing a culture of data integrity across all parts of the business, which involved migrating 228 datasets across eight lines of business in just nine months. In doing so, they successfully implemented data standardization processes to ensure data consistency moving forward, and improved data quality by an impressive 98%.
"With our latest research showing that 70% of organizations with low levels of trust in their data point to data quality as the biggest challenge to making confident decisions, it's remarkable to see the speed and scale at which Precisely were able to overcome their data challenges by relying on their own solutions," said Diana Jones, Executive Director – Center for Business Analytics at LeBow. "We're very pleased to be able to showcase this example of data integrity innovation through our Drexel LeBow Analytics 50 program."
The Drexel LeBow Analytics 50 is a national recognition of analytics distinction honoring 50 organizations using analytics to solve business challenges, connect academia and industry, highlight best practices, and applaud data-driven business impact. Honorees are selected by a panel of researchers and practitioners who evaluate nominations based on the complexity of the business challenge, the analytics solution implemented, and the solution's business impact on the organization.
"As the global leader in data integrity we have a responsibility to demonstrate best practice in achieving trusted data," said O'Connor. "Whether it's our own business, or one of our 12,000 customers worldwide, we're proud to power organizations with the accurate, consistent, and contextual data needed to make confident decisions and drive successful outcomes."
Access the full Drexel LeBow Analytics 50 list or learn more about the Precisely range of data integrity solutions.
About Drexel University's LeBow College of Business
Drexel University's LeBow College of Business is a top-ranked, AACSB-accredited business school with market-centric academic programs, including business analytics offerings such as undergraduate and MS degrees, an MBA concentration, and post-bachelor's certificates. LeBow's Center for Business Analytics serves as the university's hub for academic/industry collaboration in analytics, partnering with leading corporations to benefit students and companies through thought leadership, applied research, data-driven projects and competitions, and a national recognition of analytics distinction across industries. Learn more at www.lebow.drexel.edu/cba.
About Precisely
Precisely is the global leader in data integrity, providing accuracy, consistency, and context in data for 12,000 customers in more than 100 countries, including 99 of the Fortune 100. Precisely's data integration, data quality, data governance, location intelligence, and data enrichment products power better business decisions to create better outcomes. Learn more at www.precisely.com.