Precisely Delivers Trusted Data to Databricks, Microsoft Azure Synapse and Snowflake
Latest Release of Precisely Connect Enhances Secure Integration of Data for Analysis in the Cloud
Precisely, the global leader in data integrity, today announced the latest release of Precisely Connect, helping power confident business decisions with trusted data in next-generation cloud and data platforms. The new version of Connect includes enhanced security and expanded options for integrating all enterprise data for analysis into Databricks, Microsoft Azure Synapse, and Snowflake.
"Businesses are rapidly adopting cloud data warehouses to support data analytics projects with maximum scalability and without the cost of managing on-premises infrastructure," said Fernanda Tavares, senior vice president of R&D for data integration at Precisely. "Precisely Connect enables companies to seamlessly and securely integrate data from all enterprise data sources, including traditional DBMS, mainframe, and IBM i, into Azure Synapse, Databricks, and Snowflake for confident decisions based on data they can trust."
Precisely Connect helps deliver trusted data by simplifying integration with a one solution approach to integrate, prepare, load, cleanse, transform and stream data across hybrid-cloud, and cloud platforms; expanding data access to include all enterprise data, from mainframe and IBM i to the cloud, while keeping secure integrations; replicating in real-time by streaming changes to data for instant use in downstream applications, data lakes and cloud data warehouses; and helping future-proof an organization by quickly and easily adding new sources and targets, and deploying applications in new environments without redevelopment.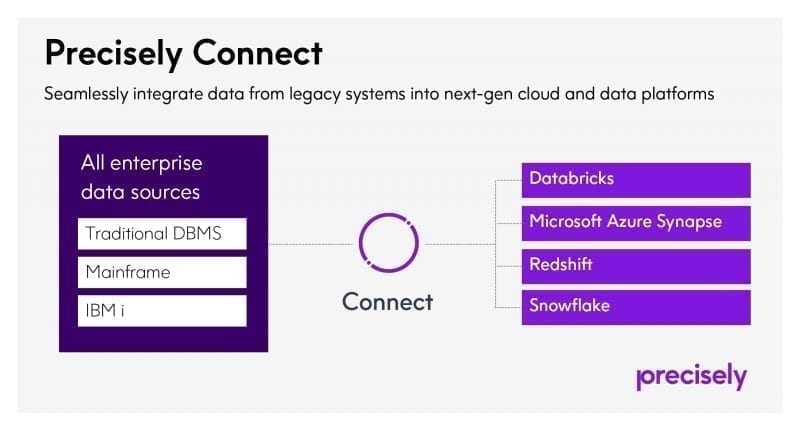 The latest version of Precisely Connect includes:
Enhanced secure data delivery
Moving data from existing infrastructure to cloud data warehouses requires sensitive data be desensitized before landing in public cloud environments. The latest version of Connect expands its secure data delivery through an integration to Protegrity, which protects and masks sensitive data in-flight in standalone servers or distributed environments. An integration with CyberArk stores and retrieves passwords from an enterprise vault to improve password protection and management.
Expanded integration with leading cloud platforms
The data integrated into a cloud data warehouse must be readable and usable in that environment to ensure it is actionable for analytics. The latest version of Connect extends its connectivity to cloud data warehouses, which includes Amazon Redshift, to also include Databricks, Microsoft Azure Synapse, and Snowflake with automatic metadata mapping, high performance parallel loads, delivering trusted data in hybrid cloud and multi-cloud environments.
About Precisely
Precisely is the global leader in data integrity, providing accuracy and consistency in data for 12,000 customers in more than 100 countries, including 90 percent of the Fortune 100. Precisely's data integration, data quality, location intelligence, and data enrichment products power better business decisions to create better outcomes. Learn more at www.precisely.com.