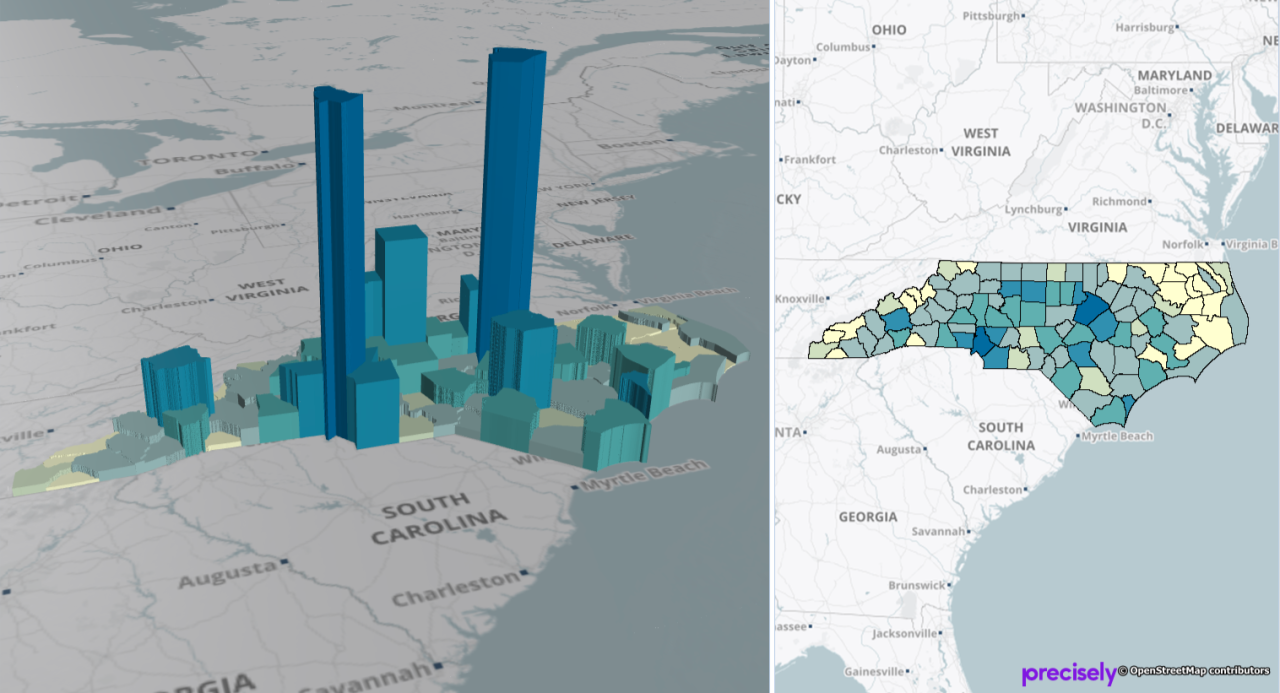 Precisely Announces Powerful New 3D Visualization Capabilities in Latest MapInfo Pro Release
Simultaneous 2D and 3D visualization unlocks new levels of location-based context for confident decision-making
Precisely, the global leader in data integrity, today announced the launch of MapInfo Pro v2023 – the latest release of its popular desktop Geographic Information System (GIS). Customers can now quickly and easily access a three-dimensional (3D) view of risks and opportunities with a new set of visualization tools. Users will also be able to seamlessly connect to enterprise-level spatial analytics for streamlined collaboration across the business and access several new upgrades to facilitate faster time to value.
With these updates, MapInfo Pro strengthens its industry-leading spatial analytics and mapping visualization capabilities, boosting location-based decisions across a broader range of essential business uses.
The enhancements include:
New 3D visualization capabilities – customers can now simultaneously display data in both 2D and 3D, revealing a new world of patterns and relationships.
Seamless connection to enterprise-level spatial analytics – users can connect MapInfo Pro to Precisely Spectrum Spatial and maximize data collaboration across the business.
Community-requested enhancements – new usability upgrades are now available, including customizable workspaces and user interface options.
The adoption of location intelligence has exploded in recent years, with 3D visualization and spatial analytics increasingly playing a central role across a wide range of high-profile uses. This includes urban planning for smarter cities, network optimization for improved digital equity, and disaster management of catastrophic events such as wildfires and major floods. MapInfo Pro empowers customers to fully harness the potential of location data and fuel confident decision-making across all these scenarios and more.
Precisely partner, Pelican GeoGraphics, has long understood the power of location intelligence for complex research and planning purposes. The team helps clients in the natural resources industry with the exploration of minerals to help create renewable energy sources.
"Understanding the 3D nature of your data is essential in mineral exploration, so we're thrilled that this feature will now be available directly within the familiar interface of MapInfo Pro – and at a fraction of the cost of some of the more specialist standalone packages on the market," said Caroline Hilton, Managing Director at Pelican GeoGraphics. "Even at grass-roots level, geologists will be able to visualize their regional and project data in greater detail, draping aerial images, geological mapping, geophysics grids, and geochemistry data onto the landscape with ease."
As an all-in-one solution for managing, analyzing, and visualizing location data, MapInfo Pro is widely recognized for its ease-of-use, empowering customers to leverage critical location-based insights across a wider range of business users. It can also be easily customized through a wide variety of features and functionality available to customers via the MapInfo Marketplace.
"Precisely remains committed to delivering a complete desktop GIS solution in MapInfo Pro, that is powerful, flexible, and easy to use," said Clarence Hempfield, Senior Vice President – Location Intelligence at Precisely. "The latest release helps to unlock maximum levels of location-based context for our customers across an almost endless array of critical business scenarios."
MapInfo Pro v2023 is available today in English, German, and French, with 13 additional languages slated to go live by early 2024.
Learn more about the latest version of MapInfo Pro and access a free 30-day trial today.
About Precisely
Precisely is a global leader in data integrity, providing 12,000 customers in more than 100 countries, including 99 of the Fortune 100, with accuracy, consistency, and context in their data. Precisely's data integration, data quality, data governance, location intelligence and data enrichment products enable better business decisions to drive better results. Learn more at www.precisely.com.