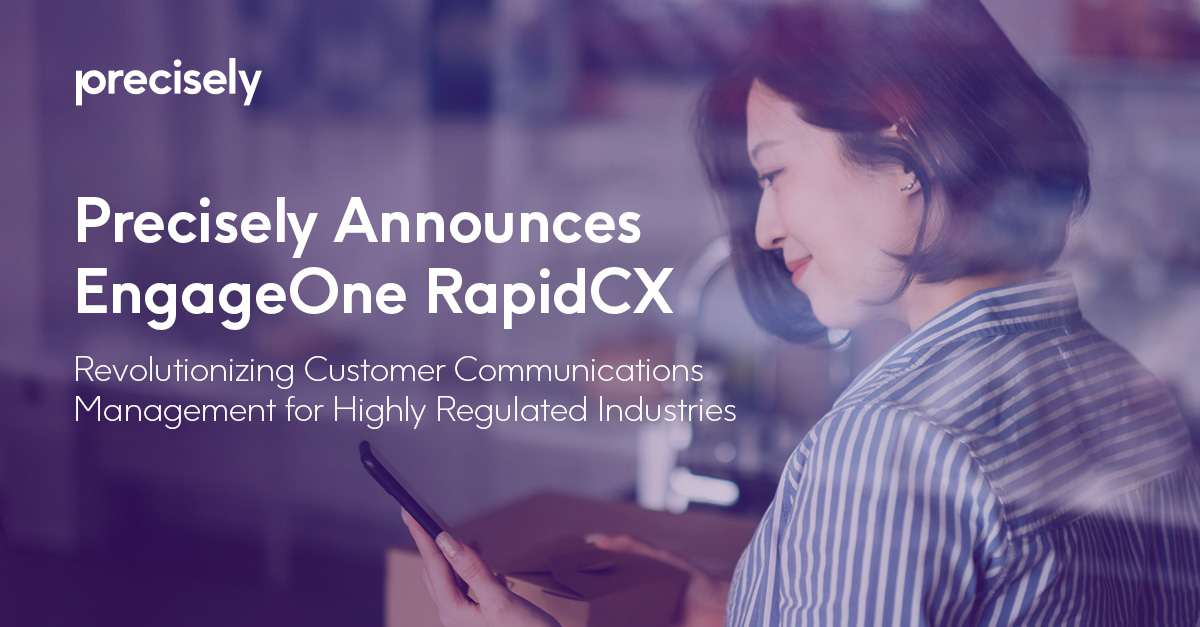 Precisely Announces EngageOne RapidCX, Revolutionizing Customer Communications Management for Highly Regulated Industries
SaaS-based solution combines industry-leading Precisely EngageOne portfolio with capabilities from CEDAR CX acquisition to leverage trusted data for unbeatable customer experience
Precisely, the global leader in data integrity, today announced the launch of EngageOne RapidCX, bringing the latest innovation in customer communications management (CCM) to the market.
RapidCX empowers organizations to provide a better, more effective customer experience through data-driven, personalized, communications. This is particularly important for highly regulated industries such as financial services, insurance, and telecommunications, where the pressure is on to deliver more personalized and dynamic customer experiences to stay competitive, while also navigating increasingly complicated regulatory requirements.
Announced at the Trust '23 Data Integrity Summit, RapidCX allows organizations to solve challenges such as disjointed customer communications, compliance with changing regulations, and siloed legacy systems to:
Improve Efficiencies – replace manual customer experience processes with an automated solution that enables business users to harness data from across all systems.
Enhance Customer Engagement – capture data-driven insights to quickly and easily personalize and automate omnichannel communications, including e-mails, SMS messages, chatbot conversations, interactive video and more.
Enable Better Governance – ensure compliance with end-to-end communications tracking, delivery tracing, and archiving. Easy-to-manage governance controls make even complicated industry regulations easier to follow.
"The launch of RapidCX is a significant industry event and a real game changer for Precisely, particularly in highly regulated markets," said Kaspar Roos, Founder & CEO at Aspire. "Precisely has brought together a wide variety of standalone capabilities into a comprehensive, fully managed cloud-based platform, providing a simplified way for customers to get access to modern customer-focused technologies without the need for extensive integration. The launch positions Precisely favorably to meet the needs of a new generation of CCM buyers found in marketing, customer experience, and the line-of-business."
The announcement of the new platform is well-timed, with customer loyalty being harder to come by in recent years due to shifts in consumer behavior, rising competition, and economic pressures. In fact, a recent PwC survey showed that more than half of consumers (55%) would stop buying from a company, even if they otherwise liked them, after having several bad experiences – with a further 8% saying they would stop after just one negative experience.
With the rollout of RapidCX, organizations worldwide can now easily and dynamically deliver satisfying, personalized experiences, no matter how, where or when the customer chooses to interact. When combined with the Precisely portfolio of data integrity solutions, organizations can ensure they are powering customer communications delivery with trusted data, helping to win lasting loyalty and, ultimately, accelerate business growth.
"Businesses can no longer apply a one-size-fits-all approach to customer engagement. Today's customers expect extraordinary experiences, and trusted data is the cornerstone for delivering them," said Greg Van den Heuvel, Executive Vice President and General Manager – Engage Solutions at Precisely. "Forward-thinking organizations are turning to cloud hosted integrated customer engagement platforms, fueled with accurate, consistent, and contextual data, to revolutionize their approach to customer communications."
Learn more about RapidCX here.
About Precisely
Precisely is the global leader in data integrity, providing accuracy, consistency, and context in data for 12,000 customers in more than 100 countries, including 99 of the Fortune 100. Precisely's data integration, data quality, data governance, location intelligence, and data enrichment products power better business decisions to create better outcomes. Learn more at www.precisely.com.