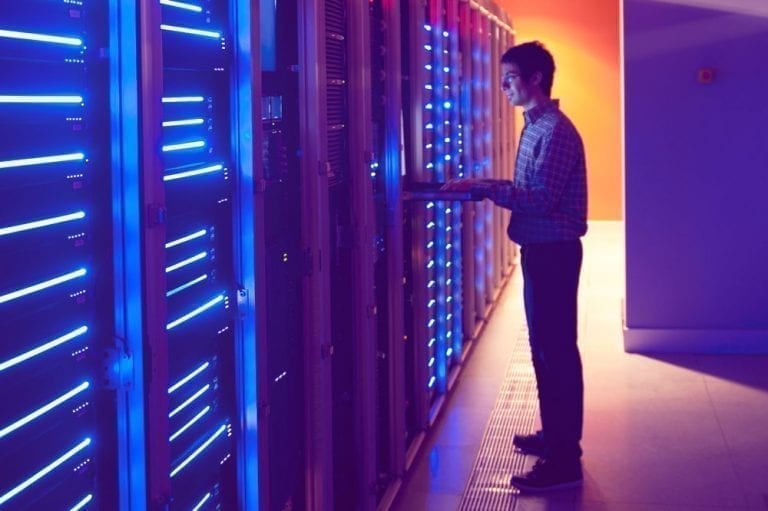 IBM z15 – A New Member in the Multicloud Family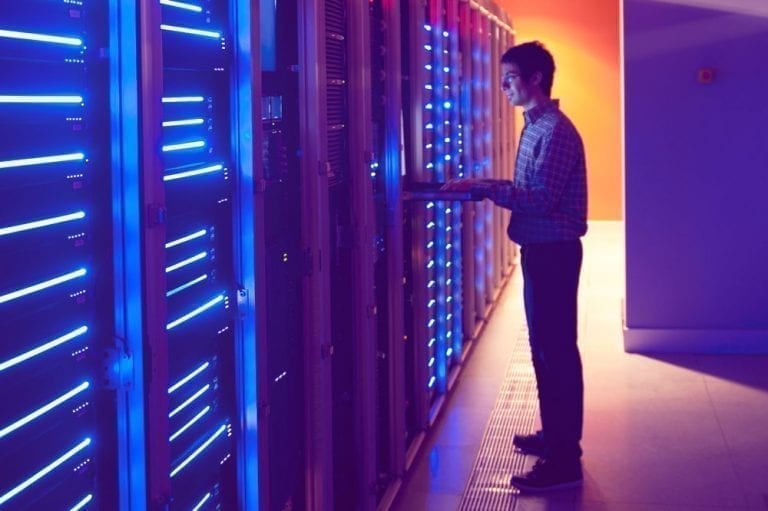 IBM announced the z15 mainframe on September 12, 2019. It's a big deal in the mainframe world, and I was at IBM's Poughkeepsie site on that day. I was there the whole week working with IBM's performance team. That day, when we were having lunch together, their engineers' excitement was too obvious for me to not notice. That's when I heard the big news.
Sadly, we were too busy and were late for the celebration. The cakes were already gone, but I was given a sticker which I like a lot – a happy dancing mainframe machine and a new decoration on my laptop.
z15 improved performance is reason to celebrate
IBM has every reason to be happy. The z15 is a big improvement from its predecessor, z14, which has been quite successful since it was rolled out two years ago. Because I was working with the performance team at the time, I was able to look at the performance figures for the z15. I was not disappointed. Compared to z14, the z15:
Includes up to 14% faster performance
Provides 25% more system capacity
Supplies more on-chip cache per core
Offers up to 40 TB real memory
What interested me the most was the addition of new instructions for sort acceleration, which will provide Precisely opportunities to improve our sorting algorithms and improve CPU efficiency.
As a company that has supported the mainframe for more than 50 years, Precisely has been an active participant since January in IBM's z15 exploitation as an ISV partner (my work onsite that week was part of this effort). Therefore, we can say with confidence that all our powerful Precisely Syncsort products that provide sorting, database optimization and network management for z/OS also support this new and improved model.  
IBM's z15 is an enterprise platform for hybrid multicloud
What makes me the most excited about the z15 is its aim as an "enterprise platform for mission-critical hybrid multicloud." The following are the z15's cloud-related highlights:
Data privacy and security for multicloud

Pervasive Encryption encrypts all data on z
Data Privacy Passports enforce security and privacy protections to data not only on z, but across platforms

Instant Recovery

New System Recovery Boost and enhanced GDPS help customers plan better for planned downtime and recover faster from unplanned downtime

Hybrid cloud readiness

Ready for the cloud data center, z15 is housed in a new standardized 19-inch frame
z15 supports cloud-native application development with new tools such as Redhat, Openshift, and IBM Cloud Paks
z/OS® Container Extensions (Docker on z) allows users to be able to deploy and run open source and Linux applications on native z/OS
Precisely's role in bringing mainframe to cloud
Precisely has long been a pioneer in bringing mainframe to the cloud world (or vice versa). In the past years, we have:
Integrated portfolio of products with key cloud platforms, allowing customers to leverage our design once and deployed anywhere architecture
Moved mainframe data to Snowflake and other major cloud data warehouses
Joined the Open Mainframe Project  group to identify areas where Precisely can contribute to maturing Zowe platform and making its benefits more achievable for our customers
Partnered with the Hyperledger community to provide solutions related to Supply Chain, loading blockchain with data from existing data stores and extracting data from blockchain for downstream analytics
Besides what was mentioned above, there are other features offered by z15, such as On-chip Integrated Accelerator for zEnterprise Data Compression (zEDC) and zHyperLink. We will continue our exploration and see how we can make use of them in our products.  It's an exciting time for innovation on mainframe!
For additional insights on how to extract maximum value from your enterprise data in the cloud, including mainframe data, check out Precisely's white paper:Mainframe to Cloud: Design Once, Deploy Anywhere in a Hybrid World.