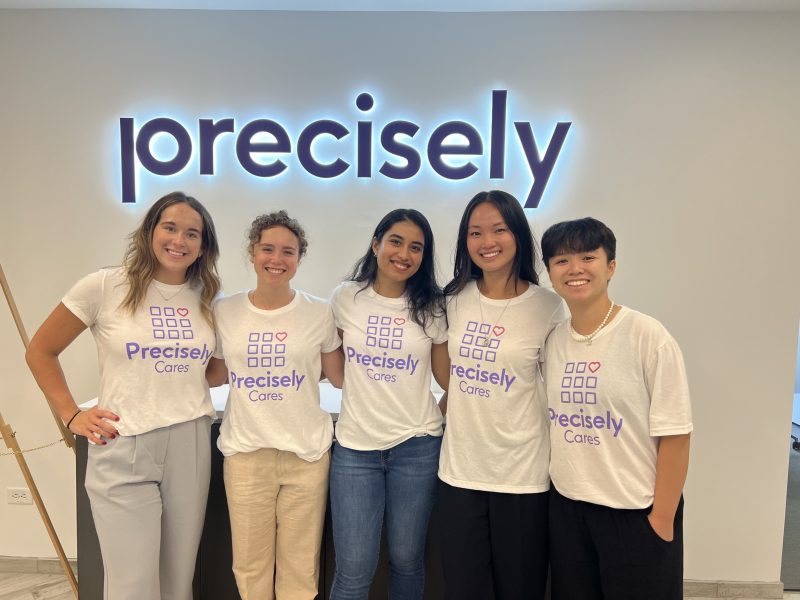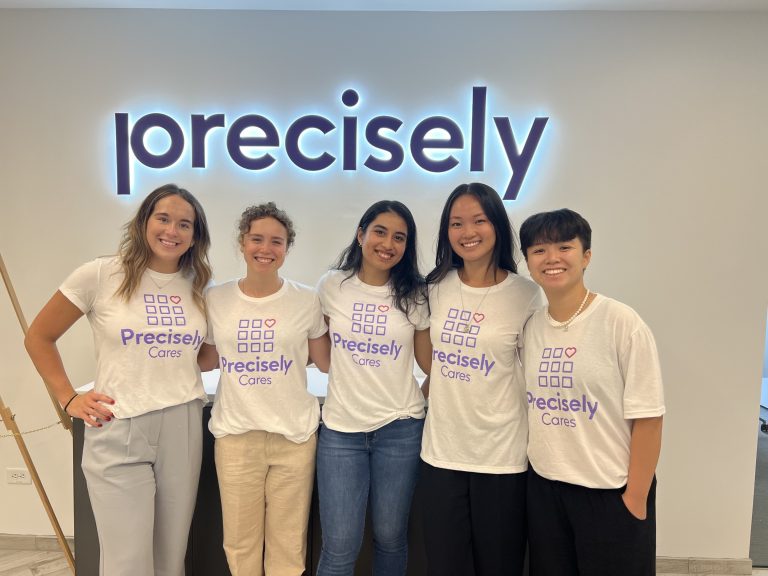 2023 Precisely Summer Internship Program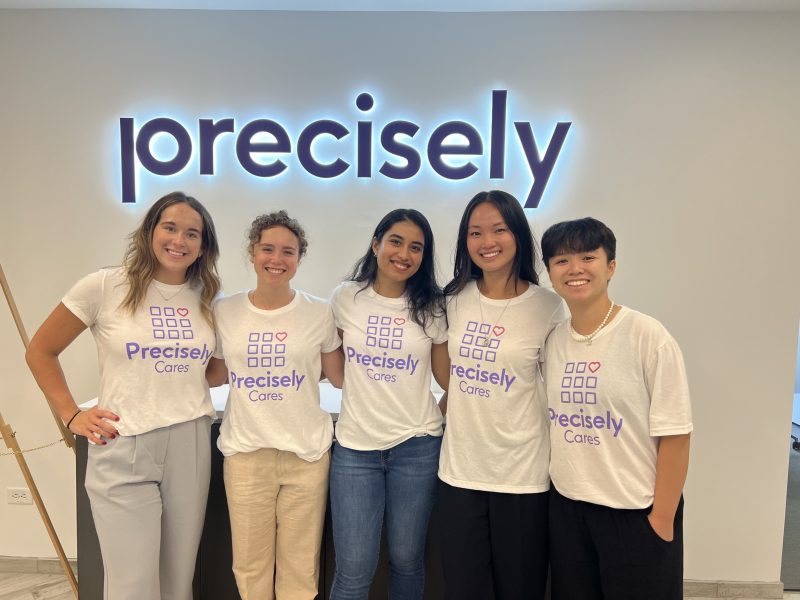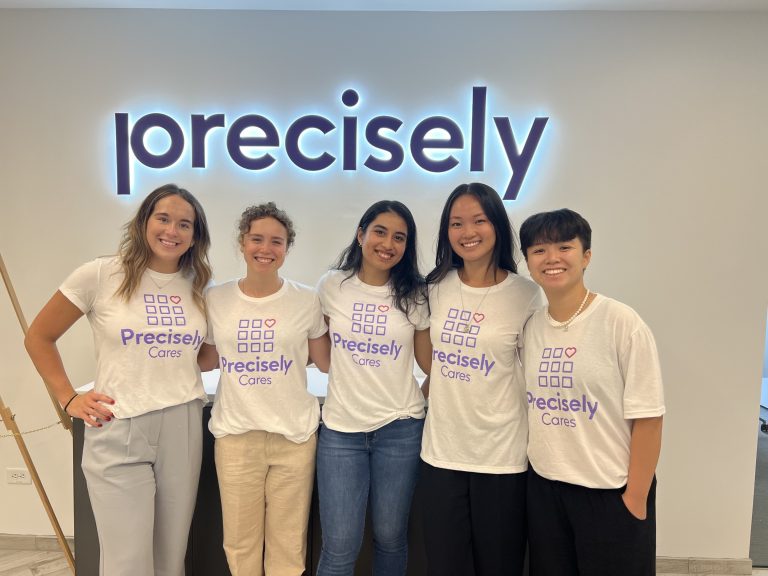 This summer, Precisely welcomed a new group of college students to the 2023 Summer Internship Program. Interns from around the world joined the global teams and learned the ins and outs of how the organization works and how their role fits into the bigger picture. The program is designed to introduce interns to the different areas of business, teach them how to work in a professional setting, grow through mentorship, and learn more about themselves – and what kind of career they want to pursue. Continue reading to learn more about what the 2023 summer interns had to say about their experience. 
Sydnee Straub, Sales Intern
The best part of my internship experience was working with all the great people at Precisely. I'd tell future interns to stay inquisitive and ask questions because every person I worked with was helpful and encouraging. 
Will Kingston, Sales Intern
The best part of my internship this summer has been the feeling of being part of a team and having impact on tat team. I've worked on so many projects that've been a great learning opportunity, but it wouldn't be as impactful if I didn't feel so supported and appreciated by the team. That feeling is unmatched.  
Jeremy Valle, Diversity, Equity, and Inclusion Intern
If I could advise future interns joining Precisely on anything, it would be this: do not be afraid to reach out and ask for help. Not only does it allow you to build communication, collaboration, and networking skills, but it also shows those around you that you're willing to learn more. You'll be far more productive by reaching out when you need support, as well as respected by your colleagues for showing humility and a desire for growth. 
Maksymilian Sre, CES R&D Intern
My main takeaway from this internship was learning how to work in a team, meeting new people, and gaining first-hand knowledge of how a large company works. So far, I've learned how AWS works, learned python, nodejs, docker, angular, and gitlab in depth. 
Amanda Lovejoy, Sales Intern
This experience helped me understand what I am looking for in a career and in life. I know that the skills I learned, such as researching, problem solving, and teamwork will help me in any future job I pursue. 
David Hilton, Cloud Operations Intern
Throughout my internship, I was encouraged to explore other areas of the business that were outside of my Cloud Operations roll. This enabled me to take initiative and I began working on additional projects that sparked my curiosity. Doing so was very rewarding and branching out was definitely my favorite part of the experience. 
We help market leaders make better decisions and build new possibilities. Want to join the team? Find out about working with us and our current openings.
Cassidy Smith, Data Operations Intern
The best part of my internship experience was working with such a talented team of people and being able to lead my own experience. Working at Precisely compares to a never ending "choose your own adventure" book. Through this internship, I found out that utilizing software like Tableau is where I want to be in the future; in the world of data analysis and business intelligence.  
Lauren Choe, Marketing Global Campaigns Intern
This was my second summer interning at Precisely and it's clear that Precisely is truly a company that deeply cares for its community and its people. It's a great place to learn and there's no such thing as a bad question here. My advice to future interns is to maximize your internship experience by asking questions, being proactive, and staying curious. 
Alison Burns, Public Relations Intern
Hands down, the best part of my internship experience was the people I worked with. My manger Emma Forrest was so attentive to my learning and growing and created an environment that allowed me to explore the whole sphere of corporate marketing in just eight weeks. Additionally, the marketing interns: Julia, Heli, Lauren, and Anna were great companions to have through this process and I'm so lucky to have gotten to meet them all in person! 
Heli Vyas, Product Marketing Intern
My main takeaway from this experience has been practically learning what goes into cross-functional change management. Studying 'why' do we need this change, assessing if we have a gap, and if yes, then where? Connecting that to 'how' do we fill this gap then to 'what' resources do we need to fill it? It was an amazing learning experience.  
Maria Popioler, UX Researcher Intern
This internship gave me a glimpse into what it's like to work in a corporate environment. I learned that communication is a crucial factor for success in such a complex environment where everyone has separate tasks and goals. This is something that I'll always keep in mind going forward. 
Anna Martinin, Sales Enablement Intern
The best part of my internship was working on the competitive intelligence project along with the Product Marketing intern, Heli Vyas. We evaluated competitive intelligence vendors and documented recommendations for moving forward with a competitive intelligence program, including an Enablement plan for the program's adoption in Sales. We presented these findings and recommendations to Precisely executives. Through this project, I learned about competitive intelligence technologies and how a competitive intelligence program can operate in many parts of an organization. My advice to future interns is to reach out to people and create connections, and to be confident in what you bring to the table. 
Julia Lau, Marketing Intern
The best part of my internship was meeting up with the other Marketing Interns for the day at Precisely's Burlington office. It's so special to be able to meet people in-person and that makes remote work even more fun. I loved my team, the people here, and the opportunity to expand my skill set. 
Interested in learning more about future internship programs at Precisely? Follow us on our social channels for more information on upcoming opportunities.