eBook
How to Solve the Top 10 Customer Master Data Challenges in SAP
Creating and updating customer master data records in SAP is an essential business function for all organizations. Slow, manual processes or poor-quality data can lead to delays in order processing and a host of downstream shipping and invoicing problems.
If you're charged with streamlining customer master processes or improving data quality, this eBook is for you. Read it to get practical tips on how to:
Cut the time it takes to create new customers by 50% or more
Reduce the number of duplicate customer records in your SAP system
Streamline customer updates, extensions, and deletions
Collect the customer data required to comply with internal and external policies
Get higher-quality addresses, email, and other key data
We'll highlight the top ten challenges that companies typically face with managing customer data in SAP and show you how to build smart automation solutions—without needing SAP technical coding skills.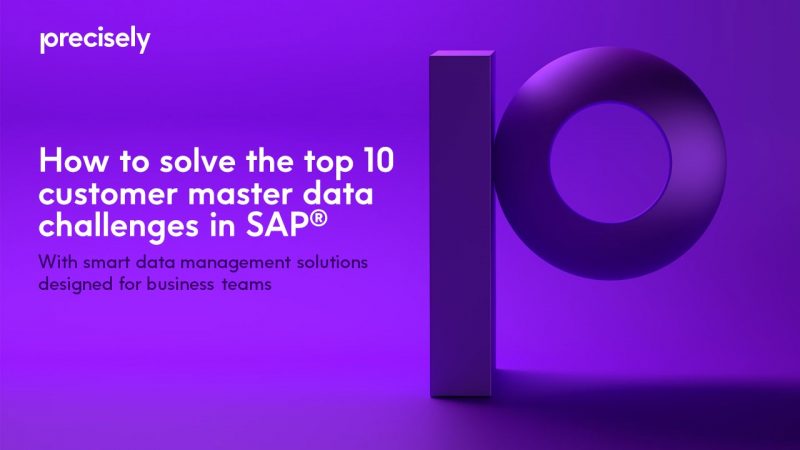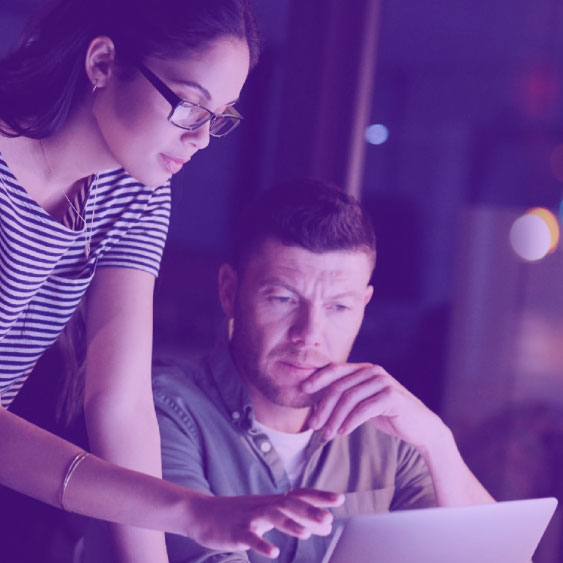 Challenge 1:
Slow, manual create and update processes
How do you create or update your customer records today? If your process is like many that we see, someone, usually from sales, initiates a request via email. This kicks off a long process of passing emails around the parties who need to supply or approve data, which often takes days, or longer if people are out of the office.
Eventually, an email reaches the master data team, who must then manually key the data into SAP, only to find that some of the data is missing or dubious. Sound familiar?
Solution:
Streamline your process with an automated forms and workflow solution
What if you could build a solution that automatically routes the create or update request to the responsible parties? What if different people could work in parallel on supplying or approving the customer data? And, what if instead of manually keying data into SAP, you could validate and post to SAP with a couple of clicks?
All these things are possible with an automated workflow solution. And the time savings can be dramatic. We regularly see our customers reduce their customer create cycle time by 50% or more, and realize even greater time savings for customer updates—helping them process orders faster and better serve their customers.
These results are from an industrial supplies distributor who automated their customer creation process with Precisely Automate software.

Example of a web form created with Precisely Automate Evolve. You can use a form like this to create a new customer master record or extend an existing customer to a new sales organization or company code.
Key workflow features that speed up data collection and data entry into SAP:
Automated posting of data into SAP
Parallel task assignments
Role-based form views
Pre-population of data based on business rules
Ability to copy from a reference customer
Automated email notifications to keep everyone on task
Streamline mass creates and updates using Excel
Web forms are a great solution for handling create and update requests for one or a handful of records, but if you need to process large numbers of records, an Excel-based solution is the way to go.
SAP analysts, master data professionals, or SAP super users familiar with your customer processes and data can use Precisely Automate Studio to build solutions that exchange data with SAP. They then embed these solutions into an Excel workbook that anyone in the business can use to create or change batches of records.

One person can use this Excel-based solution to create or update records, or you can build an automated workflow that routes the Excel files to the appropriate people based on your business rules.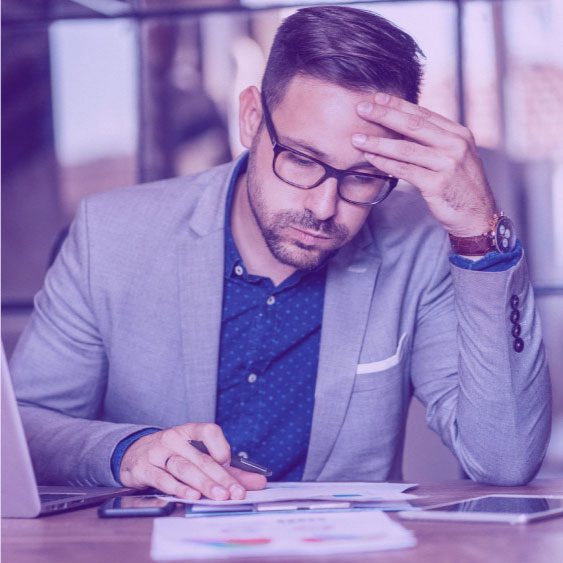 Challenge 2:
Duplicate customer records
Duplicate customer records in SAP can cause all sorts of confusion and downstream problems for both customers and your internal teams—as well as lead to inaccurate reporting. Without adequate controls on the data coming into SAP, it's easy to see how duplicate sold-to, ship-to, bill-to, or payer records can be created.
Solution:
Make it easy to search for existing customer records
Give your teams an easy way to search for existing records using the fields that make sense for your business, and drastically reduce, or even eliminate the number of duplicate records created.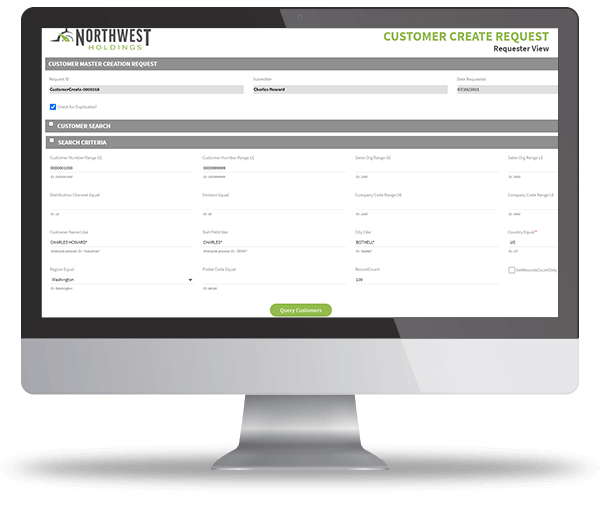 Make it easy for requestors to search by customer name or other key fields with wildcards. Display records that match your search criteria and even allow 'copy from' functionality, making it faster to create new records if needed.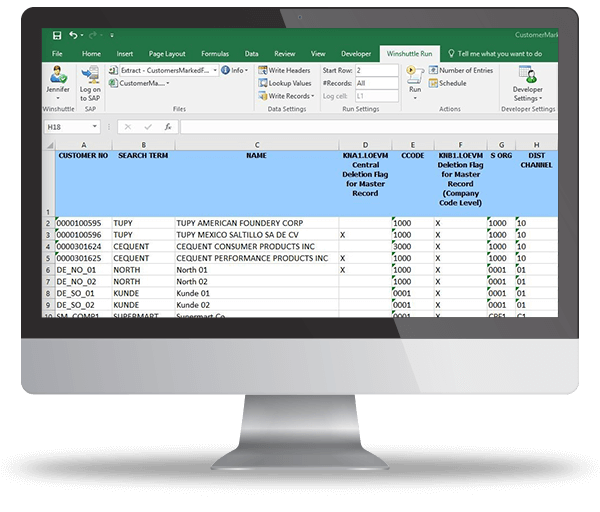 Make quick work of duplicate clean up with Automate Studio, a data management tool designed for business teams—no technical coding skills required.
Clean up duplicate records
We've shown how you can prevent new duplicates getting into your system, but how do you find and flag existing duplicates?
With Automate Studio you can quickly build an Excel-based solution to extract customer records based on your chosen criteria, identify duplicates and flag them accordingly. Then with a click of a button, change the status of those records in SAP. All of this without having to touch the SAP GUI, waiting for IT to build a solution, or needing specialist ABAP, SQVI or other technical coding skills.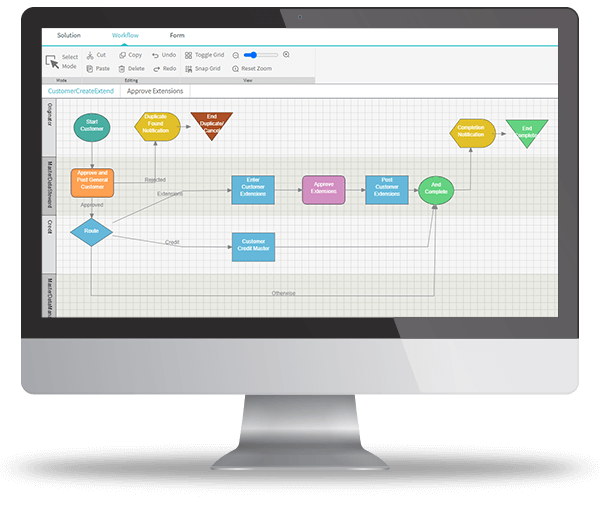 This is an example of a workflow for creating or extending customer records developed with Automate Evolve. With a visual design canvas, it's easy to build a workflow according to your process.
Challenge 3:
Lack of compliance with business procedures and rules
If you're using manual processes to create and update your customer master data, it's extremely challenging to enforce your business rules and procedures on a consistent basis. For example, your policies may state that a credit check must be completed for certain order sizes before you can create a new customer record.
Without formal controls in place, it's easy for this type of rule to be circumvented or missed, leading to compliance breaches and unnecessary business risk.
Solution:
Build automated workflows with formal controls
With sophisticated SAP data automation software, like Automate Evolve, your team can build and roll out solutions that ensure compliance with your business procedures.
Whether it's defining formal approval flows or using smart form logic to trigger workflow steps or data requirements based on business user input, you can lock down your customer master processes to reduce risk and improve data quality.
Challenge 4:
Missing customer data
Incomplete customer data can delay order processing, shipping and invoicing, as well as creating a lot of back and forth between your customer service teams and your customers— wasting time and jeopardizing customer satisfaction.
Solution:
Make it easy to collect required data using web forms
The first step is to define your mandatory customer master fields, then build a forms and workflow solution with Automate Evolve that embeds those requirements. Requestors and other workflow participants will not be able to submit the form without providing the required data—even if those fields are not required in your SAP system.
You can also require certain documentation to be submitted along with the data fields, such as tax-exempt forms or credit reports, helping you comply with internal controls.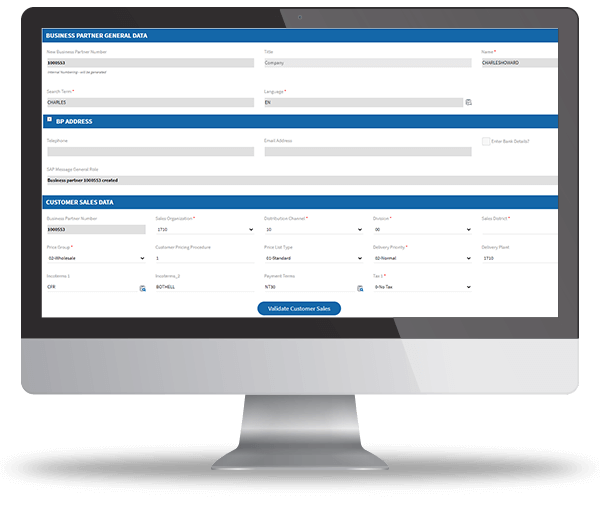 Example of a form created with Automate Evolve to create either customers or vendors in an SAP S/4HANA system. You can make fields required in the form, even if those fields aren't required in SAP.
Challenge 5:
Unstandardized, poor-quality data
If you manually enter data via the SAP GUI, chances are that there is little standardization when it comes to data formatting. For key fields such as email, address, and phone numbers this can cause real problems downstream, including failed delivery attempts and poor customer communications.
Solution:
Enforce business rules and enhance data with web forms
Build and rollout a forms and workflow solution with built-in data 'guardrails' and put an end to unstandardized data. Enforce your business rules for formatting key fields, such as requiring dashes in phone numbers or using all caps for customer names.
You can also enhance your data by connecting to third-party web services that can standardize addresses, provide GPS location details for ship to customers, and validate email addresses.
How proactive data stewardship saves you money
Precisely Automate platforms provide an extensive range of data stewardship capabilities that enable your business teams to improve data quality, whether they're using a web form or an Excel workbook to exchange data with SAP.
| | | |
| --- | --- | --- |
| Precisely Automate data stewardship capabilities | Excel | Web form |
| Search for duplicates | | |
| Smart form logic | | |
| Role-based views | | |
| Field standardization | | |
| Easy required fields | | |
| Copy 'like' records | | |
| Live SAP validation | | |
| Modifiable field drop down values | | |
| SAP F4 lookups | | |
"It costs about $1 to verify a record as it is entered, about $10 to fix it later, and $100 if nothing is done, as the ramifications of the mistakes are felt over and over again."
SiriusDecisions 1-10-100 Rule by W. Edwards Deming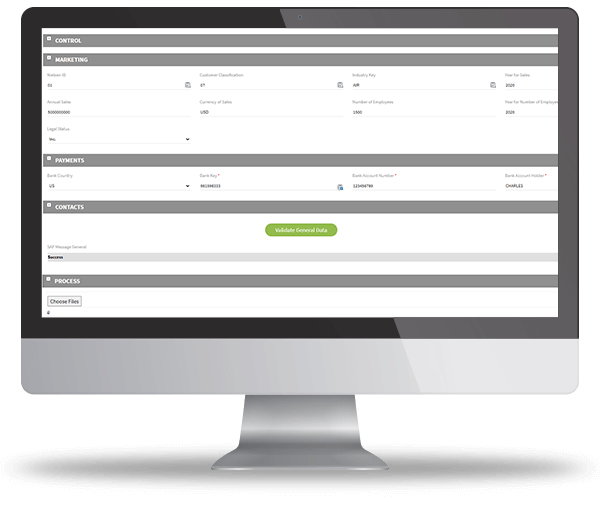 Use smart form logic based on your customer account group or other criteria to determine steps in your workflow, data collected, and field-level attributes.
Challenge 6:
Managing different customer types
Customer master data specialists know that there are multiple customer types or account groups that you must create and maintain—each with its own set of data requirements. And it's not just the basic sold-to, bill-to, ship-to, and payer record types that you need to worry about. Most companies set up custom account groups to deal with different operating procedures and data requirements across the business.
Solution:
Build flexible workflow solutions
A flexible automation platform will enable you to assign different workflow participants, and present different data fields—all based on the requestor's choice of customer type.
With Automate Evolve you can even specify field-level details by customer account group—including whether the field is prepopulated with default values, required, or read-only.
This flexible approach enables you to gain organizational alignment, streamline customer master processes, and improve data quality across your business.
Challenge 7:
No visibility into requests status
Precisely Automate customers tell us that understanding where a create or update request is in the process is one of their biggest issues—especially if someone from sales management is demanding to know so they can process a big order!
Without automation, pinpointing who is working on the request is a manual, time-consuming process that can involve multiple emails or phone calls.
Solution:
Easy access to detailed process data
One of the main benefits of an automated data management solution is being able to see exactly where each request is in the process—with a few clicks.
With Automate Evolve each person in the process can see workflow history in notification emails or in the web form they use to supply or approve data—so they always know what actions have been taken by whom, and when, and can see what's next in the process.
Process owners or participants can also view the status of each process from a centralized website.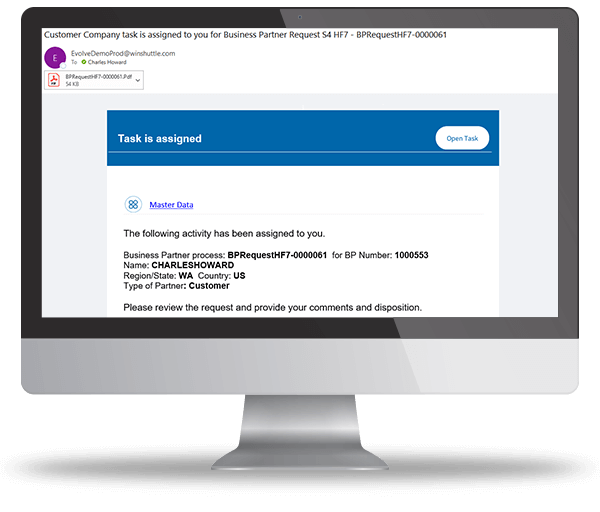 Workflow participants can see detailed process history either in text form as is shown in the example above or get a graphical view of the where the process is in the workflow.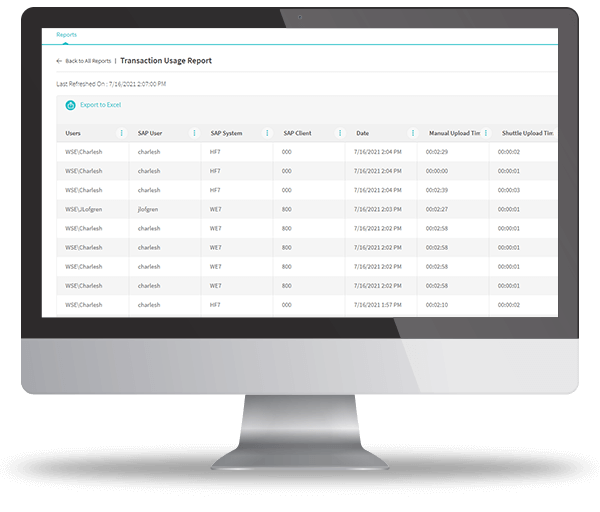 If you need to provide an audit trail for your customer master data, Automate Evolve enables you to get the data you need quickly.
Challenge 8:
Providing audit trails in a timely fashion
If you're manually entering data into SAP via the GUI, it can be cumbersome and time-consuming to report on who did what with your customer data, and when additions or changes occurred.
Solution:
Simplify audit reporting with pre-built reports and easy access to data files
Be sure to choose an automation platform that makes it easy to pull reports that show who uploaded, extracted or approved data when, and which systems and t-codes were involved.
Automate Evolve allows you to quickly get to the data files exchanged with SAP and export them to Excel if needed— greatly simplifying and speeding up your auditing process.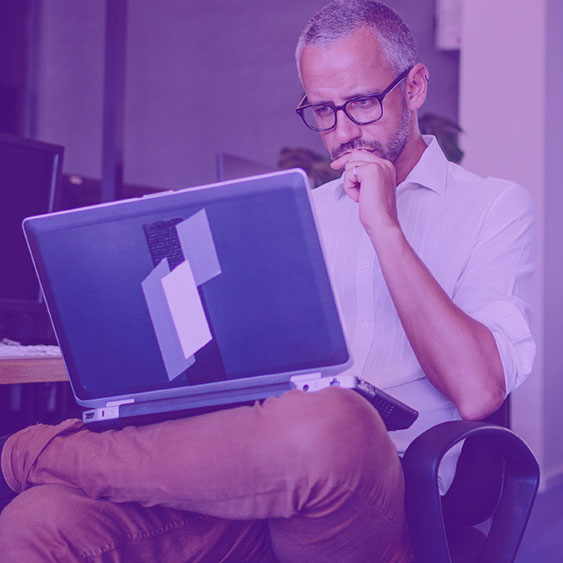 Challenge 9:
Measuring performance
Without automation, it's very challenging to accurately measure how long it takes to complete customer create or change requests at each stage of the process, and involves combing through emails and checking logs in SAP—a tedious and time-consuming task. Measuring other metrics, such as the number of records processed or data errors is also a hassle.
Without easy access to these key metrics reporting on Service Level Agreements (SLAs), productivity, and data quality is a slow process at best, or at worst, doesn't get done at all—hampering improvements and jeopardizing resources.
Solution:
Automatically track key metrics
A key benefit of automating your customer master process is getting instant access to key process metrics. Automate Evolve provides several out-of-the-box dashboard reports that make it fast and easy to monitor productivity, data errors, and time and costs savings.
With Automate Evolve, you can also set SLA goals for each step in your workflow, and get access to timestamp data for those discrete steps—making it easy for you to calculate if you're meeting your goals and identify bottlenecks so you can act to resolve any problems.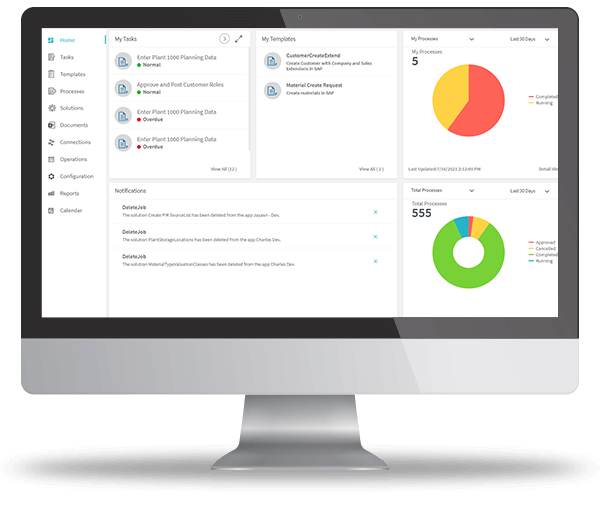 Track key metrics by user and t-code, including the number of records processed, and time and cost savings.
Eliminate manual data entry into SAP and realize huge time savings
These numbers show the average time Precisely Automate customers save by automating data entry tasks with Precisely Automate software versus working directly in the SAP GUI.
You can track how much time your organization is saving with the out-of-the-box dashboards included in the Precisely Automate platform.
"Due to the time savings we've seen with the Precisely Automate platform, I haven't needed to add headcount even as the company continues to expand."
Joseph Wieczorek Director, Master Data Organization Reynolds Leveraged Services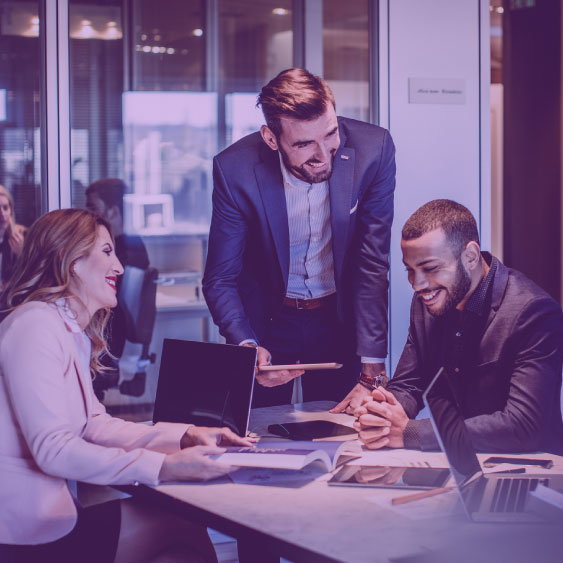 Challenge 10:
Disgruntled customers, sales teams, and master data teams
Many of the challenges we've outlined in this eBook cause downstream business problems that directly lead to unhappy customers and sales teams. But customers and sales aren't the only ones feeling the pain—often the master data team is blamed for delays and data errors when in reality, they are waiting for the business and handed bad data.
Working nights and weekends to keep up with all of the manual data management tasks saps morale and takes time away from higher value activities.
Solution:
Go faster, improve data quality, and increase happiness
By now, hopefully, you've seen that solving the first nine customer master data challenges can make a real impact on your business. You can dramatically reduce the time it takes to process requests and improve the overall level of data quality— all without SAP technical coding skills or reliance on IT.
Do that, and you'll solve challenge number 10 and have happier customers, happier sales people, and happier, more productive master data teams.
Make an impact on all your master data and business processes
Precisely Automate software enables you to make an impact across all your SAP master data—materials, vendor, finance, plant maintenance, HR, etc.—and not just on the top-level objects, but on any master data records across the business.
We can also enable you to speed up and improve data quality for transactional tasks such as invoicing, journal entries and sales orders.
Be more agile with Automate Evolve, a flexible, extensible solution architecture.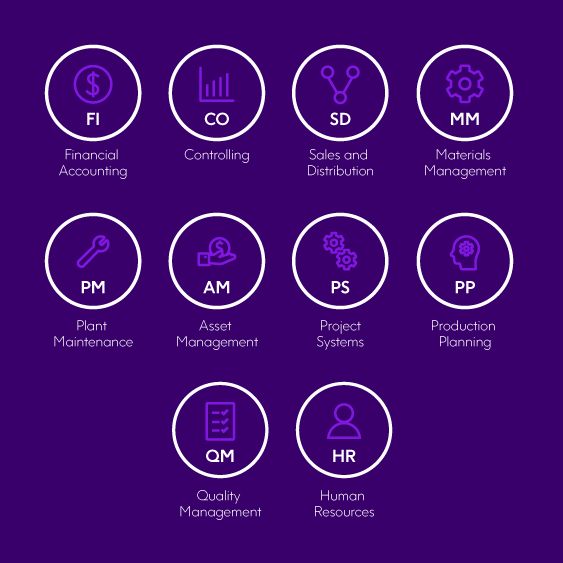 "The Precisely Automate platform allows you so much
f

lexibility to build in data governance, and route correctly to your business users. It provides business ownership capabilities that make the process very simple and allows users to get the work done on time easily."

Julie Priebe Data Integrity Manager, Kellogg