eBook
Creating Synergy for Data Governance and Data Quality with Precisely
Read this ebook and see how Precisely can work with your organization to support your data governance initiatives.
Data governance top of mind for CDOs
Driven by increasing numbers of data sources, data volumes, and pressing compliance mandates like GDPR and CCPA, data governance is top of mind for many Chief Data Officers.
As organizations seek competitive advantage through data-driven decisions, they are simultaneously working to incorporate ever-growing volumes and variety of data to identify new revenue and growth opportunities – all while ensuring that they protect the data of their customers and clients and address relevant regulatory compliance requirements. Yet as expectations around data increase, trust and confidence in data have decreased, creating a significant challenge for organizations.
Data governance is intended to provide the framework, structure, and practices to help organizations focus on two primary outcomes: how to address these risks and how to achieve the value desired from all of their data – considerations that are at the top of mind for senior leadership.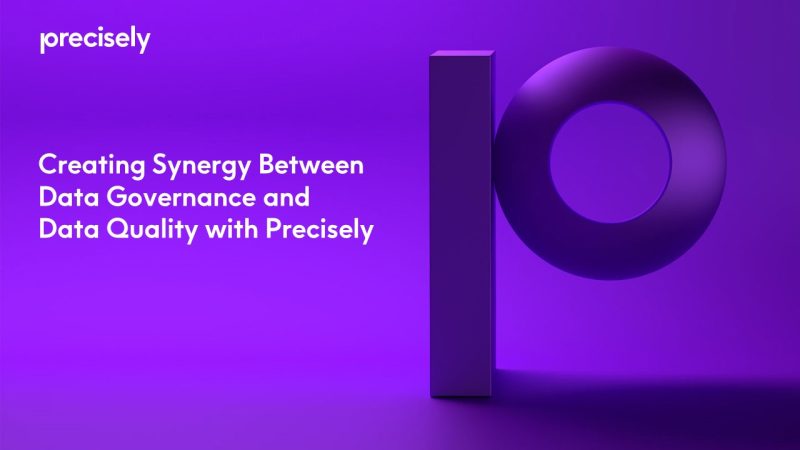 Data governance vs. data quality
Data governance as a holistic framework is about the set of policies, processes, rules, roles and responsibilities that help organizations manage the corporate effort to best utilize and manage data. Data governance helps to answer questions like:
How do you define the key outcomes for your business?
What goals are you trying to accomplish to meet those outcomes as you're working with data?
How do you establish trust in data to support business decisions?
Based on regulations and policies, how do you manage and protect those assets?
How do you ensure the employees of your organization understand the challenges and responsibilities in managing these data assets?
Data governance as a practice helps ensure the availability, usability, integrity, accuracy, compliance, and security of data to meet your business outcomes and objectives.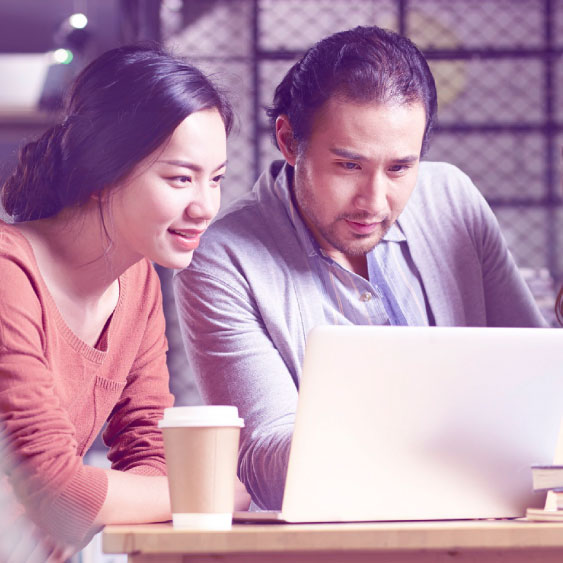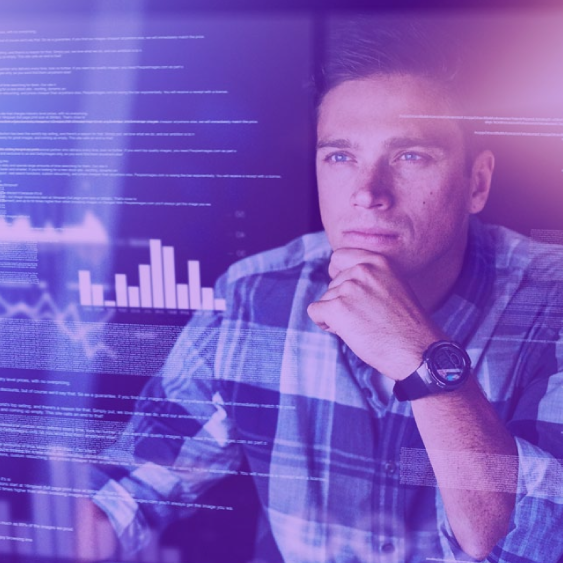 A data governance framework has multiple components. One part of that framework is data quality. Data quality is a much more focused component. It's about the processes and specific rules that help ensure that your data is really fit for purpose. Data quality is not some isolated set of criteria but is guided by your data governance requirements and policies.
Data quality focuses on the operational and decision-making contexts within your organization including establishing and assessing key metrics. Questions posed from a data quality perspective include:
What do you know and understand about the data itself?
What's the level of quality of that data?
Is the data accurate, complete, consistent and timely in relation to your needs?
Is the quality of the data improving or declining?
When you look at data governance and data quality together you see not only an overlap, but a synergy and symbiosis between the two. Together, data governance and data quality practices help you understand what's important to the organization and answer questions such as:
What are the key data elements that need to be assessed?
Based upon the business terms involved, what does the data mean in the context of a given system?
How do you connect people and data stewards into the management of these data assets?
How do you track efforts to improve trust in data?
What do you do if you find issues with the quality of the data?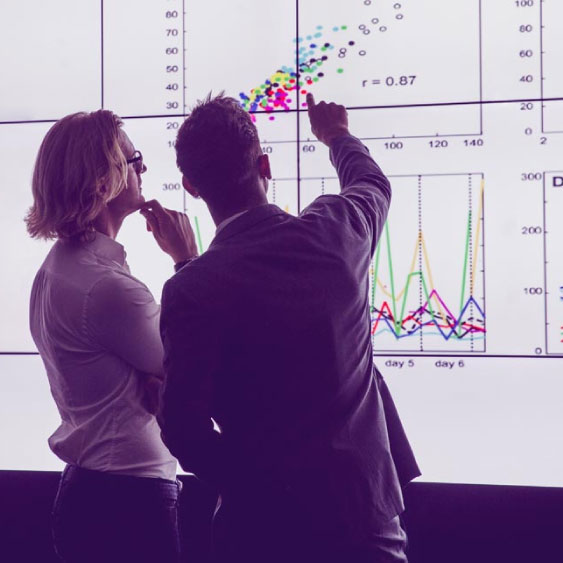 There is a natural overlap between data governance and data quality, but it's important to understand how to take the policies and rules defined through a data governance program and apply those to the actual data to measure those critical data elements. This is where you need tools that integrate together so that you can ensure the context and definitions are understood, and then begin to use those definitions to build the rules and drive out the metrics that will give you insight and answers.
From an analytics and reporting standpoint, you need to further implement those rules into an operational process that can be monitored over time to identify issues as they arise and track trends in data quality. In turn, these operational processes allow us to govern our data according to the required policies and standards and ensure an effective, iterative cycle.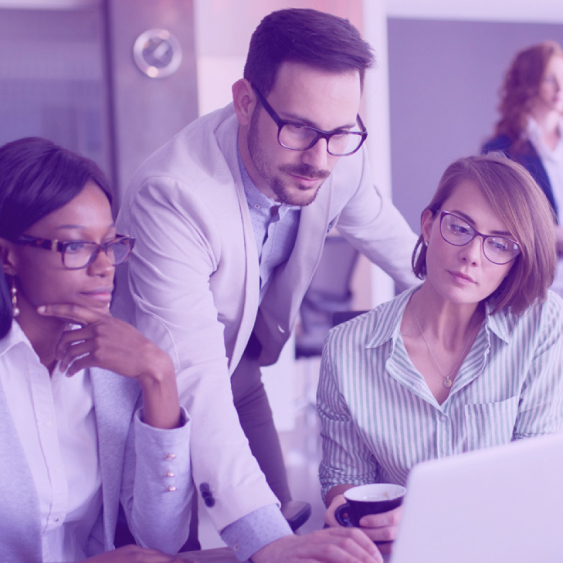 Why Trillium and Data360 Govern?
Precisely Data360 Govern paired with Trillium Discovery allows you to implement such an automatic ongoing, iterative process as in Figure 1.1. Precisely Data360 Govern provides a broad data governance framework in which you can establish data owners and stewards, policies and rules, business terms, and view key dashboards on the progress and operations within your data governance program.
Trillium Discovery in turn provides best-of-breed data quality capabilities that allow you to translate the desired rules into an executable form to directly evaluate your critical data elements and then report back on the issues and status of those rules to the data owners and stewards through their Precisely Data360 Govern dashboards.
When it comes to data governance efforts, there are a number of core questions that you need to answer for a given set of data:
Who owns the data and understands how it is defined?
What are the requirements for that data to ensure trust?
And where is the data that needs to be evaluated against those requirements?
In order to establish trust in your data, you need data quality processes in place. This is something that Trillium Discovery brings into the overall picture. It allows you to put data quality into practice and deliver insights from a data governance perspective.


Figure 1.1
Data360 Govern and Trillium Integration is Straightforward
Report certification
One of the most common use cases for integrating data governance and data quality capabilities is certifying reports. This is a typical first step for organizations starting out on their data governance journey. If your organization has critical data elements within key reports, you'll want to make sure that you have quality metrics to back up that data and ensure users can rely on and trust the information. This could be for regulatory compliance purposes or for insight into the state of standard BI reports for your line of business. Regardless of the purpose, the users of that data look for the ability to quickly identify problems and issues so that they can research and address them.
Most organizations are doing this to some degree today without any tools and relying on manual effort and processes with spreadsheets to work through issues and make the reports come together every month. But this doesn't lead to assurance that you can trust that information or that the insights are readily shared. That's where the power of Precisely Data360 Govern and Trillium Discovery together can make a large impact.
Precisely Data360 Govern allows you to establish business information for your different communities, policies, assets, communities, and domains. If you're not familiar with the paradigm, these communities could reflect your various IT departments or they could be on your business user side (i.e. finance, marketing, etc.).
There are also various domains in those specific communities and then within those domains are specific rule books which are simply sets of relevant business rules.
Figure 1.2 is an example of a business rule created in Precisely Data360 Govern. In this case, the rules are within a rule book. When people start with data governance, they often start by looking at their assets from the perspective of their business terminology. Such terms are defined within a business glossary in Precisely Data360 Govern.
An example would be Social Security Number (SSN), and it might be defined as a unique identifier for a customer who is a US resident. For that business term, you have some basic requirements such as: it must be complete and it must have a valid format. In this case, you see a simple business rule that's been created in Precisely Data360 Govern to validate the SSN length. Note that the rule is a natural language description.


Figure 1.2
Once a rule has been created in Precisely Data360 Govern it needs to be applied to actual data. Without an integrated approach, you may need to open a request to your IT team, then wait for them to implement in some report, and hope that it provides the right insight – all very time consuming. With integration to Trillium Discovery, you simply take advantage of synchronized, bi-directional processing that will take the rule which you created in Precisely Data360 Govern and push it automatically into Trillium Discovery, as you can see in figure 1.3.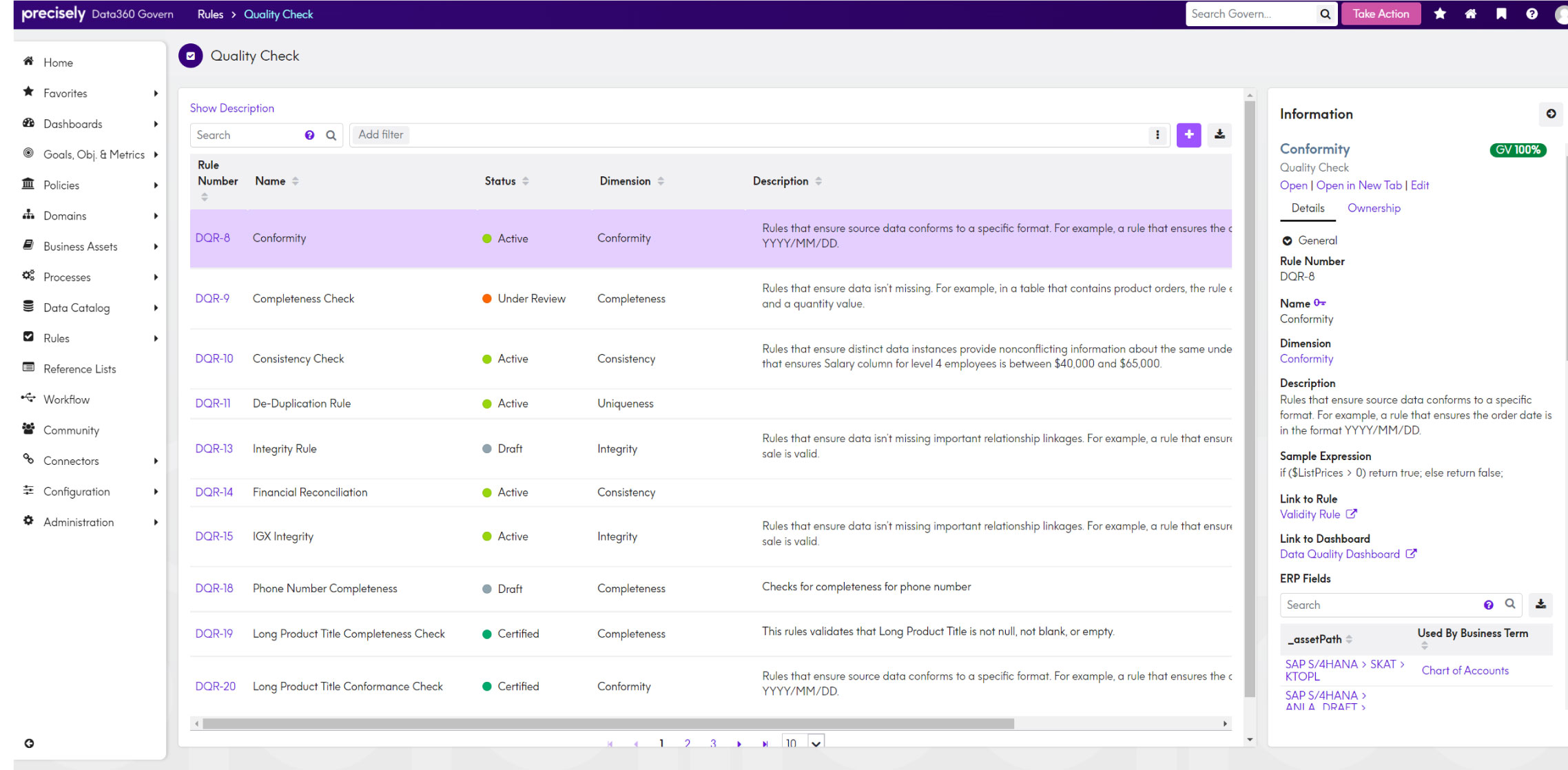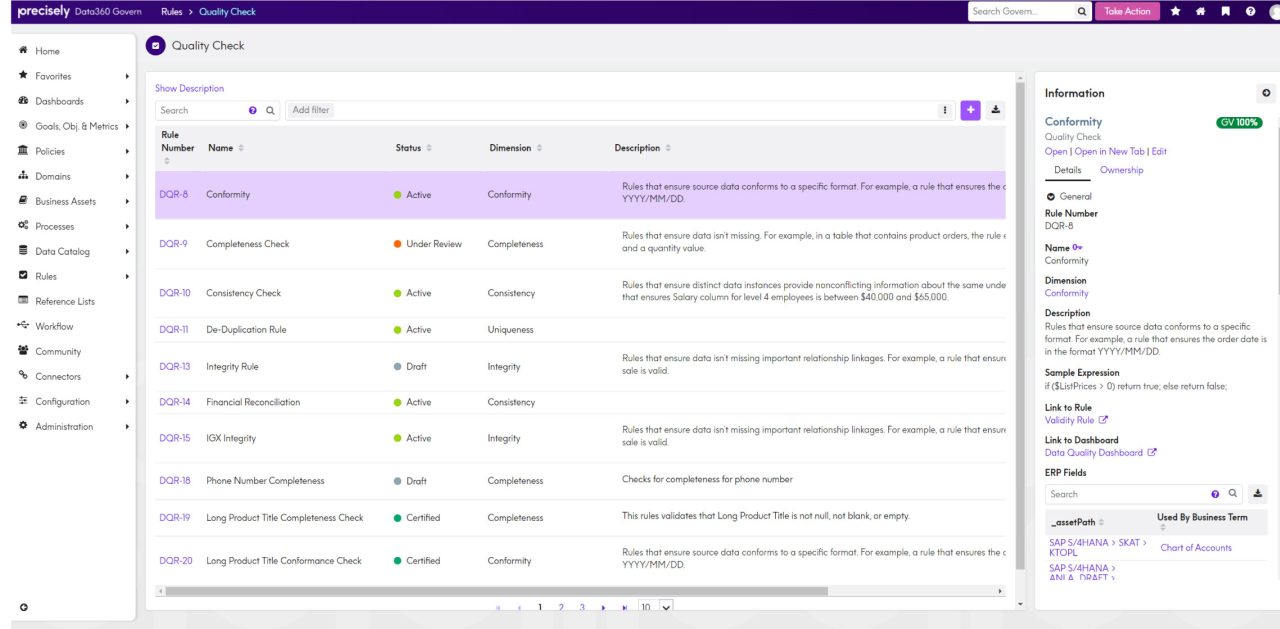 Figure 1.3
The connection from Precisely Data360 Govern to Trillium is straightforward. The process utilizes built-in REST API's in each product to deliver the business rules and is provided out-of-the-box with Trillium Discovery. Further, it's fully configurable to suit your needs.
Once the rule has been brought into Trillium Discovery, you need to edit the expression as shown in figure 1.4 and then connect the rule to your actual data for execution.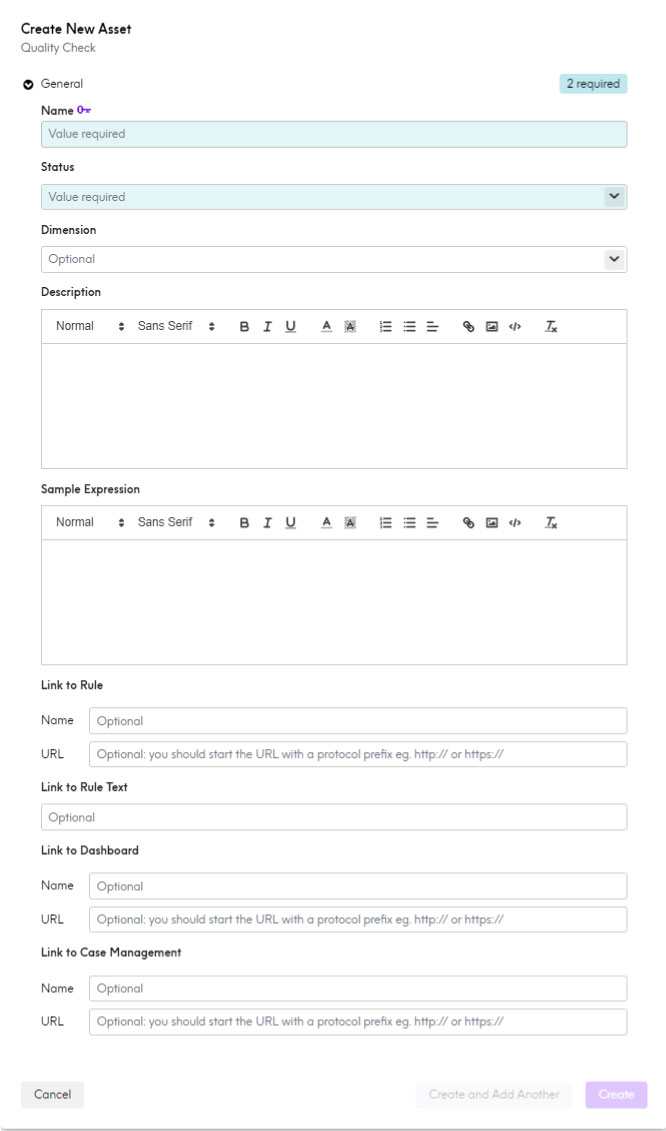 Figure 1.4
When run in Trillium, the business rule creates summary statistics (e.g. how many rows passed or failed the rule, how many rows may have been filtered out, etc.) as well as identifying the details of what passed or failed as seen in figure 1.5.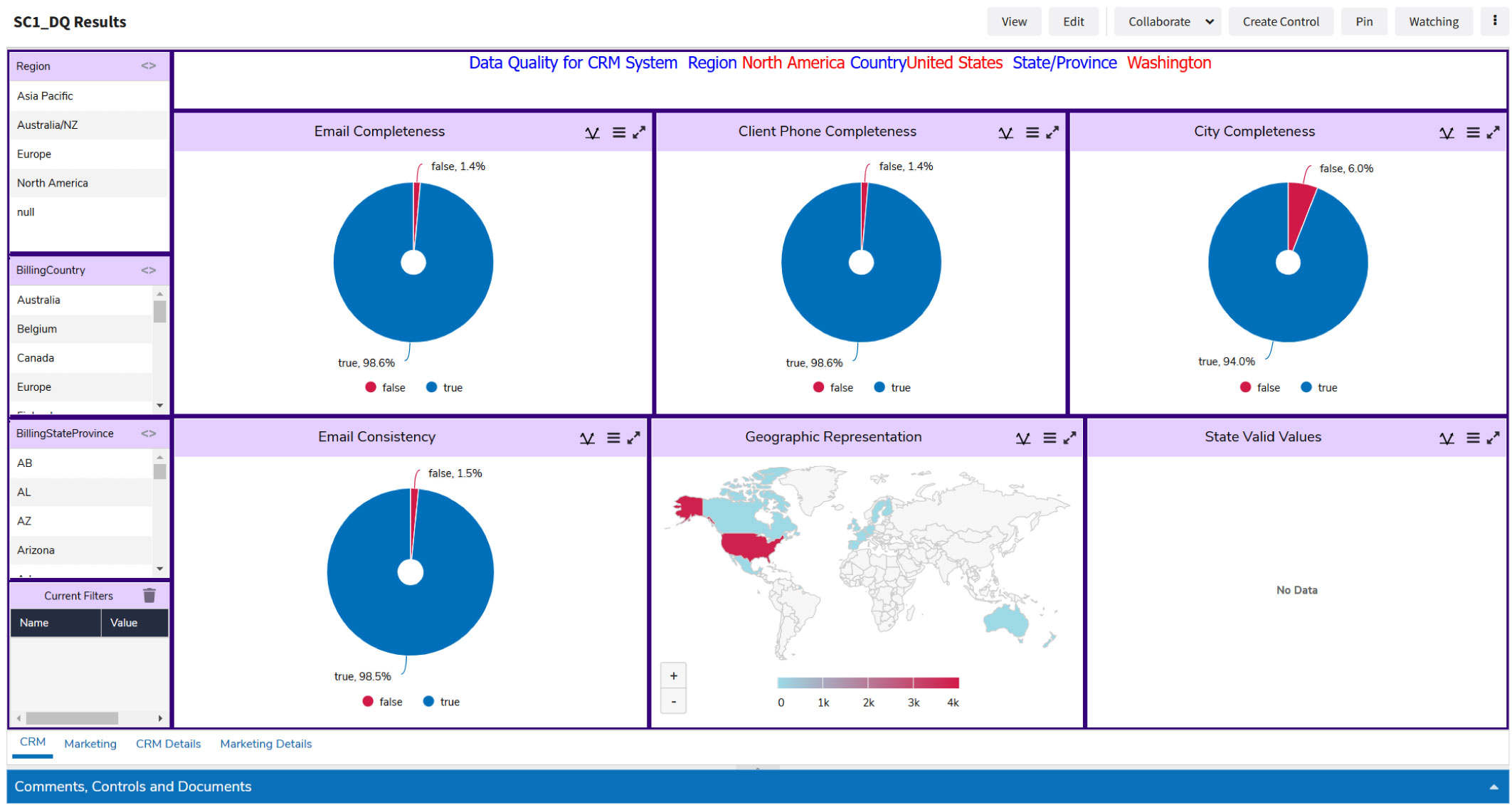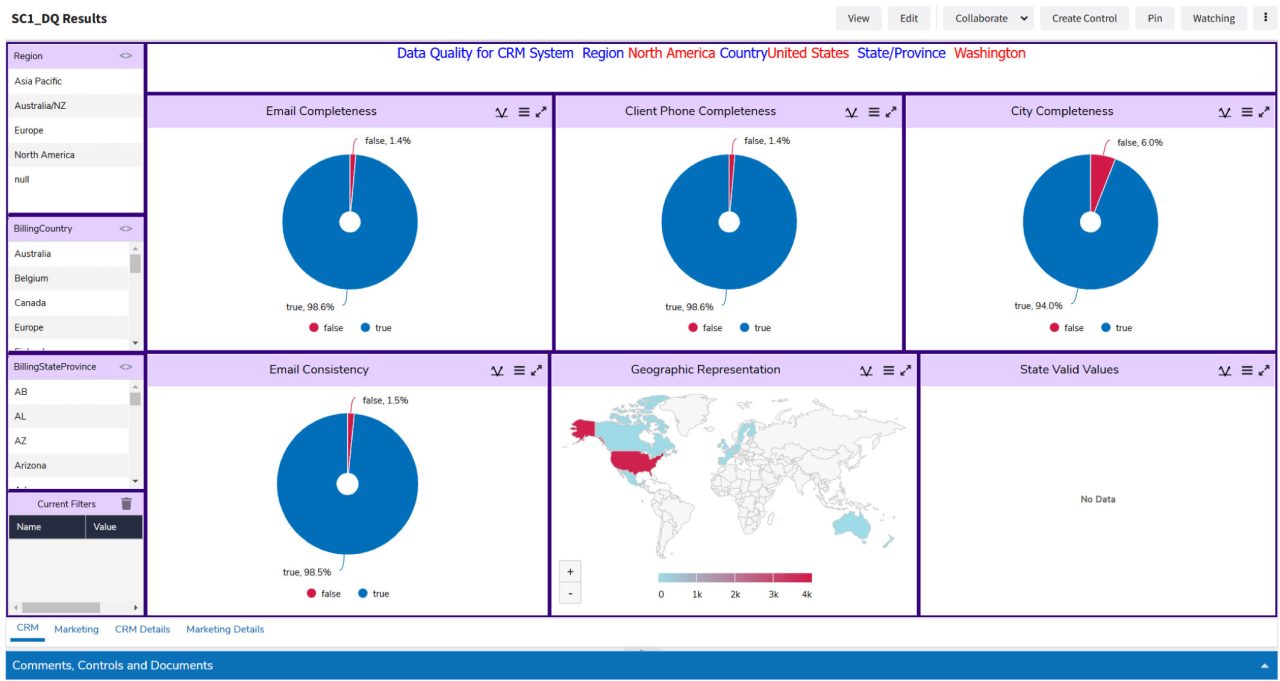 Figure 1.5
Then the bi-directional process automatically picks up the results once they are available and delivers that back to Precisely Data360 Govern through the same out-of-the-box workflow as a data quality metric as seen in figure 1.6.
At this point you can see the data quality metric associated with the original Precisely Data360 Govern rule plus an identification of the actual data source that the rule ran against. In this way, you now know exactly what data was used to determine your data quality metrics. Once you have this information inside of Precisely Data360 Govern, you can incorporate the data quality metric in further views and dashboards, or trigger actions for issue management, ultimately giving you the connection that you would like to have between the data quality and data governance for your users to take advantage of.


Figure 1.6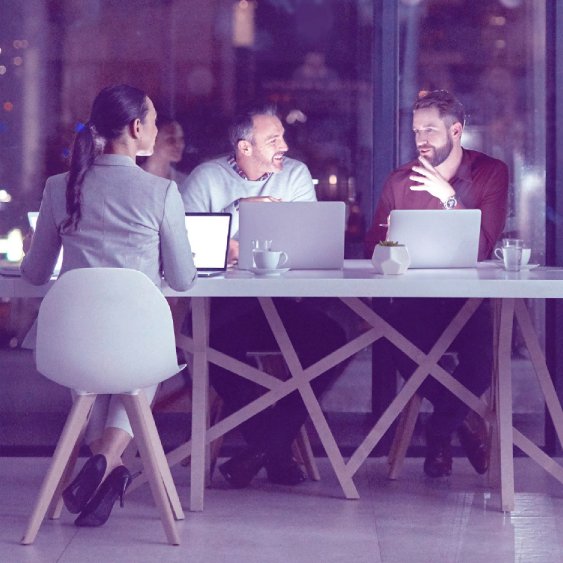 Conclusion
Driven by increasing numbers of data sources, data volumes, and pressing compliance mandates like GDPR and CCPA, data governance is top of mind for many Chief Data Officers and governance teams charged with protecting critical data assets. Sustainable data governance requires a solid foundation of quality data rules and metrics based on defined polices and standards to continuously measure and monitor critical data elements.
Whether addressing compliance requirements, internal policies, or delivering insight into the data used for analytics and BI reporting, data stewards leverage Precisely Data360 Govern to define this critical information. Trillium Discovery automatically synchronizes with and supports Precisely Data360 Govern to provide the executable business rules to generate those data quality metrics needed by data stewards to verify compliance to those policies right within the Precisely Data360 Govern dashboards.
Precisely Data360 with Trillium Discovery helps address the multitude of challenges to ensure effective compliance with data governance policies and provide greater insight to your business.