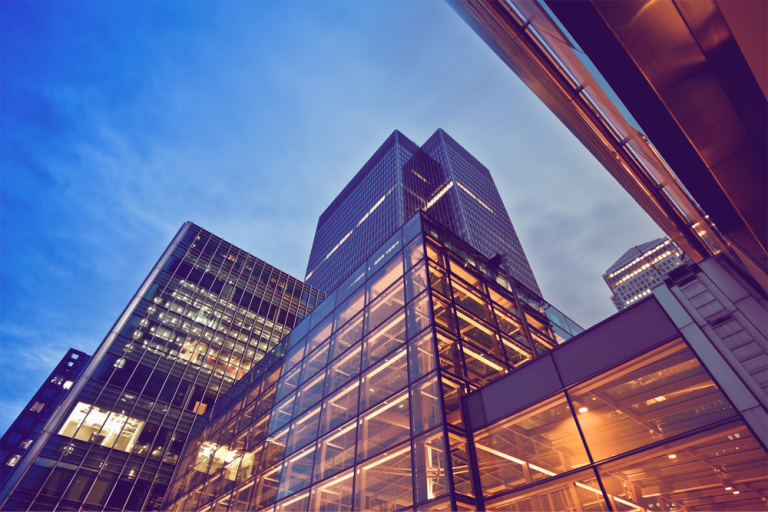 Get Real-Time Access to Data with Mainframe Modernization: Powered by Precisely & Amazon Web Services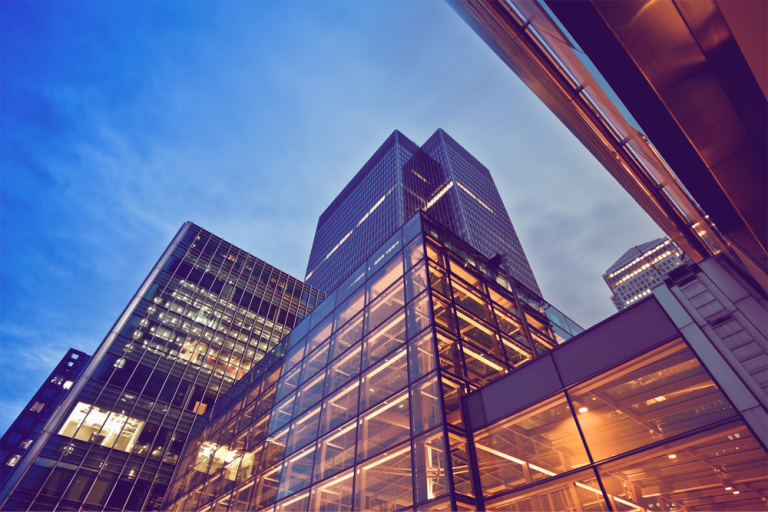 New collaboration, greater value for customers
Infrastructure investments need to meet your unique, ever-changing business needs. When it comes to mainframe modernization, that means having easy access to mainframe data in your cloud environment or an efficient way to migrate data to the cloud.
That's why Precisely is thrilled to announce a new collaboration with Amazon Web Services (AWS). Precisely and AWS have joined forces to deliver a mainframe modernization solution to the market that enables customers to replicate mainframe data onto the AWS cloud platform – in real time.
The integrated Precisely Replication for  AWS Mainframe Modernization service offers real-time replication of mainframe data to AWS leveraging Precisely Connect, unleashing data-based innovation and empowering greater efficiency and more powerful analytics.
"Together with AWS, we can help our customers to maximize their data and investments – unlocking the true potential of their critical data assets to power their business, by making critical data assets available for AWS and for advanced analytics."
-Eric Yau, Chief Operating Officer, Precisely
How does it work?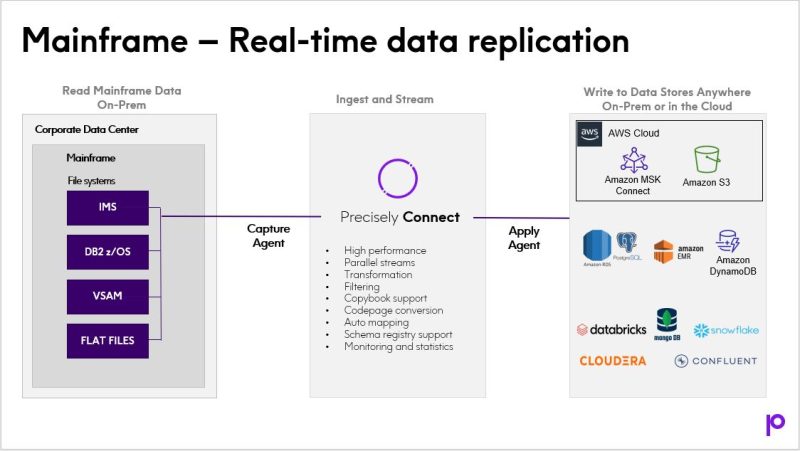 The fact: Mainframe systems reliably and securely manage large amounts of transaction data.
The problem: However, that data is often inaccessible to those who need it on AWS for migration, modernization, and augmentation use-cases.
The solution: Precisely Data Integration for AWS Mainframe Modernization–allows you to replicate on-premises mainframe data to a wide choice of AWS data services. This solution facilitates large scale modernization projects and allows augmenting mainframes with innovations and new use-cases on AWS Cloud. For example, customers can build new channels or offload processing leveraging mainframe data. Or customers can drive business insights and intelligence with data analytics and data lakes.
The Precisely team has over 50 years of mainframe software leadership, deep expertise, and thousands of customers that trust us to keep mainframe systems efficient and to replicate data to modern platforms.
Precisely Data Replication for AWS Mainframe Modernization (Precisely Connect):
Replicates mainframe data in real time to AWS, allowing customers to unleash data-based innovations and use cases leveraging AWS Mainframe Modernization service along with their wide range of additional AWS services.
Builds resilient, high-performance data pipelines that replicate data changes via change data capture (CDC) from mainframes to AWS services – like Aurora, RDS, FSx, S3, EMR, AWS MSK, Redshift, Snowflake on AWS, and more. This enables customers to migrate with zero downtime and/or replicate DB2, IMS, and VSAM data from an on-prem mainframe to the AWS cloud in real time.
The product consists of two components:
A capture agent installed on the mainframe, to interface with the source and read data from the log streams
The consumer, which ingests or applies the data and streams to the required target.
This very light-footprint solution even leverages mainframe zIIP engines to reduce general processing MIPS and overall costs.
The biggest benefits – and what they mean for your business
By accelerating access to mainframe data, Precisely Data Replication for AWS Mainframe Modernization customers can get projects done on-time and on-budget, all while extending the value of their data from mission-critical mainframe systems.
Increase performance, reduce costs
If your organization is responsible for integrating mainframe customer data into AWS, you may have run into challenges around increased costs, diminished performance, and missed SLAs. Not only do these issues delay updating and bringing applications on AWS to market – they can also negatively impact your organization's reputation. 
The Precisely Data Replication for AWS Mainframe Modernization service speeds the time to value associated with mainframe data and simplifies the data integration process. This high-performance solution has low impact on mainframe performance, meaning that teams can still access valuable data from the mainframe without increasing associated costs.
The result? Your teams end up with more free time for new business initiatives – like reducing customer churn, risk, and fraud, as well as analytics-based forecasting.
Save time, without the challenges of homegrown custom data integration solutions
In some companies, homegrown and batch solutions exist to integrate mainframe data into AWS. But they're generally expensive to maintain, and it's difficult to scale for today's growing workloads.
Additionally, if the solution owner leaves their role, teams may find it difficult to maintain a homegrown solution effectively, which can impact your ability to keep up with new requirements.
Precisely Connect makes it easy to integrate new sources and targets with a design once, deploy anywhere approach that enables teams to build their data integration solutions quickly and implement them in multiple different projects across the organization. Once the requirements for a data pipeline are built, data is delivered to targets in real time.  Once implemented, this design once, deploy anywhere approach simplifies the task of putting your mainframe data to work in a hybrid cloud world and empowers your company to focus on current and future business requirements rather than on details of mainframe formats or optimizing for specific cloud implementations.
Bigger and better possibilities ahead
With the integrated Precisely Data Replication for AWS Mainframe Modernization service, you're able to migrate data securely and efficiently and easily access mainframe data on AWS – that means more powerful analytics that drive confident decision-making and unlock new innovation.
To find out more about how this new service helps you maximize the investment in your mainframe systems while driving confident analytics in AWS, read more about the new collaboration between Precisely and Amazon Web Services.