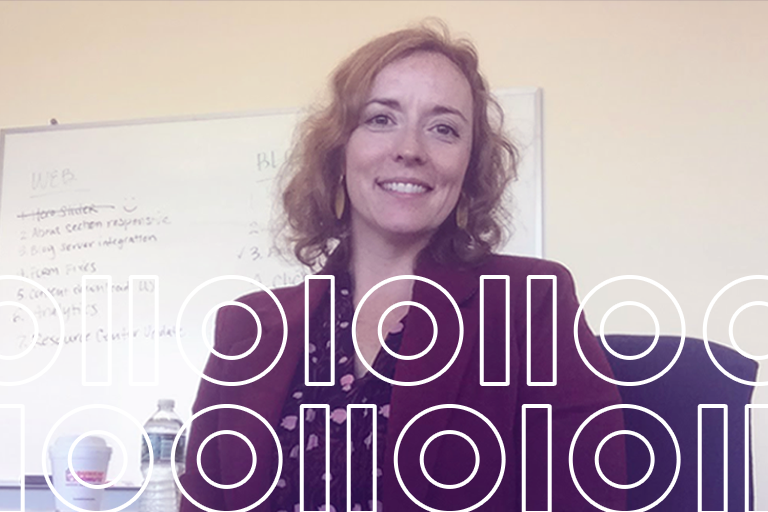 Precisely Women in Technology: Meet Jamie Heckler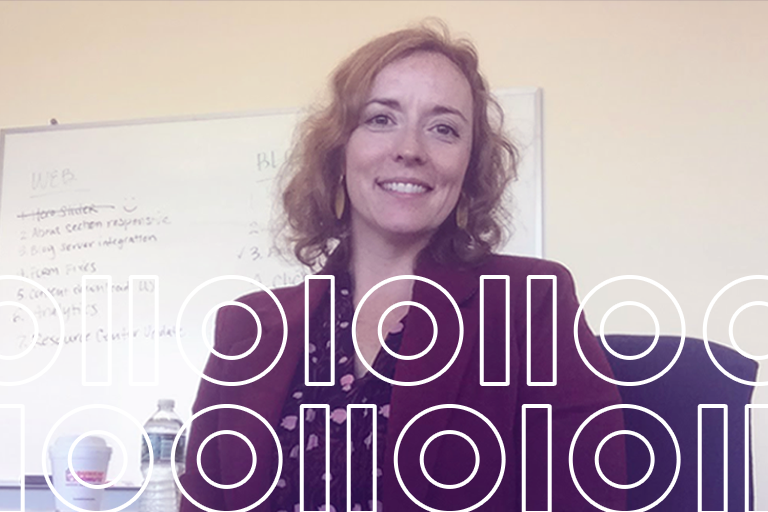 Precisely is committed to being a Great Place to Work ® for all and part of this means maintaining an inclusive environment for everyone. Supporting women in technology is an integral part of Precisely's culture and to encourage the development of more women in the industry, an internal network was established. The Precisely Women in Technology (PWIT) network is a place for women across the organization to come together to support each other, offer guidance and mentorship, and to share resources and opportunities. Each month, a woman from the network is featured to share more about her experience as a woman in tech. Continue reading to learn more about Jamie Heckler, Sr. Director, Creative & Web, and her career.
Why did you choose to pursue a career in technology?
I can't identify a particular moment when I made the choice to "pursue a career in technology."
As a child, I enjoyed arts and crafts projects and solving puzzles (including math). I was an excellent student and chose an engineering school for my undergraduate degree because I felt it played to my strengths in math and science. And, while I did well in my classes, I wasn't passionate about physics, calculus, etc.
But about halfway through my time at college, the pieces started to fall into place. I was at a tech school in the late 1990s, which meant I was an early adopter of the Internet. Websites at that time, even corporate sites, were very bland – similar to what Wikipedia looks like today. But I saw the potential of making them more beautiful and engaging, so I taught myself HTML, Adobe Photoshop, and Macromedia Flash. A good complement to my degree in computer engineering.
My first job out of school was doing some basic HTML work in the communications industry, but I continued expressing my creative interests wherever possible. This led to new opportunities within the company – first to internal communications and then as a graphic designer on the Marketing team.
Who has been your greatest professional mentor? What's one thing have you learned from them?
I've worked with a number of inspiring people who set great examples of how to do things well. And I've learned "what not to do" from having some less-than-stellar bosses.
But the greatest professional mentor I've had so far has been Kevin Ruane, CMO. I've achieved and grown so much during my seven years with this company, and I owe it to Kevin's guidance and confidence in me. I feel appreciated and empowered, even when I'm trying new things.
What's the biggest risk you took in your career? What was the reward?
My biggest career risk to date was probably when I came over to Syncsort (now Precisely). I was at my previous company for 15 years and had developed into a solid graphic designer. I also learned a lot about marketing and communications along the way. It was a big step outside my comfort zone to change roles to start here as a web content manager, but it turned out to be well worth it.
The position was a great match for my background in design, marketing, and technology. And since taking the risk, both my confidence and my career have grown tremendously.
We help market leaders make better decisions and build new possibilities. Want to join the team? Find out about working with us and our current openings.
As a woman, what challenges have you faced in the technology industry? How have you overcome them?
A few things come to mind here…
First, when I was starting out, there was more blatant sexism than I see today. I just expected men in the industry to doubt my abilities or look down on me to some degree just because I'm female. One example that I remember all too well was during a college internship, circa 1999. I was helping a manager with a productivity project, and he called me a "good girl" as a severely misguided compliment. Ick.
Second, I often found myself in the gender minority. The ratio of women to men at my tech college was roughly 1 in 5. In high school, my circle of friends was mostly women, so this was a personal culture shock. But I put myself out there and made good friendships with my male peers. And to balance all that male energy, I joined a sorority to surround myself with women going through a similar experience. My sorority provided a safe space to help me develop my public speaking and leadership skills.
A final thought on this subject, which might not be a "women's issue," but I think many women might relate to my personal experience. Up into my twenties, I was a people pleaser – looking for approval and avoiding confrontation – and a perfectionist, too. This hindered me in so many ways that I didn't even realize at the time, because I was generally succeeding. But I was so afraid of being wrong, that I didn't speak up. I avoided trying new things that I thought I might not be good at.
It was while I was establishing myself as a graphic designer that I learned that getting feedback on my early design ideas was the most efficient way to get to the best end result. It saved me time that I had previously wasted attempting to perfect a flawed design. I grew from being afraid of criticism to tolerating it. And then, to actively seeking it out – early and often. I've found that this applies to any problem I'm trying to solve. If someone doesn't like my proposed solution, I ask more questions to understand what part doesn't work. It always helps me get to a better outcome.
What's the best advice you've ever been given? How do you apply it to your personal and professional life?
During an internship (while deep in my people-pleaser stage), I had a female boss point out that I said "I'm sorry" quite often. She said, "Never say you're sorry. You don't see men saying it. It makes you look weak when you're not."
We all make mistakes. And it's important to take responsibility and correct issues. But you can do that without saying "sorry" – especially for things outside of your control.
What's one piece of advice you'd offer to younger women entering the industry?
My career has taken a rather interesting path which I didn't plan on when I was just starting out. I share this with others who are starting out so that they know it's okay not to have a 5-year or 10-year plan. If you continue to follow your interests, it's sure to work out for the best.
As a successful woman in technology, what's one thing you do to pay it forward and advocate for other women in the field?
I do my best to make myself available to others, particularly those who are starting out. If you want my advice, I'm here for you.
I also try to give extra recognition, support, and sometimes a bit of a push to those that I see have potential to do more.
Learn more about us on our Careers and Culture page.