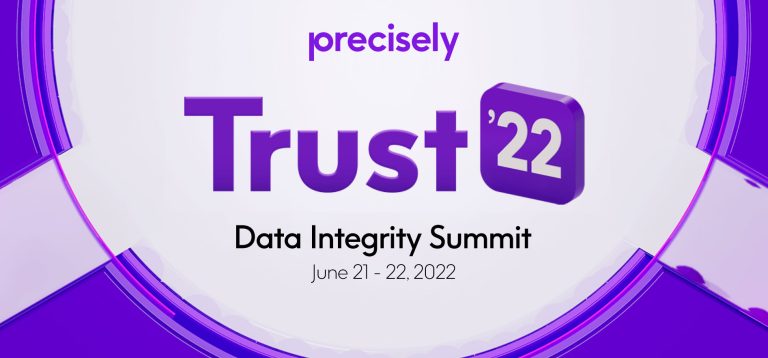 Trust '22 Takeaways: A recap of the Precisely Data Integrity Summit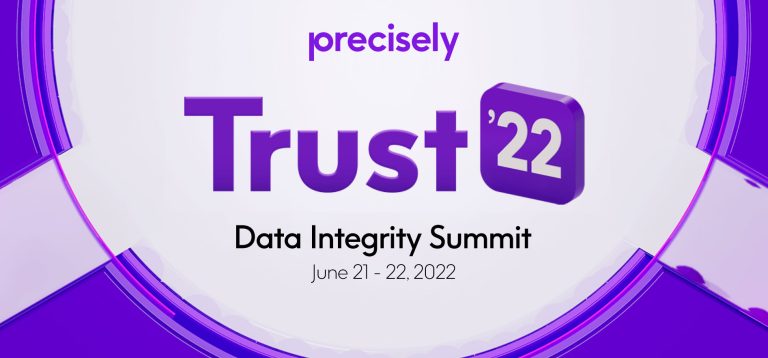 Trust '22 is in the books! We had an amazing two days at our virtual, annual Precisely Data Integrity Summit. If you were an attendee, speaker, or anyone else involved in making the event possible – a big thank you from our entire team.
Attendees not only received insights into the latest trends in data integrity, they were the first to hear about our new Precisely Data Integrity Suite: seven interoperable SaaS modules that accelerate the delivery of trusted data with accuracy, consistency, and context.
We hope you're as excited as we are about these latest innovations in our data integrity portfolio, and how they can propel your business to new heights.
If you couldn't join us live for Trust '22, not to worry – we're here with the event highlights.
Trending Topics in Data Integrity
Josh Rogers, Precisely CEO, was joined by Stewart Bond, IDC Research Director, to kick off Trust '22 by covering the trending topics that are escalating the demand for data integrity. The most recent IDC Data Trust Survey found that 63% of data practitioners believe they're expected to make data-driven decisions – and yet, only 27% completely trust the data that they work with. How can we overcome these gaps?
Josh and Stewart discussed this growing demand, and how organizations can achieve trust in their data through transparency, intelligence, and enrichment that provides crucial context.
Read the Paper
Building trust is foundational to how organizations are creating enterprise intelligence to compete in a digital-first world, but there is a significant gap between expectations and reality in the level of data trust. Stewart Bond, Research Director at IDC explores how organizations are responding to trending topics in data integrity.
Data Integrity Innovation
Eric Yau, Precisely COO, then revealed the four key areas of focus that we've been investing in to help you meet your data integrity objectives. Highlights across these focus areas include: new capabilities to build reliable data pipelines, data observability for proactive alerts of anomalies, new geo addressing product releases, and additional dynamic datasets that build greater context for your analytics and decision-making.
Finally, Eric discussed how all of this is tied together with a focus on even tighter integration across our data integrity capabilities – leading into his exciting announcement of our Precisely Data Integrity Suite!
Eric was then joined by Emily Washington, SVP Product Management, and John de Saint Phalle, Senior Product Manager, who provided an overview of the Suite, introduced us to its seven interoperable modules, and showcased real-world use cases.
Industry Analyst Perspective: Data Democratization and AI Drive the Scope for Data Governance
To start up the second half of the Precisely Data Integrity Summit, Achim Granzen, Forrester Principal Analyst, provided powerful perspective on the state of data governance. This discussion included the evolution of AI algorithms, why organizations need to step up their capabilities to keep pace with changing data governance trends, and how they can do so. At its core, data governance is a team effort that needs to combine technology, processes, and people – and if your data culture doesn't support that, it's time to make a shift.
Data Integrity Panel
Amy O'Connor, Precisely CDIO, capped off this keynote session by hosting a panel of Precisely customers across industries. She was happy to be joined by Brenda Costner, Director of Data Management at Newmont Goldcorp, Shania Fu, VP Digital Business and Technology Solutions at SunLife Financial, Todd Henley, Data Strategy, Governance, and Quality Manager at Northwest Bank, and Jean-Paul Otte, Chief Data Officer at Degroof Petercam.
Amy and the panelists dove into their unique data challenges, how data integrity has helped them tackle those use cases head-on, and the soaring successes and efficiencies their organizations have discovered as a result.
In addition to keynotes, we also hosted more than 20 informative and interactive breakout sessions across the areas of data integrity, IT operations & security, and advanced customer experience. We loved hearing from so many of our attendees, who had great questions and comments.
Trust '22 may be over, but the data integrity journey continues. Tune in to an upcoming webinar:
July 26: Automate SAP Processes to Improve Speed and Accuracy without Sacrificing Quality or Adding Risk
July 28: Building Trust in Data through an Evolved Approach to Data Quality & Governance
August 1: Including All Your Mission-Critical Data in Apps and Analytics
If you attended Trust '22, we hope your time with us sparked some fresh ideas that will elevate your business to new levels.
No matter where you are on the data integrity journey, we're here to be your partner along the way. Find out how with our Precisely Data Integrity Suite: a one-stop shop for trusted data that meets your business where it's at on the journey to faster, more confident decisions.
Here's to wrapping up another great Precisely Data Integrity Summit together – and to bigger, better decisions ahead. See you next year!