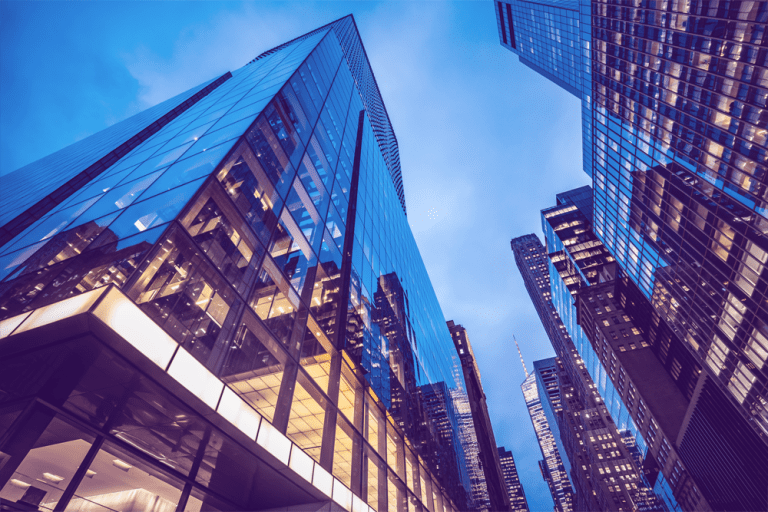 Importance of Strategic Technologies & Innovation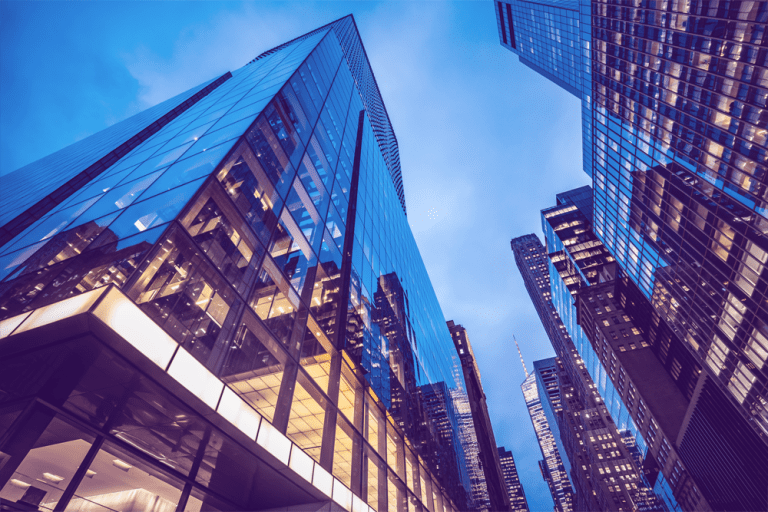 "We cannot solve our problems with the same level of thinking that created them" – Albert Einstein
Remember Blockbuster? The history of Blockbuster's fall and Netflix's rise is insightful in business. Unlike Blockbuster, Netflix prioritized innovation and adapted to emerging technology trends. Blockbuster went bankrupt in 2010 while Netflix grew to a $203 billion business, illustrating that technology and innovation are critical to the success of any organization and must be an integral part of a business strategy. Let's take a closer look at why strategic technology and innovation initiatives are so important in an organization.
According to McKinsey, 84% of executives believe innovation is critical to growth. Innovation is what guarantees a business's long-term sustainability and resilience to change.  Innovation strives to improve an existing product or introduce a new product with new technological capabilities to distinguish it from competitors. Customers benefit from innovation because it enables them to perform their jobs more efficiently.  Customer-focused innovation drives higher customer engagements, which present high-value opportunities for growth and continuous innovation. Continuous improvements of existing products and services using emerging technologies allow an organization to keep ahead of the competition as trends and markets evolve.  This prompts the following question:
How can an organization foster and preserve continuous innovation?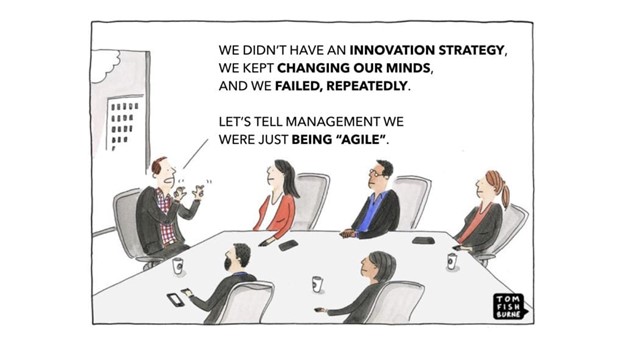 This cartoon, by Tom Fishburne brilliantly answers the question.
The barrier to innovation is not just a lack of execution, but also a lack of strategy. As with any effective business strategy, building an innovation strategy should begin with a clear understanding and articulation of specific objectives designed to benefit the organization to accomplish a sustainable competitive advantage. Strategic technology and innovative initiatives are necessary to manage and drive value from emerging technologies within an organization. Such initiatives enable an organization to identify and transform new ideas into products, processes, or services that increase customer value, business growth, organizational efficiency, and profitability. A sound strategy should address the question, "How can innovation help customers in meeting their needs, eliminating their pain points, and accomplishing their desired outcomes?"
Innovation Strategy
"Put the customer first. Invent. And be patient." —Jeff Bezos
A successful innovation strategy begins with the customer. Customer-centric innovation creates a channel for feedback that helps in the improvement of products and services. Additionally, it helps organizations to have a better understanding of customers' jobs-to-be done and their desired outcomes, which allows for continuous innovation of their products and services.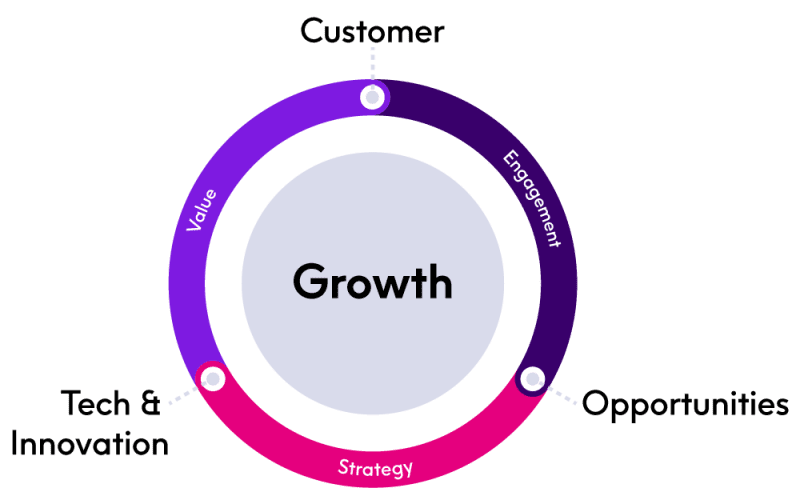 Strategic Tech & Innovation Flywheel
Customers are an excellent source of innovative ideas. Identify areas where customers have unmet needs and develop an innovation strategy that takes use of emerging technologies to deliver value to customers. Customers are more engaged when their needs are being met, which opens the door to new opportunities for innovation. If any part of this flywheel is fueled, the loop should accelerate, resulting in higher business growth.
Strategic Technologies Team (STT)
STT Framework
Organizations need a dedicated team – the Strategic Technologies Team (STT) – to drive innovation by fostering collaboration across diverse groups within the organization and strategic technology partners.  The STT framework foster such collaboration with an emphasis on customer success, insight, and expansion. Using the framework, the team will focus on exploring emerging technologies such as cloud, AI/ML, streaming, location intelligence, data quality, data governance, and so on to develop focused solutions for key customer use cases. The team collaborate closely with the product, engineering, field teams, and strategic technology partners to build value proposition interfaces that accelerate the time-to-value strategy.  To execute the strategy successfully, the team should:
Focus on customer needs and innovate on their behalf
Proactively improve existing value propositions and develop new ones
Conduct competitive analysis and understand emerging technology and market trends
Possess the domain knowledge necessary to link technology-related decisions with the organization's goals and key results
Drive innovation by fostering collaboration across diverse groups within the organization and strategic technology partners
Have a comprehensive plan consisting of ideas, objectives and tactics to select, analyze and leverage emerging technologies
Discover and execute impact-driven work that creates opportunities for organizational efficiency, growth, and scalability
Finally, without a technology and innovation strategy, different parts of an organization may end up pursuing conflicting interests, such as the sales team focusing on the pressing needs of their strategic customers, marketing pursuing opportunities to leverage the brand and expand market share, and product and engineers focusing on shiny product features and new technologies. Innovation thrives on the inclusion of a diverse range of perspectives. However, such perspectives are ineffective unless they are backed by a strategic technology and innovation group capable of integrating and aligning conflicting perspectives around shared organizational goals.
Precisely Innovation Labs
To remain relevant and competitive, organizations must build an innovation lab where they can think creatively and experiment with new ideas.  At Precisely, we have built an innovation lab called "Precisely Innovation Labs" that consists of technology, innovation and architecture teams to bring together customers, partners, and employees to accelerate the innovation of new and relevant products and solutions. STT is one of the core teams of Precisely Innovation Labs, which reimagines and reinvents how emerging technology trends can be leveraged to uncover untapped opportunities in the data integrity domain and improve customer experience.
To see the results of this continued innovation in action, look no further than the new Precisely Data Integrity Suite, comprised of seven interoperable SaaS modules that empower our customers to build trust in their data – and fuel powerful innovations of their own.  Ultimately, that's really what it's all about: delivering value to customers where they need it most. That's why we never stop listening, learning, and innovating. As the needs of our customers change, we're constantly adapting and evolving right there with them.
Start your data integrity journey.  Learn more about the Precisely Data Integrity Suite which delivers the essential elements of data integrity – accuracy, consistency, and context.
The Precisely Data Integrity Summit is back and better than ever! We're excited to host global data leaders for two (virtual days) of learning to empower better business decisions grounded in trusted data. Learn more.