EngageOne™ RapidCX
Use a single, unified CCM platform to personalize, automate, and audit customer communications in data-intensive, highly regulated industries
EngageOne™ RapidCX is a powerful customer communication management (CCM) software platform, purpose-built for companies operating in data-intensive, highly regulated industries. These include banking, financial services, insurance, utilities, telecommunications, and others.
Product agnostic, EngageOne™ RapidCX seamlessly integrates with even the most fragmented legacy systems to drive enhanced customer engagement and improve the customer experience (CX).
See EngageOne™ RapidCX in action
Improve CX with communications aligned to customer needs
EngageOne™ RapidCX integrates with legacy systems to target the right person with the right message at the right time, via the customer's channel of choice. Plug-and-play API modules make creating, distributing, and personalizing customer communications simple and straightforward.
Real-time alerts and automated messages help businesses connect with their customers more intimately. EngageOne™ RapidCX enables one-to-one or API-triggered engagement, with automated version control to ensure consistent and compliant communications.
Visibility into every customer interaction across channels provides valuable insight into customers' communication preferences. Use opt in/opt out SMS management, trackable and dynamic links, email-open tracking, and more as part of a complete, customizable customer experience management solution.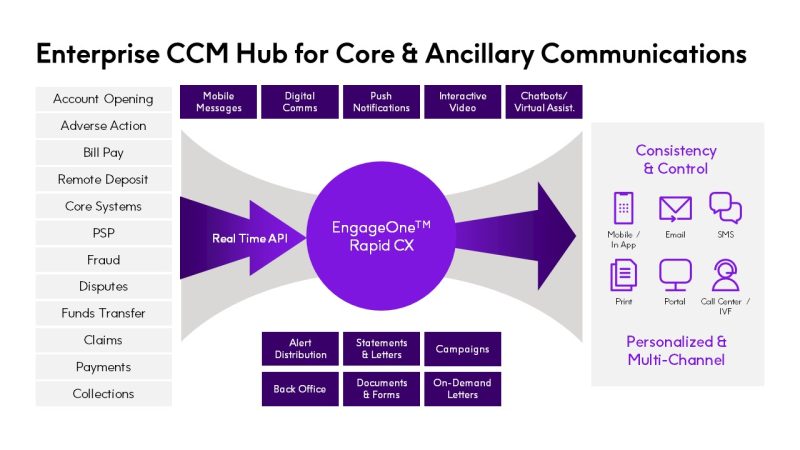 Boost operational efficiency with automated CCM
Replace manual communications management and siloed systems with a customer communications management solution that connects your back-end systems to one user-friendly platform.
Centralized content control empowers teams across your organization to create, organize, change, and share communications rapidly and efficiently – concurrently providing compliance personnel with visibility and control.
EngageOne™ RapidCX acts as a clearinghouse for all customer data – housing templates, allowing version control, recording all changes, and archiving communications as delivered. It also streamlines these processes to ensure brand consistency and faster time to market.
In addition, EngageOne™ RapidCX empowers content creators with no previous technical know-how to rapidly deploy one-to-one communications. This conserves valuable IT time.
Enable better governance and compliance
Regulated industries require end-to-end communications tracking and delivery tracing. EngageOne™ RapidCX ensures compliance by automating these processes.
From content creation to omnichannel distribution, EngageOne™ RapidCX archives communications.
As-delivered versions of communications are stored in the EngageOne™ RapidCX archive for continuous governance, auditing, and data protection. The CCM platform features easy-to-manage governance controls to make the most complicated industry regulations easier to follow, even in a rapidly shifting regulatory environment.
With EngageOne™ RapidCX, your organization always knows who sent what document to whom, when, and in what version. Comprehensive delivery tracking and reporting capabilities let your company know whether each piece of correspondence was received by the customer.
Benefit from Precisely expertise
Our experts guide you through everything from pre-implementation of the EngageOne™ RapidCX SaaS platform to experience design, content management, and additional stages of your digital CX transformation.
We recommend industry best practices geared toward helping you save time and money while improving engagement. Our consulting workshops and other services leverage our decades of experiences improving how businesses connect to their customers.
Precisely professional services are tailored to fit your company's needs. They include:
Consulting
Content and change management
Design
Implementation
Education and training
Demander une démonstration de
EngageOne™ RapidCX