Confluent
Accelerate data sharing with real-time data integration with Precisely Connect and Confluent Cloud
Confluent and Precisely
Founded by the original creators of Apache Kafka®, Confluent Cloud gives your organization the flexibility and agility required to align data delivery to the demands of your business. When looking at what to include in your next Confluent project, traditional systems such as the mainframe and IBM i can provide a wealth of information for business use cases. However, capturing and sharing changes from these systems is easier said than done. Instead of excluding traditional systems from your cloud projects, look for data replication solutions that handle all the underlying complexities of this technology stack and work with Confluent.
The Precisely Connect data integration solution helps you deliver the changes you need in real-time to Confluent without overloading networks or affecting performance. Connect leverages the decades of expertise Precisely has gathered as a leader in mainframe sort and IBM i data availability, to replicate complex data from traditional environments and turn it into actionable insights in Confluent. Together, Connect and Confluent help modernize data sharing, breakdown data silos, and solve focused business use cases such as fraud detection.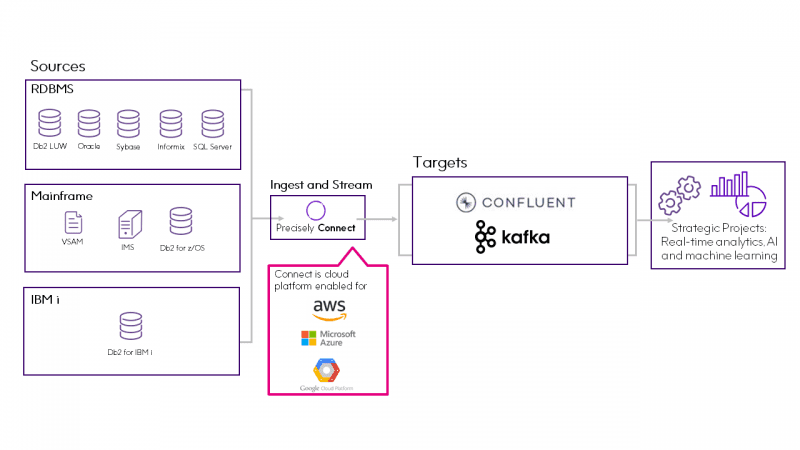 Moving data to the cloud can help break down data silos, ensure data consistency and synchronization, and improve information sharing. But if you have mainframe and IBM i systems in your IT ecosystems, it can take years to develop processes to integrate that data with modern data platforms so your business can share data efficiently.
Together, Confluent and Connect help you integrate data from on-premises systems and bring it to the cloud for analysis in real-time. Connect specializes in integrating the most complex data from platforms like the mainframe and IBM i to Confluent. Customers of Connect and Confluent have integrated data from hundreds of systems to improve data sharing by business users from across multiple departments.
Download this eBook to learn how to build modern data architectures with legacy data sources
Securing actionable insights for your business means using the power of Confluent Cloud and Apache Kafka to deliver data from across your entire IT infrastructure in real-time. However, complicated IT environments and disparate systems can prevent visibility and access to critical data – leaving you with data gaps and slowing the time it takes to get the insights you need. Connect helps to ensure that you are building data pipelines that can share application data from across the enterprise – even if it comes from a traditional database or platform like the mainframe or IBM i.
Learn more about Connect's change data capture capabilities.
Connect's change data capture capabilities help you quickly streamline access to data. Native understanding of transactional systems means that Connect is essential for making mainframe and IBM i data readable and actionable in Confluent Cloud. Additionally, Connect helps to build real-time data pipelines that replicate data from source to Confluent Cloud without the need for specialized skills.
Watch this webinar to learn how Stark Denmark is using Connect and Kafka to innovate
Confluent augments your organization's fraud detection capabilities with real-time data delivery and scale. However, to be fully successful detecting fraud, data from hard to access sources such as the mainframe and IBM i, must be integrated into Confluent Cloud.
Together, Connect and Confluent Cloud ensure your business is ready to tackle your next fraud detection use case. Connect's real-time replication capabilities for complex data types, such as Db2/z, IMS, and VSAM, enhance the information fed into Confluent for fraud detection.
Integrate complex data sources with Confluent and Precisely
As enterprises modernize, IT teams turn to event streaming and microservices to help data consumers make informed decisions based on the most current data possible. New approaches to data streaming allow organizations to analyze data in real-time and transform it into actionable insights. To speed the discovery of these insights, data and analytics teams are adopting Confluent Cloud, a cloud-native and complete data streaming platform built by the original creators of Apache Kafka. This approach, however, is only as successful as the data replication solutions that deliver data from transactional systems to Confluent.
Together, Precisely Connect, and Confluent Cloud help your organization modernize how you capture data changes and share them across the business. Connect delivers data instantly for use in Confluent, improving the speed and accuracy of decision-making. Supporting a wide range of source systems for data replication, Connect excels in the replication of data from legacy systems such as mainframe and IBM i data, as well as traditional databases, such as Oracle, SQL Server, and Db2.