Precisely Wins Unified Communications Product of the Year at Cloud Excellence Awards 2021
EngageOne Communicate selected for strong data capabilities that transform customer engagement
Precisely, the global leader in data integrity, today announced that EngageOne Communicate has been named Unified Communications Product of the Year by Computing Magazine's Cloud Excellence Awards. The Cloud Excellence Awards recognize the most compelling vendors in the technology industry that are delivering real value to customers through innovative SaaS and cloud solutions.
EngageOne Communicate is the industry's first cloud platform that combines digital communication, conversational chatbots with natural language and live takeover capabilities, and interactive personalized video into an integrated platform. Its single design and content management environment enables organizations to create data-driven, personalized, meaningful, and interactive digital experiences.
In addition to this accolade from Computing, EngageOne was named customer communications management (CCM) leader in the 2021 Aspire Leaderboard earlier this year.
"Precisely is on a mission to support organizations on their unique journeys to data integrity—data with accuracy, consistency, and context," said Greg van den Heuvel, General Manager, Customer Engagement Solutions at Precisely. "We are thrilled that EngageOne Communicate has been recognized in the Cloud Excellence Awards for its ability to turn trusted data into engaging customer interactions."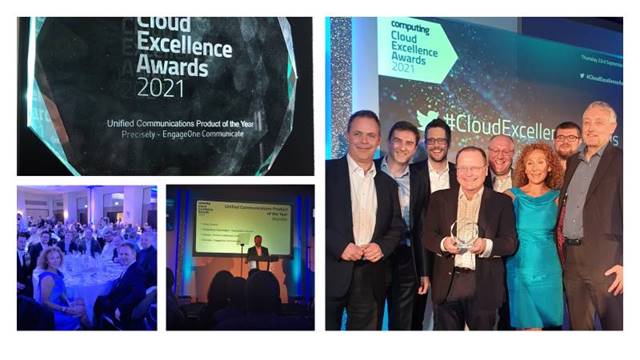 For more information on EngageOne Communicate, visit www.precisely.com/product/engageone-communicate/engageone-communicate.
About Precisely
Precisely is the global leader in data integrity, providing accuracy and consistency in data for 12,000 customers in more than 100 countries, including 96 of the Fortune 100. Precisely's data integration, data quality, data governance, location intelligence, and data enrichment products power better business decisions to create better outcomes. Learn more at www.precisely.com.