Precisely India Named as Great Place to Work® for Second Consecutive Year
Data integrity leader is recognized for its continued commitment to fostering an innovative, inclusive, and career-oriented work culture
BURLINGTON, Mass. – July 8, 2023 – Precisely, the global leader in data integrity, today announced it has been recognized by Great Place to Work® India among India's Top 100 Great Mid-Size Workplaces 2023. The news follows the acquisition of India-based location intelligence business, Transerve, underlining the company's continued investment and expansion in India as a center of excellence for product innovation and customer success.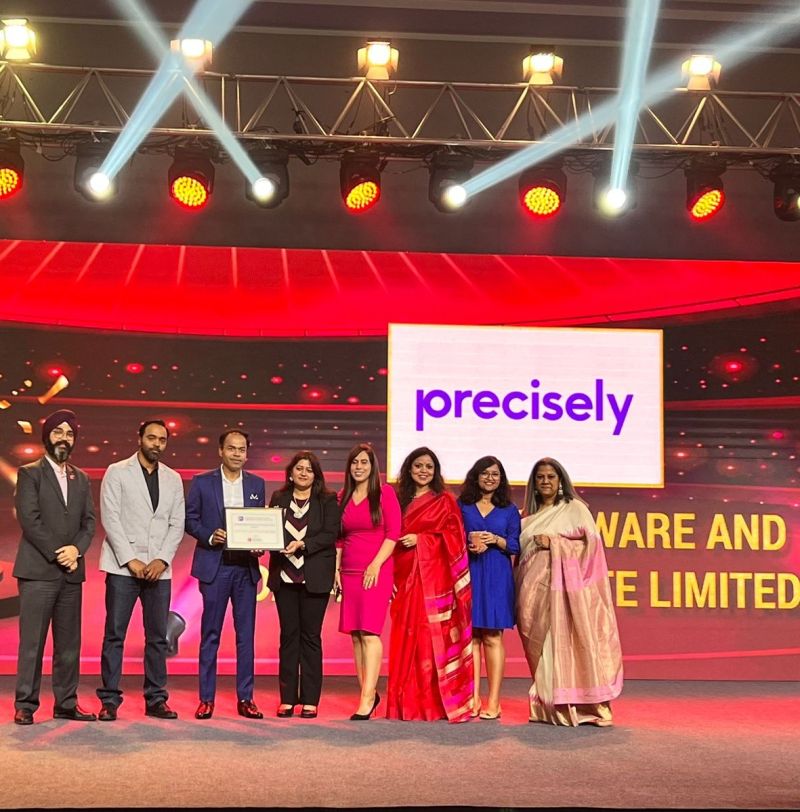 The assessment of the Top 100 Great Mid-size Workplaces 2023 involves a thorough evaluation process of 926 organizations, gathering insights through two key lenses: the Trust Index™ survey and the Culture Audit™. The Trust Index™ survey, which accounts for 75% of the evaluation, measures the quality of employee experience. The remaining 25% is determined by the Culture Audit™, which assesses the strength of leadership, values, and programs that shape the employee journey and experiences.
The proprietary and globally validated framework used by Great Place to Work® is considered the Gold Standard in workplace culture assessment. In India, the Institute partners with more than 1100+ organizations annually, across 22 industries, to help them build High-Trust, High-Performance Cultures™ designed to deliver sustained business results. Hundreds of leading CxOs from India Inc. are part of the great place community that is committed to the vision of making India a Great Place to Work FOR ALL™.
"This prestigious recognition by Great Place to Work® serves to highlight our continued commitment to our employees and their long-term career growth at Precisely," said Monika Narula, Senior Director of Human Resources – APAC and Poland at Precisely. "We fully embrace our company values of openness, determination, individuality, and collaboration, and invest heavily in our culture to build trust and high-performance – including programs dedicated specifically to attracting new and diverse talent to our business."
The Institute's research shows that great workplaces are characterized by great leadership, consistent employee experience, and sustainable financial performance. These organizations can deliver a consistent experience to all their employees irrespective of their role, gender, tenure, or level. Their leaders believe in the vision of creating and sustaining a great place to work for all and role models being For All Leaders.
"Congratulations to all the winners of the Top 100 Great Mid-size Workplaces 2023. Your exceptional accomplishment and dedication to fostering outstanding workplace cultures have earned you this recognition," said Yeshasvini Ramaswamy, CEO at Great Place to Work® India. "At Great Place to Work® India, we strongly believe that creating and sustaining a positive employee experience and embracing diversity are crucial for thriving in today's rapidly changing and competitive environments. Precisely's commitment to empowering individuals and cultivating a sense of belonging for all employees, regardless of their background, distinguishes the company as an exemplary leader."
Precisely India was also recently recognized by Amity University, India's top ranked private university, for the Amity Leadership Award for Excellence in the Field of Data Integrity further to their successful campus hiring program.
Learn more about what makes Precisely a Great Place to Work® and view current job openings here.
About Great Place to Work®
Great Place to Work® is the global authority on workplace culture. Since 1992, they have surveyed more than 100 million employees worldwide and used those deep insights to define what makes a great workplace: trust. Their employee survey platform empowers leaders with the feedback, real-time reporting, and insights they need to make strategic people decisions. The Institute serves businesses, non-profits and government agencies in more than 60 countries, and has conducted pioneering research on the characteristics of great workplaces for over three decades. Learn more at www.greatplacetowork.in and on LinkedIn, Twitter, Facebook and Instagram.
About Precisely
Precisely is the global leader in data integrity, providing accuracy, consistency, and context in data for 12,000 customers in more than 100 countries, including 99 of the Fortune 100. Precisely's data integration, data quality, data governance, location intelligence, and data enrichment products power better business decisions to create better outcomes. Learn more at www.precisely.com.