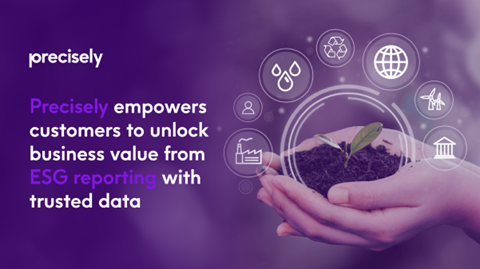 Precisely Empowers Customers to Unlock Business Value from ESG Reporting with Trusted Data
As environmental, social, and governance (ESG) pressures continue to build, organizations are investing in leading data integrity software and expertise to stay compliant and achieve meaningful sustainability goals
Precisely, the global leader in data integrity, today announced that it is partnering with customers worldwide to build trust in data for effective ESG reporting  processes.
The powerful combination of the Precisely Data Integrity Suite and expert strategic services allows customers to easily combine multiple sources of ESG data for real-time insights, improve confidence in the data quality of ESG metrics, ensure data governance while maintaining compliance with industry regulations, and enrich data with additional datasets to help reveal hidden context. Organizations leveraging data integrity in ESG reporting processes see tangible results such as:
Improved combination and alignment of fundamental ESG data with datasets that add context and meaning, such as geographic, demographic, or economic data
Enhanced capture and organization of ESG data from multiple sources, breaking down siloes and making it available in real-time
More robust standards and controls that ensure ESG data is accurate, consistent, and fit for purpose across operational and analytical systems
Better governance of data storage, access, use, and exchange between systems while maintaining privacy, security, and compliance with complex regulations
Organizations are increasingly recognizing a need to overhaul ESG reporting, with 41% of finance leaders recently admitting that their current processes would not stand up to the scrutiny of basic assurance standards. With new research from IDC showing that data management concerns are the leading driver for ESG investment, there is no better time for businesses to leverage trusted data to drive accurate reporting processes, achieve meaningful outcomes, and unlock true business value from ESG-focused initiatives.
Vontobel, a globally active investment firm with Swiss roots, have ensured they are ahead of the curve by partnering with Precisely to focus on data integrity. The firm not only ensures that all investment strategies are ESG compliant, but goes one step further by setting its own additional sustainable investment criteria to ensure the best possible investment solutions for clients. The optimization of the ESG data processes for the portfolio valuation is crucial – this includes comprehensive data analysis as well as quality and completeness checks.
"Collecting data is nothing new for investment companies, but the challenge now is how to cater to the new volumes of data needed for meaningful ESG measurement and figure out which data elements are the most important," said Christina Schack, Head of Data Platform at Vontobel. "Using proper tools to automate data quality checks in the data cleansing process is very important to handle and control the immense amount of ESG data. Implementing automated checks and ingestion of the data has greatly helped to reduce the manual work and achieve more accurate analysis for investment strategies."
Verisk Maplecroft, a leading global risk consultancy firm and specialist in sustainability, resilience, and ESG, also recognizes the importance of ESG reporting powered by accurate, consistent, and contextual data, particularly when combined with the right expertise:
"A more powerful way to approach ESG reporting is to hold it to the same standard of governance, processes, controls, assurance, and expertise that you would with your financial reporting," said Mikkel Skougaard, Director of ESG Reporting and Strategy at Verisk Maplecroft. "Developing a data-driven ESG report is the most important factor, but this needs to be supported with high-quality contextual narrative in order to unlock maximum value."
Skougaard will be in attendance at Precisely's upcoming Data Integrity Summit, Trust '23, joining Precisely CRO Pat McCarthy and Matthew Rusk, Head of Global Reporting Initiative (GRI) North America for a panel discussion on the importance of trusted data in harnessing true business value from ESG reporting, as well as advice for navigating evolving regulations and consumer expectations. The session takes place on May 17 with registration now open.
"Modern business practices demand complete transparency," said McCarthy. "Investors, employees, and consumers alike want to know the companies they're investing in, working for, and buying from not only meet their personal standards of ethics but are doing their part to create a better world. To stay compliant and achieve meaningful outcomes businesses need to prioritize data integrity in sustainability reporting and build trust in the data fueling their decisions."
Learn more about the exciting speaker line up at Trust '23 and register for your free place today.
About Precisely
Precisely is the global leader in data integrity, providing accuracy, consistency, and context in data for 12,000 customers in more than 100 countries, including 99 of the Fortune 100. Precisely's data integration, data quality, data governance, location intelligence, and data enrichment products power better business decisions to create better outcomes. Learn more at www.precisely.com.