Databricks
Break down data silos by integrating legacy, mainframe and IBM i data into Databricks Unified Data Analytics platform and Delta Lake for cloud-based analytics, AI and machine learning
Unlock all enterprise data
Most enterprise organizations are dependent on analytics, AI, and machine learning projects to make intelligent decisions and to increase effective interactions with customers and suppliers. However, obtaining full visibility into all critical data is one of the most challenging aspects of these initiatives. The risk of missing critical data is especially high for organizations dealing with data silos, expanding data volumes and incompatible data formats.
Precisely Connect and the Databricks Unified Data Analytics Platform work together to help you to address these challenges. As the industry leader in accessing and integrating complex data types, Connect offers high-performance data integration that transforms mainframe data. Connect sources/targets include:
Mainframe data: VSAM, COBOL Copybooks, mainframe fixed and sequential files
RDBMS: Oracle, SQL, Db2, MySQL, Sybase, PostgreSQL
Semi-structured data: JSON, XML;
Enterprise data warehouses: Teradata, IBM Netezza, Vertica, Greenplum
Cloud: Amazon AWS, Microsoft Azure, Google Cloud Platform
Big Data: Hadoop, Hive
Streaming platforms: Apache Kafka
Flat files: Fixed length, variable length, delimited
Together, Precisely and Databricks eliminate data silos across your business to get your high value, high impact, complex data to the cloud.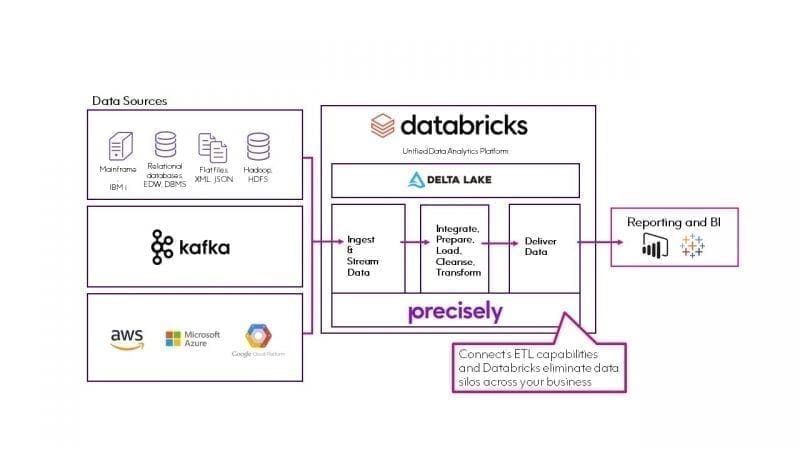 Databricks and Precisely enable you to build a data lakehouse, so your organization can bring together data at any scale and be used to create insights through advanced analytics, BI dashboards or operational reports. Connect effectively offloads data from legacy data stores to the data lakehouse, breaking down your data silos and helping you to keep data available as long as it is needed.
The data lakehouse needs scalable solutions that collect, blend, transform and distribute data across the enterprise. Connect delivers these capabilities with an end-to-end managed approach for offloading data.
Connect is your single tool for creating seamless workflows that simplify delivery of critical data assets to Databricks. Use Connect to easily filter tables, columns, or data types, so you can move data when and where you need it most.
Machine learning has become a requirement to gaining deep, accurate insights from an increasing variety of data types and formats. But it isn't easy. Most organizations need to overcome complex infrastructures and scale resources, while preserving performance —and budgets. Organizations can turn to Databricks and Precisely to address this challenge.
Connect collects the data you need from all your legacy data stores and sends it to Databricks, which supplies a scalable framework for machine learning, powered by Apache Spark. Connect not only has native Spark integration, but also has a design once, deploy anywhere architecture which means you never have to worry about rebuilding applications on standalone server environments for use in Databricks. Moving applications is as easy as clicking a dropdown menu.
Connect does not need code changes for deployment on different frameworks. Connect users can design sophisticated data transformations focused solely on business rules without worrying about the underlying platform, execution framework or investing in a new set of skills.
Learn more about Connect's scalable ETL capabilities, download this product sheet.
Your department is facing new requirements for hybrid or intercloud integration, forcing you to rethink your existing data integration practices. Do not lock yourself into a cloud vendor or legacy solution that results in an unmanageable point-to-point integration you can never escape.
Precisely helps you to future-proof applications for the agile consumption of cloud platform services delivered by Databricks, including batch and streaming data. Connect allows you to quickly move applications from standalone server environments and use the scalability of elastic Databricks clusters without code. And without the need for staging, you can access, re-format and load data directly into the Databricks United Analytics Platform. Move from development to test to production with a click of a button.
Connect's flexible architecture is suited for deployment on public, private, multi-cloud and hybrid cloud environments.
Concerned about vendor lock-in? Download this white paper to learn how Connect helps you overcome this common challenge.
Performance is a key driver in the success of large-scale analytics. You need to be able to give users updates as they happen – regardless of the volumes of information entering your data flows. As a result, you need to make sure your data integration solutions and data platforms are optimized for performance at scale.
Connect has a small footprint but delivers the comprehensive features needed to manage, secure, and govern the integration of data into modern data platforms like Databricks Unified Analytics Data Platform. Connect offers high-performance connectivity that can be used to run petabyte-scale ETL pipelines using the elastic scalability of Databricks solutions.
Download this white paper to learn more about how Connect and Databricks can accelerate innovation.
White paper: A Practical Guide to Analytics and AI in the Cloud with Legacy Data
Businesses using legacy data sources, such as mainframe and IBM i, have invested heavily in building a reliable data platform. At the same time, these enterprises want to move data into the cloud for the latest in analytics, data science and machine learning.
Download this white paper to learn how Databricks and Precisely have partnered to help make it easy and reliable to integrate legacy data into modern cloud data platforms for analytics and AI.
Webinar: Liberate legacy data sources with Precisely and Databricks
Mainframe and IBM i data continues to be prevalent in several industries – including financial services, insurance, and retail – where critical customer information lives on legacy systems. To thrive in highly competitive markets, you must quickly break down legacy data silos to swiftly gain a full picture of data providing insights for strategic action.
Watch this webinar to see a demo of how Precisely is helping organizations to unlock their enterprise data from legacy data silos for use within the Databricks Unified Data Analytics Platform and Delta Lake.